Radu Barbu
Meet Radu Barbu; this lucky guy is the new boyfriend of Romanian tennis player Simona Halep. One point often overlooked about this young and handsome man is a former tennis player
GOLF PARTNER
THE LARGEST GOLF CHAIN STORE IN THE WORLD
MAKING GOLF A SPORT FOR EVERYONE.

5'6″ Simona Halep was born on September 27, 1991, to Tania Halep and Stere Halep who runs a dairy factory, Simona has one brother Nicolae, who is six years older.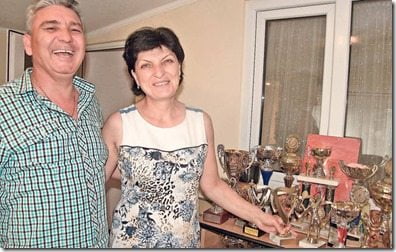 Pin
Simona started playing tennis when she was just four; by 2008 she was playing in junior competitions and winning the Roland Garros Junior Championship that same year.
Breast Reduction, Insane or not
It is impossible not mentioning Simona's 34DD breasts which she decided were interfering with her play, and way of life, she complained of back pain and not feeling comfortable with them in any way.
Her fans tried to persuade her from the breast reduction procedure she had planned in 2010, but Simona didn't change her mind.
"It's the weight that troubles me. My ability to react quickly, my breasts make me uncomfortable when I play. I don't like them in my everyday life, either. I would have gone for surgery even if I hadn't been a sportswoman."
In May 2010 Halep showed her new 34C figure and an improvement in her play moving 450 places in the world rankings.
Any guy would be happy dating Simona Halep no matter what size her breasts are, her entire body is absolutely perfect and her face is flawless, so is there any guy there to appreciate this?
No doubt there is, it seems that Simona has fallen head over heels with former 6'2″ tennis player Radu Bardu. Bardu was born on October 16, 1983, in Pitesti, Romania, one of two sons born to Maria Rodica and Voicu Bardu, also proud parents of Radu's older brother George.
Radu graduated from the University of Romania, as well as  Texas Christian University. He also served as director of an ITF tournament held in Pitesti. Currently, he is a tennis coach at Comesad Sports Complex in "Trivale".
According to media, Simona and Radu started dating not long after the 2017 US Open; a couple of months later a Romanian site published several photos of them while on a holiday in Italy. Simona previously dated Toria Tecau.