Diane Tagovailoa
Meet Mrs. Diane Tagovailoa; the beautiful and proud mother of Tua Tagovailoa, the young quarterback for the Alabama Crimson Tide at the University of Alabama under the amazing coach Nick Saban.
6'1″ Tua, the oldest son of four children born to Diane and Galu Tagovailoa; he graduated from Saint Louis School, the same school Tennessee Titans' QB Marcus Mariota graduated from.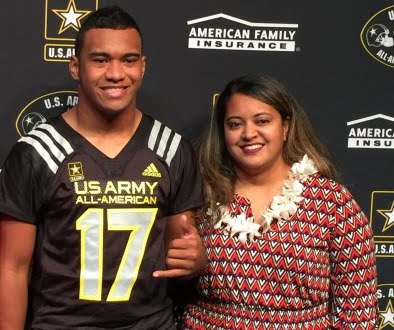 Mrs. Tagovailoa, was born Diane Faavi on August 6, 1975. She graduated from James Campbell High School, in Ewa Beach, Hawaii. She works in real estate, in Alabama.
Furthermore, Diane's husband, Galu played defensive lineman at Santa Rosa (Calif.) Junior College from 1989-91. Galu hoped to play football professionally, however, he ended up returning to the Island and help his family financially, watching his son playing football was sort of like accomplishing the dreams he once had for himself.
Tua's decision to attend Alabama was explained by Di two years ago, additionally Mrs. Tagovailoa said one Tua gave his word to a college, there was no turning back. Tua had two offers Bama and Southern Cali.
"I don't believe that he'll waver from his verbal commitment to Alabama because he's prayed hard on it," Diane told SEC Country at The Opening, the premier summer camp in the nation, held at Nike's world headquarters. "Once he makes up his mind, he's a man of his word. Once he makes up his mind, that's what he's going with."
Eventually, the right choice seemed like a nobrainier.
"They (Saban Kiffin, and Lupoi) are not concerned with him taking visits. There's no concern at all," Diane said. "When we talk to them, they always ask how the family is doing. We talk about family and church a lot with them."
Related Story: Tua Tagovailoa Wife Annah Gore