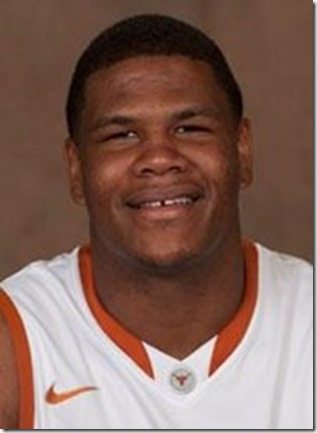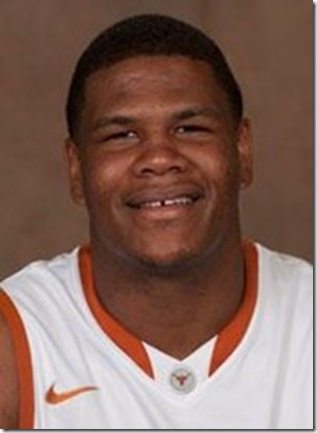 Let's talk about college basketball, and more precisely about the man who left Arizona State heartbroken! 20-year-old Cameron Ridley a Sophomore/Hooper at the University of Texas at Austin playing with the Texas Longhorns returns for his second season in the frontcourt rotation; as a freshman 2012-13, he played in 33 of the 34 games (19 starts) led the team in blocks (47) and ranked fourth in rebounding (4.3 rpg) while averaging 16.4 minutes per contest during his freshman season.
On Thursday night, Ridley had one of those insane moments on the court when he emerged from the scrum and banked the final score as time expired!
Ridley's buzzer-beating layup lifted Texas to an 87-85 victory over Arizona State in the NCAA tournament.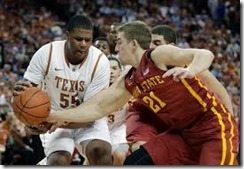 Cameron DeVon Ridley who was born to Sharon Rinehart and Samuel Ridley on Oct. 27, 1993 in Fayetteville, N.C.; has one older brother, Desonte Jolivet, and one older sister, Candice. His family moved from Fayetteville to Houston when Cameron was three years old. An interesting fact if you will, his high school coach, Ronnie Courtney, also was the high school coach for former UT and NBA guard T.J. Ford (when Ford played at Sugar Land Willowridge HS).
Cameron attended Fort Bend Bush High School in Richmond, Texas and was ranked as the No. 8 prospect nationally in the ESPN100 following his senior season among other highlights.
There is not much on his personal info, so the big question is, is the "North Carolina made Houston Texas raised University of Texas Hooper" seeing anyone? Is he currently in a relationship? Does he have a special lady-friend?
We can't assure if he is currently on the market or not, but he certainly has great taste, we found a couple of snaps of him along with a pretty girl-friend, they seems to be very close but nothing we can't be sure of.
In case you missed it, Arizona State fought against Texas, and they fought hard; on Thursday night game, Ridley finished with 17 boards and 12 rebounds, including four points on two huge boards in the games last three minutes.
Would he be able to pull his magic again?
See more pictures of him here.