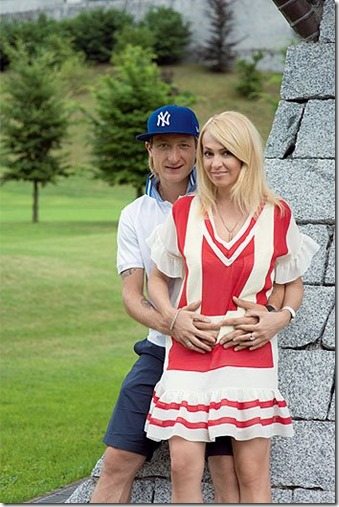 Pin
Meet wife, manager, mother of three and much more. Russian, Yana Rudkovskaya the manager wife of Figure Skater Evgeni Plushenko, a.k.a Winter Olympics: Russian hero!
Shocking news for her hubby's fans when Yana's man decided to withdraw from the men's short program Thursday after injuring himself during the warm-up. He said he was extremely disappointed saying this was the end of his career and tried to make it the best he could. Still, he helped Russia win gold in the team event and so far is the most decorated figure skater in history. He is a 2006 Winter Olympic Champion, 2002 and 2010 Olympics silver medalist, three-time World Champion, seven-time European Champion, four-time Grand Prix Final gold medalist and nine-time Russian National Champion, Honored Master of Sports of Russia.
But we know every every great man, has an equally great woman by his side. This is what we know from his lovely wife.
On September 12, 2009 he married Yana Rudkovskaya, producer and director of Music Management Company, owner of beauty salons and fashion boutiques.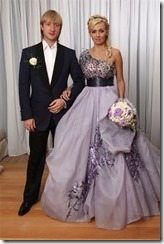 Pin
She gave birth to her third child, son, Alexander, born on January 6, 2013. She was previously married to Viktor Baturin from 2001 until divorce in 2008. From that relationship she has two children, 1st child, adopted son Andrei Baturin with her now ex-1st husband Viktor Baturin, and gave birth to her 2nd child, a son Nikolai Baturin, with her now ex-1st husband Viktor Baturin.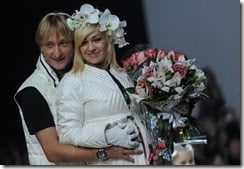 Pin
Her hubby was previously married to Maria Ermak with whom he fathered first born, Egor Evgenievich, born on 15 June 2006.The couple married in 2005 but by 2008 they were divorced.
Yana Rudkovskaja was born January 2, 1975. She received higher education, graduating from Altai State Medical University majoring dermatovenereologists specialization: hardware and therapeutic care.
She became very successful in the salon business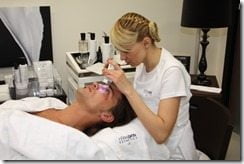 Pin
But is also known for being the manager of Dima Bilan,since 2005, during which time Dima became the most titled Russian artist, winning every possible award. The General Producer Academy of Film and showbiz has become the recepient of many awards including, Prize "Soundtrack" in the "Producer of the Year" – 2007, 2008, 2010, "Person of the Year" – 2009;
– Premium TV channel «Fashion TV» as the most stylish producer – 2007, 2008, 2009, 2010, 2011, 2012; – Prize "The most stylish couple of the year" (together with Evgeny Plushenko) magazine Glamour (2009) and Hello (2010), "Bohemian chic» Hello (2011), the premium Glamour (2007) in the category "most stylish businesswomen year."
You can read more about her on her official website here.
You can find the beautiful blonde on Twitter here and on Facebook here.