Courtney Smith
This lovely lady is Mrs. Courtney Smith; she is the pretty wife of football coach Zach Smith. Her husband served as wide receivers coach at Ohio State University, until July 2017, when the Buckeyes fired him after reports of domestic violence allegations against him were filed by his then-wife Courtney.
Earlier this month Courtney publicly spoke about the abuse she suffered for years at the hands of her former spouse, Zach Smith.
She spoke candidly saying she believed Urban Meyer –her ex's former boss failed to help stop the domestic violence she allegedly was subjected to by Zach Smith.
Courtney spoke with reporter Brett McMurphy and revealed she had been a victim at the hands of her husband, suffering domestic violence dating back to 2009.
The blonde said describing a violent encounter with her then husband, 'he grabbed me by the neck and pushed me against the wall' –while pregnant.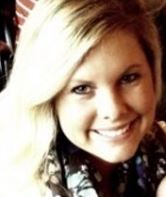 The couple separated around 2015 after multiple occasions of abuse. She filed for divorce that same year and also filed for a restraining order against him. Last year, Zach apparently attempted to enter her residence and police gave him a criminal trespass warning.
It is believed the former couple shares one child together, however Courtney Smith describes herself on social media as a mother of two.
Courtney not only spoke about her ex-'s abuse but also alleges Zach took pictures of himself receiving oral and having with a former Ohio State staff member in Ohio State coaches' offices, as well as taking photos of his inside the coaches' office and again inside the White House.
Courtney Smith also said he ordered more than $2,200 worth of toys, male apparel and photography equipment between February 2015 and May 2015.
Recent updates describe an angry and bitter Zach Smith who tweeted about suing Brett McMurphy, the reporter who originally revealed the allegations, used his children as a shield, lashed out at critics, and claimed that Courtney is "NO victim."
Do you think Courtney Smith is a victim or not? Some say she should've come forward sooner.
Find the lovely Courtney Smith on Twitter here