Meet pretty Sandra Porzio, the girlfriend of NHL player Steven Stamkos. Her 25-year-old guy is the Tampa Bay Lightning star who will face later today the Montreal Canadiens in the Stanley Cup Playoffs; are you hoping for a goal?!
This couple is super private when it comes to their business. We only know of Sandra's existence when the Lightning players and their wives had to decorate various Christmas ornaments to auction off for charity. Steven decorated his ornament which was a Christmas globe and signed it with his girlfriend Sandra Porzio.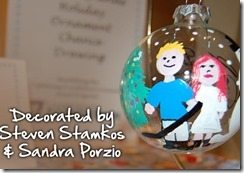 We do have a couple of pictures of the couple actually next to each other but other than that, there not much more to tell; so we wonder why would a player of his talent would keep his relationships so secretive?
Is it his idea or hers? Does she agree? The thing is when dating a famous athlete the truth is bound to come out at some point so why hide right?
There have been some celebrities who talk about the subject and say, they only keep relationships off of the public eye when it really matters! Do you think is Steven and Sandra's case? According to the video below, they have been dating at least since 2012.
You can check out, her Instagram here. Oh yeah did we mention is set to private! What a boring couple!