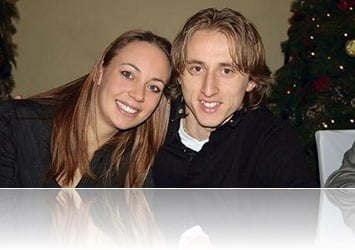 Meet Vanja Bosnić, she is the wife of Real Madrid's Croatian midfielder Luka Modric, who joined the Spanish team last August 27th. But we are all about Modric's wife so this is what we knoow about Vanja Bosnić aka Vanja Modric.
30-year-old Vanja Bosnić, a stunning leggy blond was a 24-year-old girl working at Luka's agent office Mamic sports agency owned by Mario Maric.
Modric was playing with Dinamo Zagreb at that time.'; Vanja and her soccer stud dated for four years before they got married first in May 2010 in Zagreb, Croatia and then on June 11, 2011 they celebrated their   Westin hotel in Zagreb, Croatia with Luka's dear friend and former teammate Vedran Corluka as best man.
No many people knew but Vanja was actually in the first trimester of her pregnancy, Vanja gave birth to her son Ivan three week earlier on June, 2010. Last December Vanja and Luka  Modric announced they will welcomed their second son on March.
<object width="580" height="326"><param name="movie" value="http://www.youtube.com/v/cLZNjm5NnkA?version=3&hl=en_US"></param><param name="allowFullScreen" value="true"></param><param name="allowscriptaccess" value="always"></param><embed src="http://www.youtube.com/v/cLZNjm5NnkA?version=3&hl=en_US" type="application/x-shockwave-flash" width="580" height="326" allowscriptaccess="always" allowfullscreen="true"></embed></object>