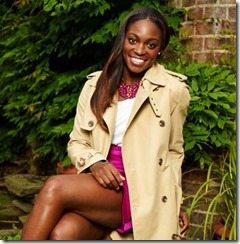 Sloane Stephens! Heard of her! Of course you have the 20-year-old tennis player who at the age of 19 gained her first Grand Slam semi-final at the Australian Open 2013. The up and comer player is not only talented but also a chocolate-toffee bar fine looking girl! She was born March 20, 1993.
Born and raised in Plantation, Florida she currently resides in the sunny state, in Coral Springs, FL. She is a total catch, who wouldn't want to date this beautiful, sassy, funny, and wise beyond her years kind of gal! She stands at 5 foot 7" with a great sense of humor she is addicted to twitter, tennis and believe it or not eating! Still managing to look pretty hot in those colorful tennis outfits.
A germophobic with a crush on Fernando Verdasco, she says her guys needs to be really funny, tall, can't have bad teeth and has to smell nice always! With emphasis on the always! This girls knows what she wants but has she found it??
She's been linked to 20-year-old tennis player Jack Sock, it would seem Sock has been in Sloane's box consistently, cute in a boyish college guy kind of way right! Sloane twitted a picture of him saying:
"look at this stud who was watching me practice tonight!! I'm glad my blanket was keeping him warm"
That's really cute but that was a while back, are they just friends or something else?? Do you think they would make a good item?? They could certainly help each other on their game right.
Popular and bubbly among the guys she would be a flying hero if she could, I bet so she could fly away from all the germs! She loves country music, her grandparents cooking and her fav city would be Fresno, California; I guess we know no were she and future hubby would live!
A well rounded girl with some mad skill with over 60,000 followers on twitter, anybody interested? You can find her here.