Alexander Walkenhorst
Alexander Walkenhorst is the brother of German beach volleyball player, Kira Walkenhorst. She and her partner Laura Ludwig are participating in the 2016 summer Olympics in Rio. The German team upset top-ranked Brazilians Larissa and Talita in the Rio Olympics women's beach volleyball semifinal on Tuesday.
His 25-year-old sister is currently one of the hottest players in Germany. Kira began playing indoor volleyball when she was 5 years old. She transitioned to beach volleyball in 2005.
The name Walkenhorst is widely recognized within the sport. Alexander Walkenhorst also plays professional beach volleyball. He along with Kira and their sister Pia, come from a family of athletes. Pia Walkenhorst, plays professional indoor volleyball. The siblings grew-up with an obvious liking for the sport.
Kira was born November 18, 1990. Kira began playing with Laura in 2013. That same year, she was named FIVB most improved player and World Tour Top Rookie. She won gold at the 2014 FIVB Shanghai Grand Slam.
So what does Alexander Walkenhorst thinks of sister Kira? We are sure he is super proud of her.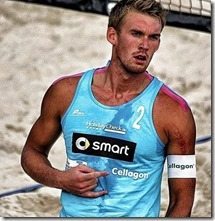 Pin
Alexander Walkenhorst was born July 30, 1988 in Essen, Germany. He is described as an ambitious and highly talented young beach volleyballer. The world number 15, began the season last April with a Tournament Schedule in Münster.
The 6'9 player has made over $100K in earnings from playing.
Walkenhorst played in the years 2004 to 2006 various youth tournaments with Jan-Hendrik Geilen and Daniel Wernitz. In 2007 he formed a new duo with Denis Berken, which finished seventh in the German championship.
In August 2009 he won with  Stefan Windscheif  the U23 European Championship in Kaliningrad and the duo took fifth German championship. 2010 arrive Walkenhorst with his new partner Tilo Backhaus.
The hunky 28-year-old has had a number of victories as well as a handful of partners. In summer 2012 Walkenhorst also began a coaching career at the Beach Time, a beach volleyball camp. A full history of his playing career can be found here.
Last April Alexander Walkenhorst signed its sponsorship deal with the Frings Group. Alexander also supports the Frings Beacher in training and the organization of Frings Beach Cups.
You can find Alexander Walkenhorst on Twitter here, Instagram here.