Bradley Keenan
Bradley Keenan is the husband of pro beach volleyball player, April Ross. His 34-year-old wife is currently doing what she does best at the Rio Olympics.
Ross along with the current partner, Kerri Walsh, appeared on a different level than the Swiss, leaping out to a huge lead. Keenan's wife is a 2012 Olympic beach volleyball silver medalist with Jennifer Kessy. She is ranked No. 6 (first Americans) in provisional Rio Olympics world rankings.
April Ross, was born in Costa Mesa, CA and played volleyball at Newport Harbor High School in nearby Newport Beach.
She was recruited to play at the University of Southern California, and in her final two years at the school she led the team to NCAA championships, including an undefeated season in her senior year.
Bradley's wife is well known, for the 2008 match where she and partner Jen Kessy, defeated the world's top rank duo. They upset her future partner Kerri Walsh-Jennings and Misty May-Treanor at the AVP tour stop in Santa Barbara, CA. Kerri and Misty had been the top ranked female team for years and were already Olympic gold medalists when upstarts April and Jen took them out.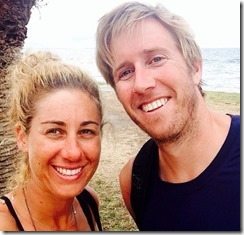 April's husband happens to be fellow beach volleyball player, Bradley Keenan. The couple has been married since 2012. He currently serves as Arizona State's beach volleyball coach.
Brad Keenan was born on August 10, 1981 in Westminster, CA. Bradley Keenan is famous in his own right. He is a two-time college indoor volleyball Player of the Year before a successful pro beach career. The 6-8 Keenan, 34, joined ASU restructured volleyball staff led by first-year indoor coach Stevie Mussie as overall director –earlier this year.
Keenan was chosen as national Player of the Year by both the AVCA and Volleyball Magazine in 2002 and again by Volleyball Magazine in 2003 as middle blocker at Pepperdine. The Waves played reached the NCAA championship match in 2002. He was inducted into the Pepperdine Athletics Hall of Fame in 2014.
On the AVP beach tour, Keenan was 2006 Rookie of the Year, 2007 Most Improved Player and 2014 best server. He played in international beach tournaments from 2009-15.
Keenan was a graduate assistant coach at Concordia University in 2015 while earning his master's degree. He also has been a volunteer coach
Keenan joined the Concordia University men's volleyball program in 2015, where he earned his Master's in Exercise and Sports Science. He has a volunteer coach with the USA women's National team, Balboa Bay Volleyball Club, Surf City Volleyball Club and at Fountain Valley (Calif.) High School, where he played before Pepperdine.
Bradley and his wife currently reside in Costa Mesa, CA and trains out of Hermosa Beach.

You can check him out on Instagram here.