Meet the guy who gets to go on a date with one of the most beautiful women in golf! Andrew Orischak is said to be going to prom with none other than Holly Sonders!
Even though he lost the US Junior Amateur, reports say the 16-year-old is still going to get his hot date with the Fox Sports golf personality.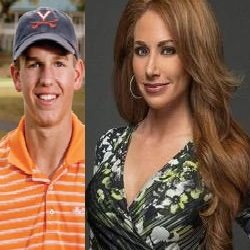 How do you get a date with married Sonders? Well, in a bold move Andrew said he would win the U.S. Junior Amateur in South Carolina; and although odd seem to indicate he would indeed win, he lost five of the remaining eight holes before dropping the extra hole to Philip Barbaree.
During the broadcast of Orischak's quarterfinal match, Sonders said the golfer's dad helped set up a bet that would have her accompany him to next year's prom if he were to win the tournament.
Following the the final, Sonders tweeted Orischak, saying she'd be happy to go with him to prom if the invitation stood.
Andrew will be a senior at Hilton Head Island High School in Hilton Head, S.C., next year. According to a review from hiltonheadmonthly.com is a promising golf star. He has taken medalist honors at a U.S. Open qualifier, played in dozens of national tournaments and is ranked No. 2 in the nation among junior players by Golfweek.
He verbally committed to play golf for the University of Virginia following his 2017 graduation.
He often plays with Jim Magruder and Jim Ferree, they both have become a big part of Andrew's golf life that Magruder acted as caddie when Andrew played in the 2014 U.S. open qualifier on Hilton Head.
Last year Andrew decided not to play on Hilton Head Island High School's golf team to instead focus on national tournaments.
A Facebook page, for Andrew says he is from Pennsylvania and it could be mistaken but also says he is interested in Men?
You can find him on Twitter here.