Meet Ania Cywinska
Ania Cywinska is a gorgeous model and the girlfriend of MLB player Matt Harvey. Her Mets player boyfriend might have gotten in some trouble after reports say he missed a mandatory workout!
According to NY Times, the mets began prepping for a workout ahead of their National League division series against the Los Angeles Dodgers, which begins Friday. Suddenly, one big name was missing: Matt Harvey. According to ESPN, Harvey, is scheduled to pitch Game 3 of the series Monday in New York.
The Mets ace, showed up when the Tuesday workout was nearly completed and addressed reporters briefly apologizing for his tardiness without explaining what caused it. Harvey will be fined for his transgression.
Harvey said he was stuck in traffic, which caused his absence, according to the New York Post.
It sure hasn't been Harvey at his best but it's good to know he has Ania Cywinska for support! Want to know more about the stunning blonde?
Ania Cywinska and the New York Mets pitcher began dating earlier this year, reports of their relationship surfaced last March and have been inseparable ever since!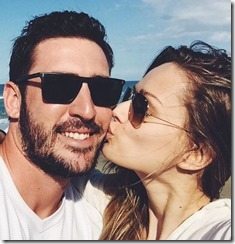 Ania Cywinska is a Polish born model currently based in New York. The Polish beauty isn't shy about her relationship with Harvey, the couple celebrated his 26th birthday and she posted an Instagram picture of herself and the Mets star looking happy together on a Florida beach and wrote, "Happy birthday, Boo," as she is seen kissing him on the cheek.
Ania Cywinska met her man through friends while out in New York.
Ania is currently signed with the Marilyn Agency and has been for a while, PageSix reports. According to Diva Models, Ania Cywinska is 177 cm tall, B/W/H 88 62 88, blue eyes, blonde hair. She's done advertisement for Avon, Echo, House, Lilies. Ania is linked to a number of agencies including: Ace Models, Wiener Models, Modelwerk, View Management – Spain, Diva Models – Denmark, New Age Models, New Madison Models, Satoru Japan Inc, Divina model management and Next Model Management – Milan.
The star pitcher for the New York Mets is no stranger to dating gorgeous women, last year he and supermodel Anne V used to hang out.
You can find her on Instagram here.
Think her man will be ready to roll for Game 3?