Ann Cowherd
Meet Ann Cowherd, the wife of Fox Sports radio host Colin Cowherd.  He previously work for ESPN,  but they fired him due to his comments he made questioning the intelligence of Dominican Republic players related to baseball.
An ESPN statement with the news said
"Colin Cowherd's comments over the past two days do not reflect the values of ESPN or our employees," "Colin will no longer appear on ESPN."
Cowherd said he didn't believe baseball was complex, saying a third of the sport was from the Dominican Republic; which had "not been known, in my lifetime, as having, you know, world-class academic abilities."
Following the comments, he certainly infuriated people around, Major League Baseball and MLB Players Association condemned his choice of words.
Cowherd, who has been with ESPN for 12 years. Cowherd grew up in Washington. He was a sports director at KVBC-TV in Las Vegas, Nevada, and was named Nevada's Sportscaster of the Year five times.
In 1996, he went to Portland, Oregon, to do sports talk radio. Cowherd then moved to ESPN Radio in 2003 to start hosting his show; The Herd with Colin Cowherd, during the 10AM-1PM time slot. He was named Sports Illustrated's Radio Personality of the Year in 2005. Cowherd also co-hosted the show SportsNation (2009) on ESPN2 from 2009 to 2012.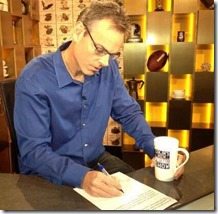 Mrs. Cowherd
Ann became the second Mrs. Cowherd. In 1996 he tied the knot to wife Kimberly Ann Vandala and divorced her in 2007. Colin and his first wife had two children together.
According to a 2012 article from The Big Lead, Ann's hubby is a father of six children (two biological, four stepchildren). Not much more is out there about his wife; so it seems they enjoy their privacy but we do know Ann must be a cool gal, who else would build their man a work out room because his popularity is growing and so that he can avoid the gossipy types at the gym!
Today during The Herd, the 51-year-old addressed his comments saying:
"I could've made the point without using one country, and there's all sorts of smart people from the Dominican Republic," Cowherd said. "I could've said a third of baseball's talent is being furnished from countries with economic hardships, therefore educational hurdles. For the record, I used the Dominican Republic because they've furnished baseball with so many great players."
You can find him on Twitter here.