Anna Ortiz also known as Anna Iniesta is the beautiful wife of Barcelona's amazing payer Andres Iniesta, this little giant has become one of the world's best players, don't judge him by his height, Andres in deadly in the field but a beloved husband and caring father outside the field.
28-year-old Andres Iniesta the midfielder with Barcelona FC is happily married to his beautiful wife Anna Ortiz, they dated for years until their wedding last year. Would you like to know more about her? check this out!
27-year-old Anna Ortiz Iniesta was born on December 11th 1986 in Catalunya, Spain, She has one younger sister Marta who owns a bakery.
Anna a hair stylist met Iniesta in 2008, they became inseparable ever since; although it was until 2009 while he was recovering from an injury on his thigh that people saw Anna with him, and he was not shy about his relationship with Anna.
"I am so in love with her, we have been dating for almost two years she is a person who has helped me a lot"
Because Anna Iniesta is a Stylist is not weird to see her turn into a chameleon, from long to short hair, blond, red, and brunette, every style seems to suits this pretty WAG, who announced she was expecting her first child in September 2010.
Anna and Andres welcomed their daughter Valeria on 3 April 2011, Anna became the new Mrs. Andres Iniesta on  at the Castillo de Tamarit en Tarragona where over 300 guest were invited to their special day. Anna's wedding gown was designed by Teresa Helbig the Cataluyan designer who created a beautiful dress inspired in the 20's.
On January Anna tweeted about adding a member to their family, could she be pregnant?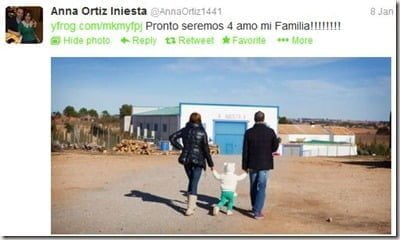 Follow Andres Iniesta's wife Anna Iniesta on Twitter here.