Meet lovely Barbara Cartaxo, the wife of Brazilian footballer, José Paulo Bezerra Maciel Júnior. Her hubby who currently plays for the Spanish club FC Barcelona and the Brazil national team is commonly known as Paulinho.
The period between 2006 and 2008, when he was an unknown teenager plying his trade in Lithuania and Poland. His days of anonymity now behind him, Paulinho is entirely at ease with the adulation he receives from the North London club's faithful, while his commanding displays at the 2013 FIFA Confederations Cup made him an indispensable member of Luiz Felipe Scolari's Brazil set-up. Reads his official profile.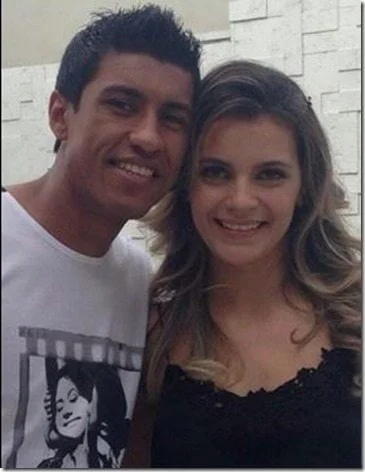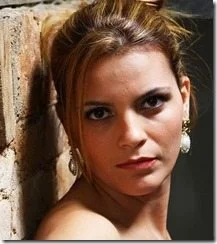 Barbara who studied business administration was his long time girlfriend before tying the knot to the talented midfielder. She graduated in 2011 from Unicsul – Universidade Cruzeiro do Sul.
The couple dated for a total of 7 years before getting married.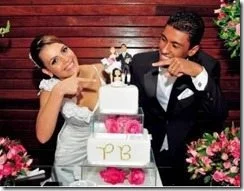 Barbara was instrumental for her hubby's faith in football. The player became so traumatized by fans making monkey chants that he packed his bags and moved to play in Poland. But internal squabbles at new club LKS Lodz ended his European adventure and he fled home to the safe haven of his family.
At the time she asked him
'What job will you do if you quit?'
The couple is proud parents of one daughter.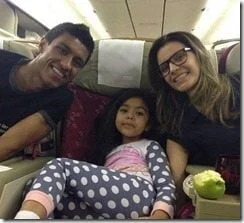 Her husband revealed during an interview last year, he became so deeply upset by the abuse at FC Vilnius that he became a recluse, staying inside his home all the time, ready to turn his back on football.
Her hubby who began playing since age five had to overcome many insecurities, in 2008 he went three weeks without playing football –but decided to return, mainly for family reasons.
The player who has always been close to his family said
"I had responsibilities to my mum and my dad and I talked a lot about it with my wife.

"My mum and dad always backed me up and did a lot for me – and I needed to look after them in return.
The father of one, started slowly; he began playing for a Fourth Division club, Pao de Acucar, before moving to Bragantino. He eventually knew he was moving forward and then joined Corinthians.
Paulinho thought long and hard about returning to Europe and spoke with many people as Tottenham's offer arrived, along with one from Serie A giants Inter Milan. The support of his wife and family made the difference.
You can find the proud wife, under Barbara Maciel on Facebook here.