Meet Camilla Kerslake
Camilla Kerslake is the girlfriend of 29-year-old English rugby player, Chris Robshaw. Her man is currently captain of the England national rugby union team.
Camilla Kerslake must be excited to watch her flanker boyfriend this Friday. Twickenham Stadium will stage the opening ceremony for the World Cup ahead of the match.
Chris led his side to four wins in five matches during last winter's RBS 6 Nations Championship and 23 victories in 38 games overall, while maintaining the highest level of personal performance. His career highlights include an astounding 21-16 win over Wales in Cardiff in February this year and the fabulous 38-21 triumph over New Zealand at Twickenham in December 2012.
Camilla Kerslake was born August 5, 1988 in London. The stunning blonde doesn't need much of an intro, at least on the other side; the 27-year-old is a classical recording singer, she released her debut album at age 21 in 2009.
Camilla was born in Dulwich but lived for 8-years in New Zealand since her father is a country native, the family later came back to the U.K. Like many she tried out for a spot in a singing competition but later began singing at bars and pubs to finance her classical singing lessons.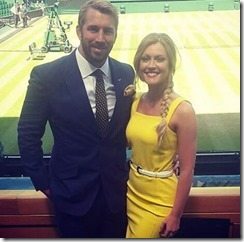 After a period of six months where she submitted her demo to Gary Barlow's label every day, she struck a deal. In 2010 following the success of her album, she became a Classical Brit nominee, her live performance was chosen to become the first ever charity single release from the awards. She became the best selling English soprano of the decade.
Camila Kerslake is also the first female crossover star to perform in an opera, "Life from Light".
She has performed for the Queen and an audience of 140,000 people at the Epsom Derby, the National Anthems at Wembley Stadium for the football Carling Cup Final and Rugby League Challenge Cup Final, the Rugby League World Cup opening ceremony at the Millennium stadium, numerous performances for England Rugby Union at Twickenham stadium and charitable performances in the presence of the Royal family at Buckingham Palace, Windsor Castle and The Houses of Parliament.
Is not difficult to imagine where/how Camila Kerslake and Chris Robshaw met huh!
However, the tall blonde will not sing the national anthem this year, according to the Daily Mail, though she said she'll be supporting her country and her beau from the sidelines!
Find gorgeous Camilla Kerslake on Twitter here. Instagram here.