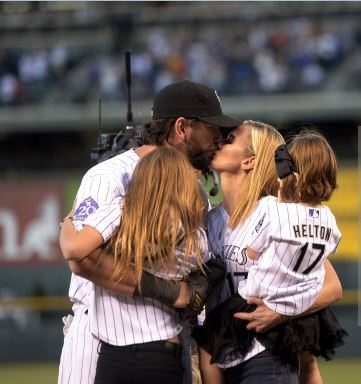 Christy and Todd Helton met while both were studying at the University of Tennessee. They met in  biology class when both were sophomores in 1992. She played soccer for the Lady Vols and he played football and baseball also for the Volunteers. They've been pretty much together since. They have two daughters, Tierney Faith,11 and Gentry Grace,4. Of course, they live in Colorado, Brighton to be exact.
Todd was drafted by the Colorado Rockies in 1995, and after playing with them as first base man since 1996, was the third-most senior active MLB player to have spent his entire career with one club. After 17 seasons with the Rockies, Todd announced he would be retiring at the end of this season. When he announced his retirement, he was joined by Christy and his daughters.
At his final at home game, played last night, he was honored by his team mates and fans. Tierney threw out the first pitch to her father. And to make things sweeter, he homered on his first at bat, and doubled later in the game. He also drove in three runs. Christy was at his side during the pre-game ceremonies, along with their girls, and helped her husband inspect the beautiful gelding paint horse given to him as a retirement present. At the start of the ninth inning, his girls ran out to the field to take away the first base as a souvenir.
Christy and Todd have a lot to look forward to with his retirement and be able to enjoy their family to the fullest. We wish them the best.