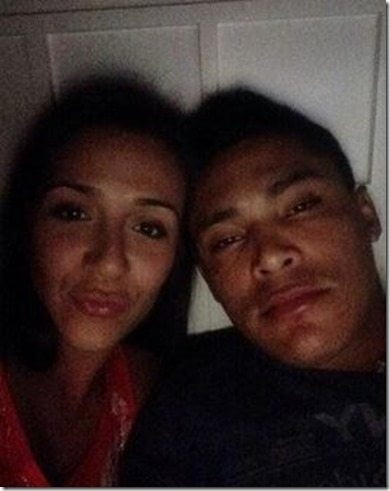 Meet Connie Aguilar better known as Connie Cabrera, the lovely wife of San Diego Padres midfielder, Everth Cabrera. Reports of Connie's husband arrest say the San Diego Padres shortstop was driving while high on weed
TMZ says a rep for the California Highway Patrol confirms border patrol agents initially made contact with the 27-year-old near a checkpoint on the 94 Freeway around 12:30 AM. The agents suspected something was wrong — and contacted the CHP to check things out. After CHP arrived to the scene, deputies were convinced Cabrera was under the influence of and arrested him for DUI.
According to the gossip site, Cabrera was hauled to a nearby station where officials drew blood. He was eventually cited and released to his mother-in-law.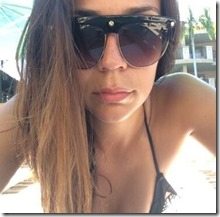 It is not the first time Cabrera has problems with the law, as a matter of fact Connie herself was actually involved in his 2012 domestic violence case in Arizona.
On March 16 2012, Cabrera,was arrested in Glendale, Ariz., on a domestic violence charge of misdemeanor assault. The couple have two children together, a little boy named Elian and Connie gave birth earlier this years to little girl, Erika Hiliana.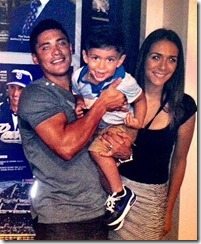 At the time, Glendale police said the Nicaraguan and his wife Connie were arrested March 16 at their apartment in Glendale, about five miles away from the Padres' spring training home in Peoria. Cabrera was taken to jail for domestic violence assault. He was later released. His wife was not taken to jail so she could care for their child.
Glendale police said charges were filed against Connie Cabrera for assault and criminal damage.
Despite their differences, the couple has managed to stay together but who know what Connie's reaction will be after her hubby's latest fallout. She has been there for him since the start, way before he began his career in the major leagues, through the biogenesis involvement and legal  troubles.
Her husband made the big-league club in 2009 as a Rule 5 draftee. He had a promising rookie season for the Padres that year, hitting .255 with 25 steals and 59 runs scored. But he struggled the next two seasons and twice was hobbled by hamstring injuries.
The lovely mother of one, stays super active on social media, she usually posts little messages about her daily activities, pictures of her adorable son and brand new baby girl, and even about attending MLB related events with her man.
You can fin her on Twitter here.