Kealia Ohai
This pretty gal is Kealia Ohai; she is the gorgeous wife of NFL player, J.J. Watt. Her beau is a defensive end for the Arizona Cardinals, who previously played for the Houston Texans. The couple has known each other for years and started dating a while ago. Keep reading to know Kealia Ohai's biography!
J.J. Watt Parents
Kealia Ohai's boyfriend was born Justin James Watt on March 22, 1989. The Waukesha, Wisconsin native has two younger brothers, Derek and T.J. Watt –who are also NFL players. His father, John Watt worked as a firefighter for 28 years, while his mother, Connie Watt is a former VP of a building inspection company.
J.J. Watt College
J.J. earned letters in football, basketball, baseball, and track at Pewaukee High School. He attended the University of Wisconsin –where he won the Lott Trophy in his senior year. Watt was drafted 11th overall by the Houston Texans in 2011.
Before joining the Badgers during the 2008, J.J. played at Central Michigan where he totaled 77 receiving yards, eight receptions in 14 games.
In his sophomore year, Watt totaled 44 tackles (32 solo), 4.5 sacks, and five passes defended in 13 games; his junior year, Watt totaled 62 tackles (42 solo), seven sacks, nine passes defended in 13 games.
J.J. Watt NFL Career
On April 28, 2011, J.J. Watt was selected in the first round (11th overall) by the Houston Texans.
On July 31, 2011, Watt signed his rookie contract with Houston.
He made his NFL debut against the Colts on September 18.
He was named Texans Team Rookie of the year and named into the Pro-Football Weekly/PWFA All-Rookie Team.
During the 2012 season, J.J. was named FC Defensive Player of the Month in September and then again in December.
On December 26, 2012, he was named to the 2013 NFL Pro-Bowl Team.
Watt was named NFL 101 AFC Defensive Player of the Year, AP First-Team All-Pro, and the AP Defensive Player of the Year, that season.
On December 23, 2013, he was Pro Bowl Captain.
On September 2, 2014, agreed to a contract extension with the Texans.
He was named September AFC Defensive Player of the Month on October 2, 2014.
He finished the 2014 season wining the named Defensive MVP and Defensive Player of the Year award.
He was named to the 2015 Pro Bowl, in December 2015.
He underwent groin surgery for a sports hernia on January 12, 2016.
The Texans announced Watt had back surgery for a herniated disc on July 21, 2016.
 Was ruled out for the rest of the season after having his second back surgery on September 29, 2016.
On October 9, 2017, he underwent surgery to repair a tibial plateau fracture in his left leg.
J.J.  Watt was named Walter Payton NFL Man of the Year and co-named SI Sportsperson of the Year for his humanitarian efforts during Hurricane Katrina.
On October 29, 2019, Watt suffered a season-ending torn pectoral.
He was activated on the Texans roster on December 31, 2019.
He requested a trade from the Houston Texans on February 12, 2021.
J.J. Watt signed with the Arizona Cardinals on March 1, 2021, reuniting with his former teammate DeAndre Hopkins.
J.J. Watt Net Worth
as of 2022, J.J. Watt's net worth has been estimated at $50 million. He earns around $10 million from his endorsement deals with Gatorade, Ford, Reebok, Verizon, NRG Energy, HEB Grocery, Fantasy Football, American Family Insurance, Yahoo!, Bose, and Papa John's
J.J. Watt Contract & Salary
J.J. Watt's two-year contract is worth $28 million, the deal included $12,000,000 in signing bonus, $23 million guaranteed, and an annual salary of $14 million.
Watt signed his four-year rookie contract in 2011, the contract worth $11,237,498 million, included a signing bonus of $6,672,728, and $11,237,498 guaranteed.
In 2014, agreed to a six-year, $100,005,425 contract extension with the Houston Texans, the deal included a signing bonus of $10 million and $51,876,000 guaranteed.
J.J. Watt Wife
Kealia Ohai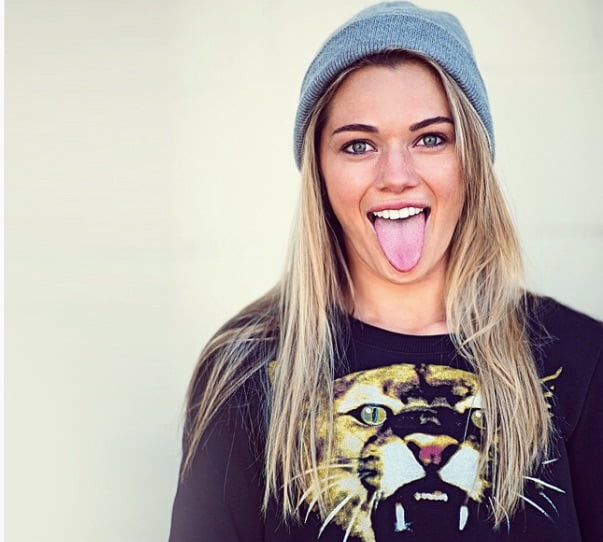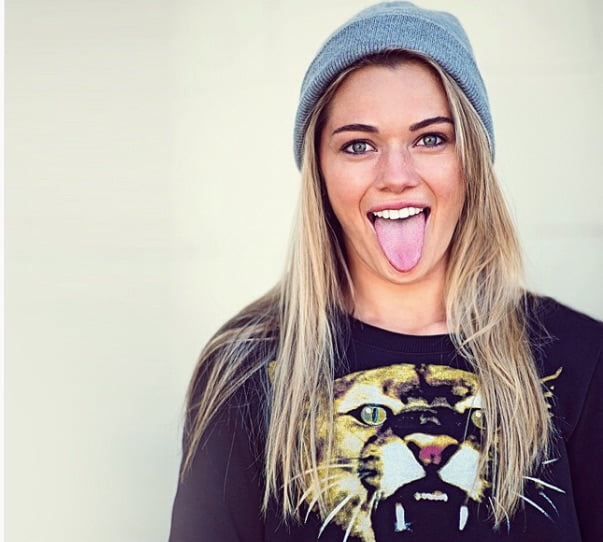 Kealia Ohai is much more than a pretty face. For those thinking she is just another model wag, you got it wrong this time. Ohai happens to be a soccer star who recently was named to the US Women's National Team roster.
The blonde plays forward for the Houston Dash of the National Women's Soccer League.
Kealia and J.J. knew each other for a long time and were good friends before things became romantic. Ohai has said of her man "I'm really proud of him for everything he's been going through."
Kealia was born Kealia Mae Ohai on October 1st, 1992 in Draper, Utah. She is the daughter of Cindy and Ben Ohai. She has one older sister named Megan who is married to Brian Cushing.
Diagnosed with severe astigmatism in her right eye at the age of 6. As a result, she is blind in her right eye.
Kealia Ohai Soccer
Kealia attended Alta High, where she led her team to four straight state championships, and on the track, she ran the 100-meter dash and 4×100-meter relay. Selected Gatorade Player of the Year for Utah twice, named Utah Ms. Soccer in 2008 and 2009, and the 2010 NSCAA National High School Player of the Year.
She attended North Carolina University where she was a four-year starter with the Tar Heels from 2010 to 2013. Ohai is responsible for scoring the single winning goal in the final match of the 2012 FIFA U-20 Women's World Cup, she joined the National team when she was 13;
Named Most Valuable Offensive Player at 2012 NCAA College Cup as the University of North Carolina won the national title. Ohai recorded two assists in the 2012 CONCACAF Under-20 Women's Championship final win vs. Canada.
The blonde was selected by the Houston Dash with the No. 2 overall selection in the 2014 NWSL College Draft. Kealia recorded 28 goals in 114 games.
Kealia Watt was traded to the Chicago Red Stars on January 6, 2020, in exchange for the 18th overall selection in the NESL College Draft of 2020 and Katie Naughton.
On May 26, J.J. Watt got on one knee and asked Kealia to spend the rest of her life by his side, she said YES!!!!

Kealia Ohai and J.J. Watt got married on February 15, 2020, in the Bahamas.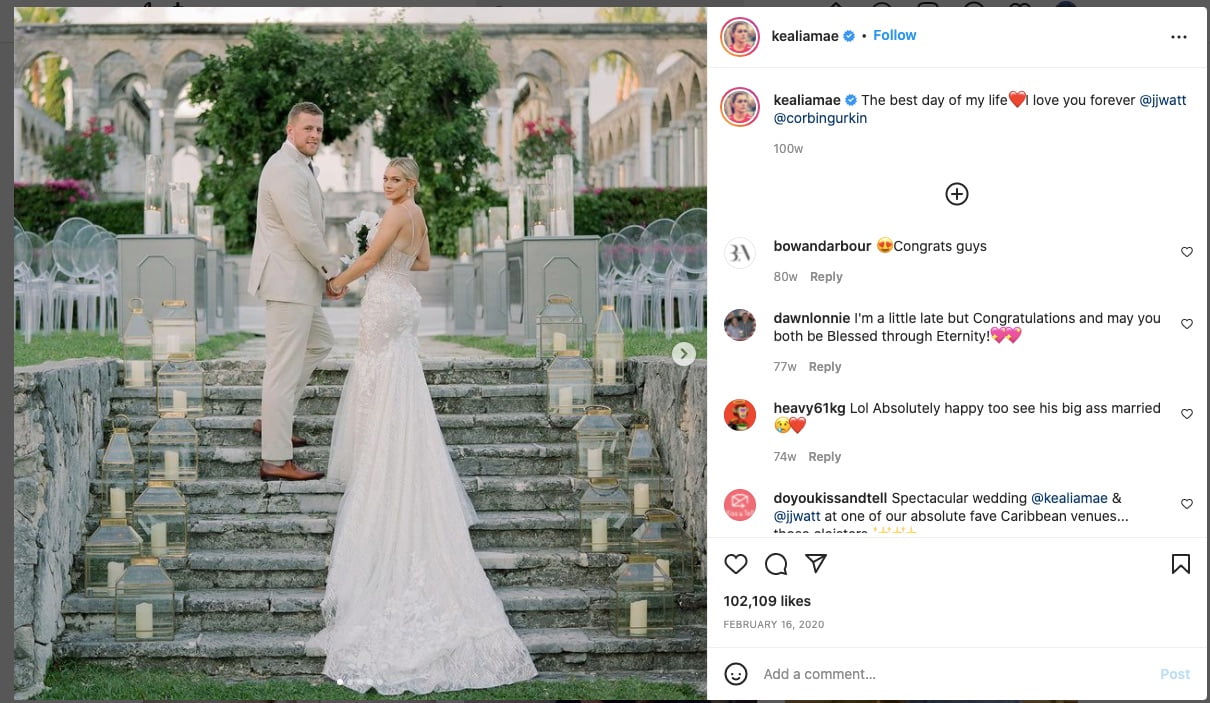 You can find lovely Kealia Ohai on Instagram here.