It is our honor to introduce you to Mahogany Jones! the stunning and lovely girlfriend of NFL player Deebo Samuel. Her beau is the outstanding 6'0″ wide receiver for the San Francisco 49ers, prior to the NFL, Deebo played college football for the Gamecocks at the University of South Carolina.
Deebo Samuel Parents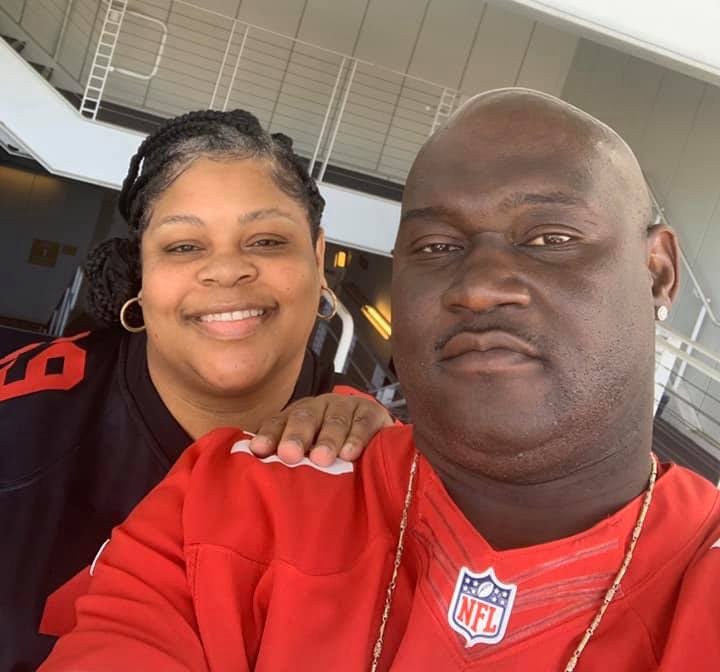 Pin
5'11 Deebo Samuel born Tyshun Raequan Samuel on January 15, 1996, in Inman, South Carolina, is one of two sons born to Galen Samuel and Felicia Winn. He grew up with his father and his stepmother Precious Martin, according to Deebo, his mom Felicia Winn, embarked on street life.
Felicia Winn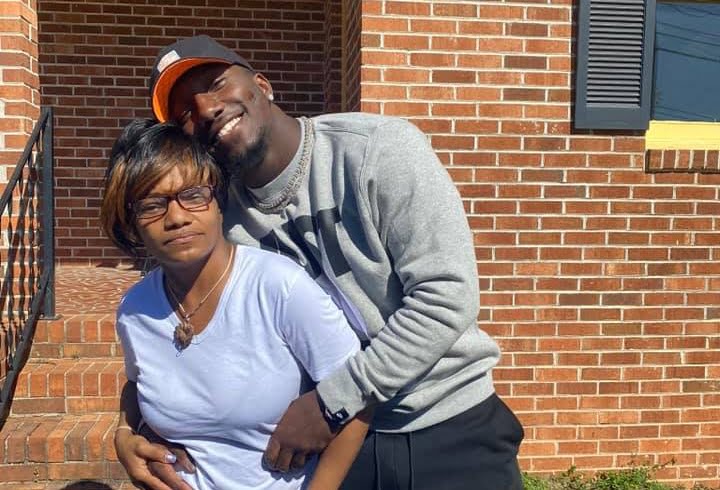 Pin
When I was a child, Felicia kind of got into the street life. I'm not gonna go too deep on it, but it was clear that something had happened to her. She wasn't able to provide for us the same way anymore
Galen and Precious Martin got together when Deebo was six; Deebo and his older brother moved in with them after his grandmother Kathy Winn started to get six when he was around nine.
At one point I was living with my grandmother, we call her Kat. Around the ninth grade, she started getting sick. At that moment, I had nowhere to live. Nowhere to go. No one, I felt like, I could turn to. But then there was Precious. She took me in. I moved with my dad to her house in Inman, South Carolina. Man, I'm gonna be honest: without her, I wouldn't have made it to college. My grades weren't the best, but she clamped down on me and forced me over the finish line. I really think she saved my life. She raised me.
Deebo never forgot about his mom, Felicia, he was committed to getting her on her feet, and he did, he sent her to rehab, bought her a house after she finished her treatment, she got a job at a restaurant.
I kept saying to myself, when I make it to the NFL, I'm gonna get my biological mom some help. When I got to that life, I sent Felicia to a rehab facility to get her mind straight. When she completed her stint there, I bought her a house. I got her up on her feet and now she's back, she's working at a regular restaurant, she's good. She's doing the things she's supposed to be doing.
And let me make something clear….that's my mom! That's my dawg! I could never resent her for the way our lives turned out. She's special to me. Just like Precious is. What's funny is those two are cool. They don't have a problem with each other. I love them both the same. , sometimes, I feel like they both gave birth to me. Precious doesn't care if I call her "mom" or "stepmom" and neither does Felicia. They both just get along. Of course, I've shown Precious a similar level of appreciation that I showed Felicia. I won't say too much, because that'll stay between us.
Precious Martin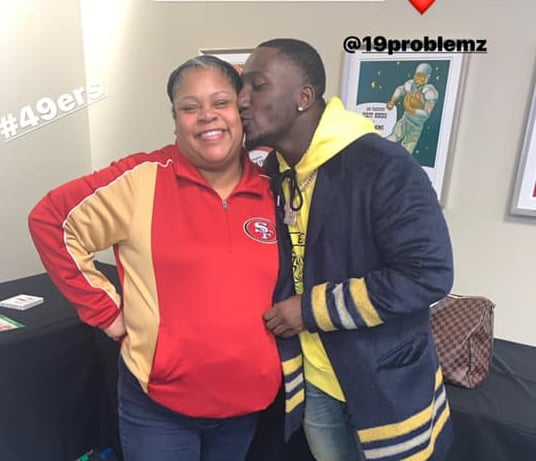 Pin
Precious Martin played and continues to play an important role in Deebo's life, she is not his mom, but neither of them seemed to notice; things got tough when he had to redshirt his freshman year of college, and got worse when he went from one injury to the next, at one point he was sure the only thing he could do was to quit.
But Precious was the person who saved me. Precious changed from my tutor to my life coach. She wouldn't allow me to give up on everything I was fighting for. An injury couldn't prevent me from doing the thing I love when it was worse than this just trying to grow up. She would remind me that God put me in certain situations to test me, to see how strong I was and see how I overcome adversity in life. And it would just go up from there.
Today Deebo is famous, has financial stability, but he remains a humble guy, he still is Felicia's boy.
When my life was on the line, it was Precious who saved me. When I had nowhere to go, it was Precious who got me out of that dark place. She took me under her wing even though I wasn't her child. She pointed me in the right direction of life to get me where I am today. I thank God that He put her in my life and in my father's life, because she changed his life around, too. She refused to let me go back to what I grew up under.
I just applaud her for being the best mother figure I could imagine. When you're stuck in those circumstances, that endless spiral, thinking life will never get better, thinking that you're stuck forever, you stop believing that the sun will shine tomorrow. Unless you have someone like Precious that'll hold your hand as you walk through the storm
Precious Martin attended Paul M. Dorman High School and is the owner and operator at Precious Details Commercial Cleaning.
Galen Martin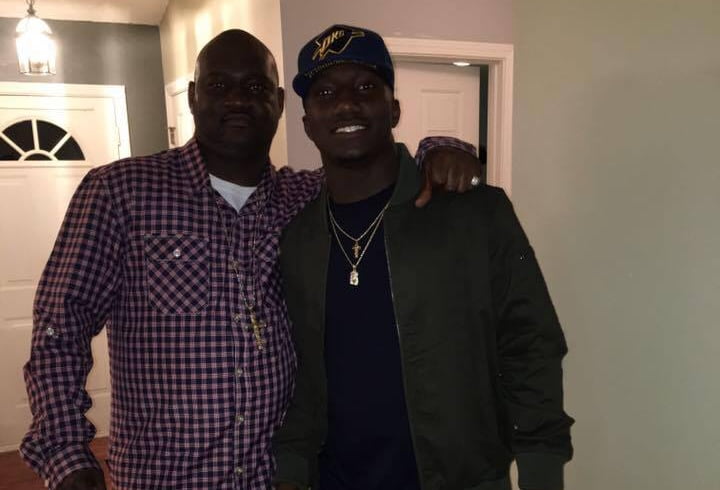 Pin
Deebo'dad Galen Marcell Martin was born on February 6, 1973. He got together with Precious Martin around 2002 or 2003. His sons moved in with him, Precious, and her children when Deebo was in the ninth grade. Galen Martin resides in Nettie Drive in Inman, South Carolina.
Why do they call him Deebo Samuel?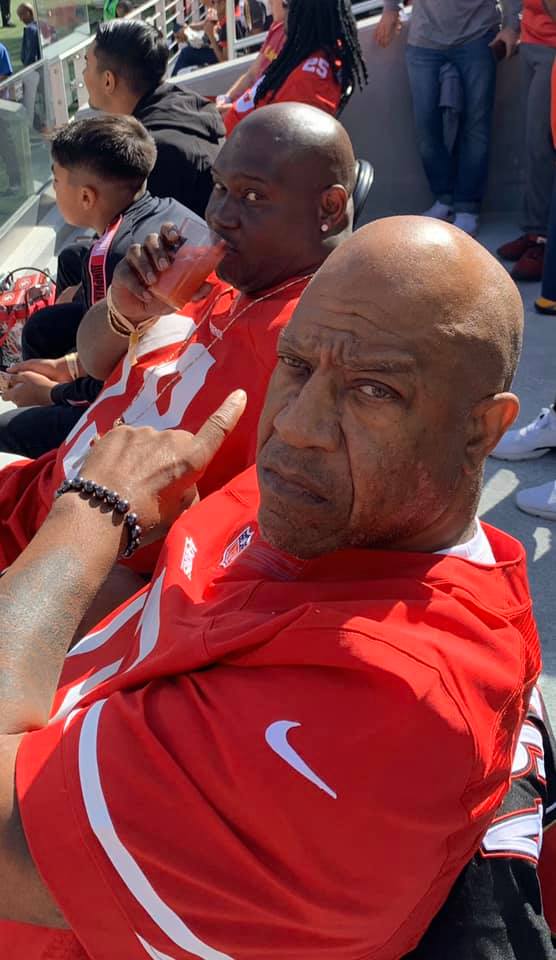 Pin
Deebo Samuel's dad Galen Samuel gave his nickname Deebo after the bully in the 1995 film Friday, Deebo played by actor Tiny Lister Jr. also stars Ice Cube, Nia Long, Chris Tucker, Bernie Mac, and DJ Pooh.
Galen Samuel said he gave his son the nickname Deebo because he was constantly taking things from others and getting into trouble ever since he was a toddler. Deebo Samuel's other nickname is Sweet Feet, given to him by his stepmom, Precious Martin because he was so fast.
My real name isn't Deebo, it's Tyshun. They called me Deebo because when I was younger I used to always wreak havoc, bullying folks and stuff.
Deebo Samuel Brother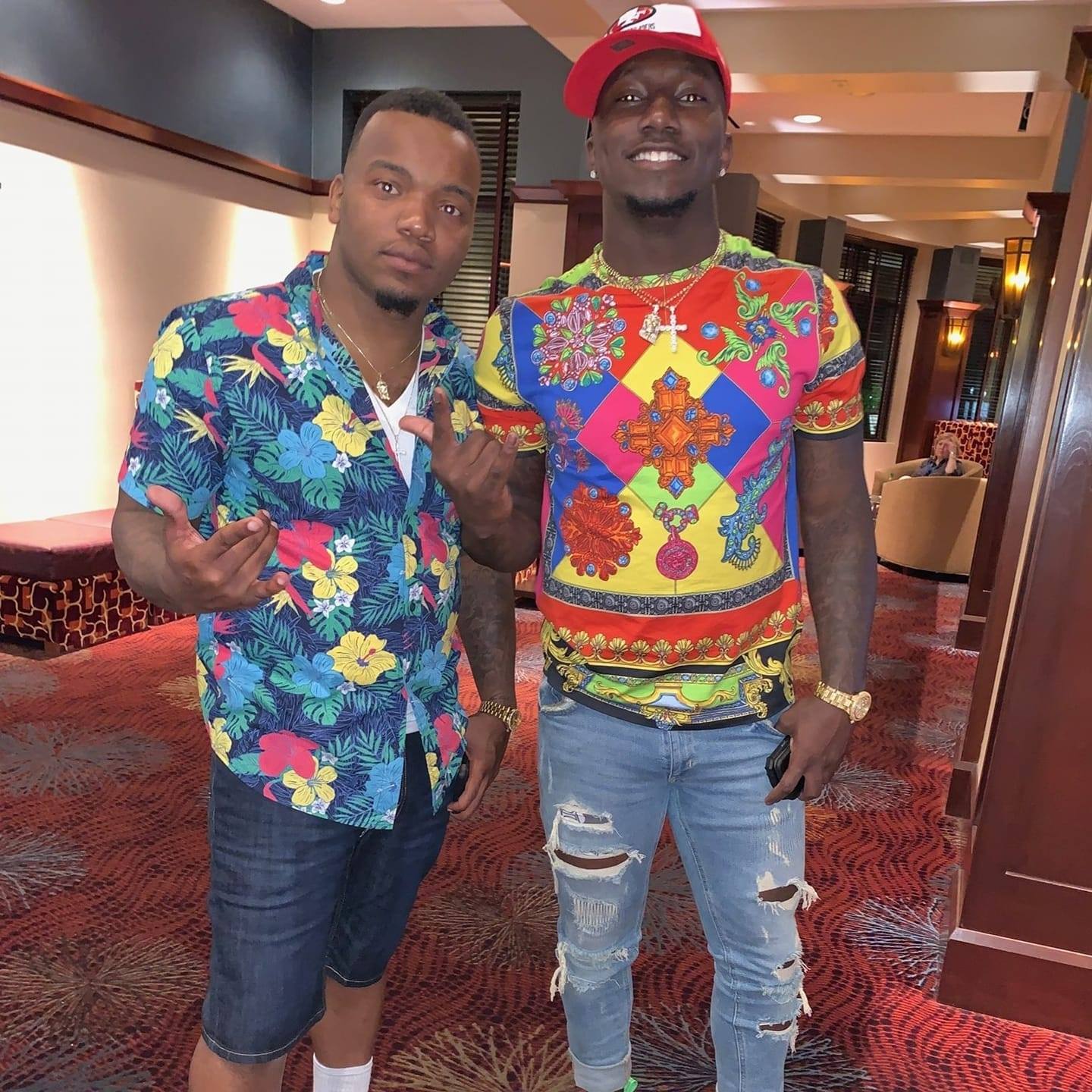 Pin
Tyquan Samuel
Deebo's older brother is Tyquan Rayshun Samuel born on August 22, 1991, in Spartanburg, South Carolina, Deebo said his brother Tyquan is his role model.
He's like my role model. He taught me the ins and outs of the streets, school, sports, everything. I still remember how he'd always yell at me wherever we were, "I'm gonna turn you into an animal!" "I'm gonna turn you into a player nobody can stop!" We went out to the front yard of my grandmother's house one day. I'll never forget it. I put my pads on, I wasn't worried about nothing! Until he put his pads on, and he was knocking….my….head off! I'm talking about I was crying, screaming. My grandmother was upset!
Tyquan got into trouble and was in and out of jail for some time, Deebo was angry during that time, but he was certain that despite Tyquan's mistakes that got him into trouble, he kept him  (Deebo) out of trouble and into the athlete he is today.
Growing up, just like my momma, Tyquan was in the streets. In and out of jail. But without him, I wouldn't be the athlete I am today. And I'm not just saying this because he's my brother. Go to Spartanburg and ask anyone you see who the best athlete they've ever seen is. They'll all tell you the same thing, "It's a dude named Squirt." That's his nickname back home. He kept me out of the way of trouble, though. I was around him, of course, but he wasn't doing the he was doing when I was there. He was that big brother that you need.
I take pride in him for that. But when he went to jail, you can ask him, when he called from jail those first few times, I didn't answer the phone. Hearing him in there, it did something to me. It made me mad, upset. I couldn't bear it. He got out when I was already in college and started coming to my games at South Carolina. Then it was like nothing changed. There was my brother: My family. One of the only things I really care about in this world. When it came to sports or being in the streets, he was still the guy that I leaned on. He tried to set a better example for me, because he saw something in me he didn't see in himself
Deebo Samuel College
Deebo attended Chapman High School, he recorded 61 recepts. for 1,184 yds. and 15 TDs, while also registering 837 yards and 13 touchdowns, his senior year. He committed to the University of South Carolina.
He redshirted his freshman year; recorded 12 receptions for 161 yards in five games his sophomore year, he sat for the rest of that season due to a hamstring injury.
In his junior year, Samuel completed 59 receptions for 783 yards, rushed 15 times for 98 yards, and had six touchdowns. He was named Steve Wadiak Co-Most Valuable Player, Steve Spurrier Most Valuable Player, Most Explosive Player, and Joe Morrison Offensive Player of the Spring.
Deebo completed 15 receptions for 250 yards, rushed twice for 30 yards and three touchdowns during the 2017 season; he broke his right fibula against Kentucky in Week 3.
The following season, Deebo was named Comeback Player of the Year, Most Productive Player, Most explosive Player, Steve Spurrier, and Steve Wadiak MVP; Samuel completed 62receptions for 882 yards, 11 touchdowns, rushed eight times for 26 yards in 12 games.
Deebo Samuel NFL Career
The San Francisco 49ers selected him in the second round (36th overall) in the 2019 NFL Draft.
On July 25, 2019, Deebo signed his. rookie contract with the 49ers.
He made his debut against the Tampa Bay Buccaneers on September 8th, 2019.
On July 28, 2020, was placed on a non-football injury list.
On November 4, 2020, was placed in the. reserve COVID-19 list.
Samuel was named NFC Offensive Player of the Week on November 3, 2021, and then again on November 17.
On December 22, 2021, Samuel was elected to the 2021 Pro Bowl.
Deebo Samuel Net Worth
As of 2022, Deebo Samuel's net worth has been estimated at $3 million. In addition to his salary, Deebo earns from his endorsement deals with Bose, Snaps, Sago Studio, PSD Underwear, Essentia Water, Old Spice, and Nike.
Deebo Samuel Contract & Salary
On July 25, 2019, Deebo Samuel signed a four-year, $7,247,476 million contract with the San Francisco 49ers; the deal included a $3,618,076 signing bonus, $4,731,791 guaranteed, and an annual salary of $1,811,869 million.
Deebo Samuel Girlfriend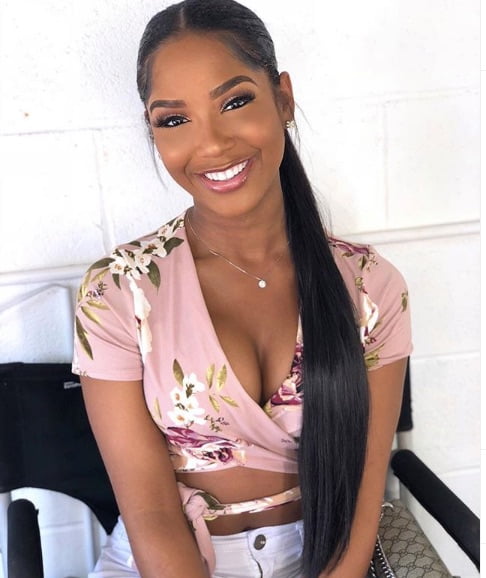 Pin
As we previously mentioned, Deebo is dating Ms. Jones; she was born Mahogany Nicole Jones. Mahogany in 1996, in North Carolina.
Mahogany Jones
This gorgeous gal is the daughter of Cassandra Johnson Jones and Jimmy C. Jones Jr. ages 47 and 49, respectively. She has one older sister named Melanie, 26.
Mahogany studied Science in Mathetics at North Carolina A&T State University, she graduated in 2019.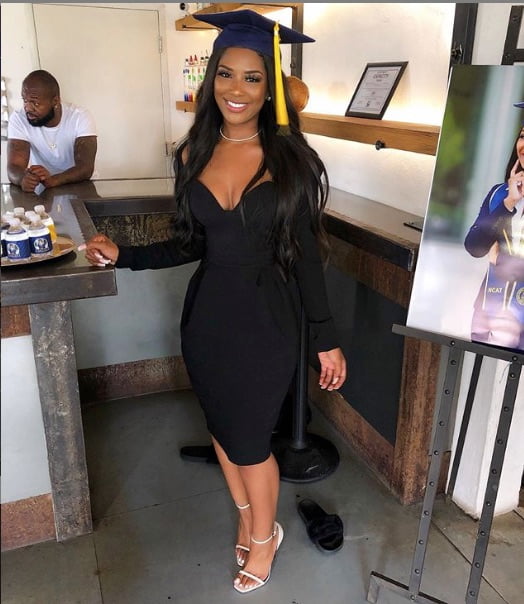 Pin
Did you know she is a businesswoman and a model? As a model, and former Hooters' waitress Mahogany appeared in Hoodrich Pablo Juan and Gucci Mane's music video for their remix We Don't Love Em and Gucci Mane's music video for his song Solitaire featuring Migos & Lil Yachty.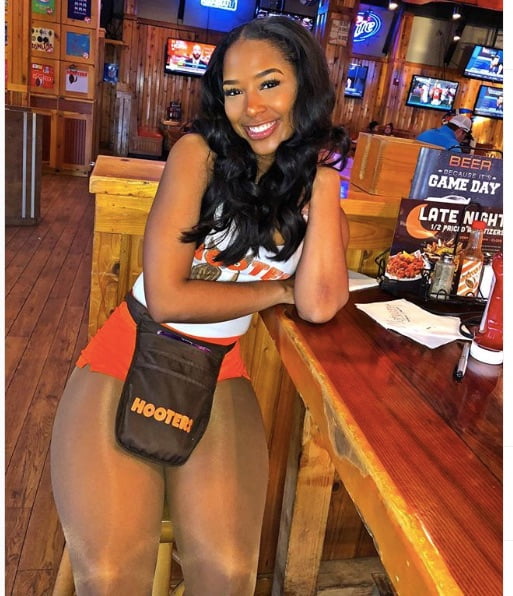 Pin
She also posed for the cover of Black Diva Magazine among others. Fashion has always been a part of her life even at a young age.
I have always been interested in fashion and art since I was in high school creating my own pieces, drawings and sculptures.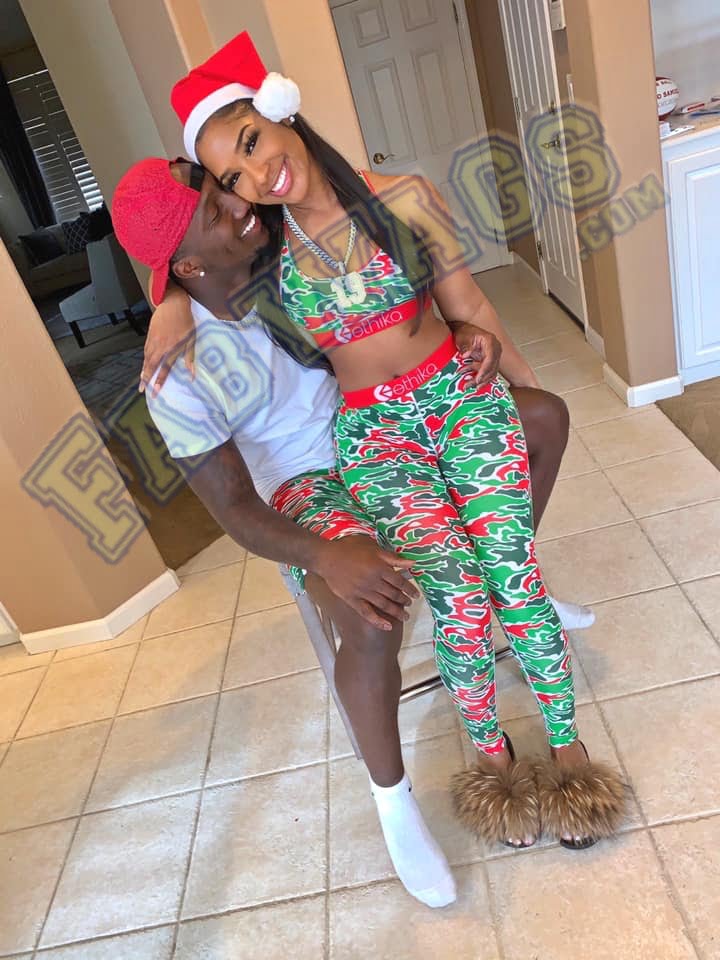 Pin
Mahogany is the owner of a swimsuit business called Shades of Mahogany. 
Related Story: George Kittle Wife Claire Kittle