This pretty young lady is Nina Ghaibi; the stunning girlfriend of Canadian tennis player Felix Auger Aliassime, he reached his career-high ranking of world #15 on July 12, 2021. Felix reached the quarterfinals at Wimbledon in 2021 and semi-finals at the US Open.
Felix Auger-Aliassime Bio
6'4″ Felix Auger Aliassime, was born in Montreal, Quebec in Canada on August 8, 2000. He is the youngest child of Sam Aliassime and Marie Auger. Felix's older sister is Malika (b. 1998) who is also a tennis player.
Both Felix and his sister Malike started playing tennis at a young age, both coached by their father; they subsequently joined the Académie de Tennis Hérisset-Bordeleau in Quebec.
Since turning pro in 2017, Felix Auger Aliassime (currently #21 in the singles world ranking), reached the quarterfinals at the 2018 French Open, defeated Stefanos Tsitsipas in straight sets at the 2019 Indian Wells Masters, in 2021 Felix Auger-Aliassime advance to quarterfinals at Wimbledon and semifinals at the US Open.
Felix Auger Aliassime Parents
6'4 Felix Auger Aliassime is one of the children born to Sam Aliassime and Marie Auger.
Felix Auger Aliassime father Sam Aliassime
Felix's dad Sam Aliassime hails from Togo in West Africa, he is a tennis coach who emigrated from his hometown settling in Montreal where he met his wife Marie Auger. Sam takes care of hischildren's careers; he trained with Felix until he turned 13.
"My mom isn't a sports fan, and my dad didn't know what hockey was until he got to Canada," Felix told ESPN. "Our parents wanted me to be a complete athlete, so we played all sports, but tennis always was at the top."
Felix Auger Aliassime mother Marie Auger
French-Canadian Marie Auger originally from Motreal is a  children's psychology teacher, who even though didn't know much about sports made sure her children stayed grounded.
"I tried to be the balance at home. I have good communication with my kids and they know that they can confide in me. It is not always easy being the parent of a professional tennis player, but I have grown into that role. When Felix is playing in a tennis tournament, he is at work. I keep a positive attitude and make sure he feels supported, but I leave the tennis up to him."
"As a mother, I of course want my son to excel in the world of tennis, but I often focus on his attitude when he is on the court. Since he was a child, Félix has had an aura when he steps onto the court, he is passionate and driven, but also displays his sensitive side. He is not just a good player, he is a good person.
Felix Auger-Aliassime Sister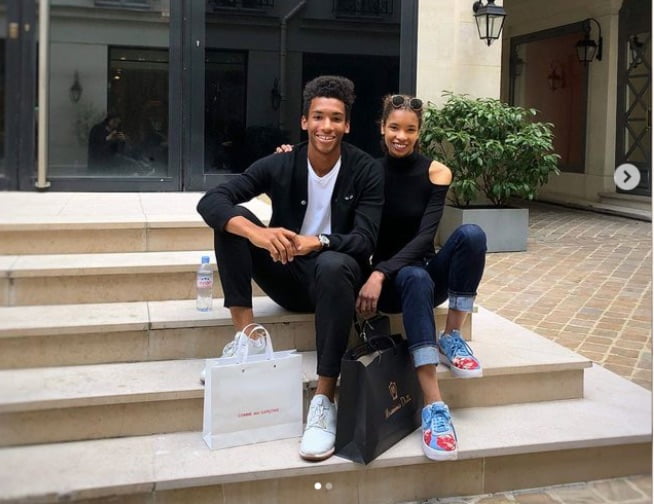 Felix Auger-Aliassime's older 5'10 sister Malika Auger-Aliassime was born on December 28, 1998, in Montreal, Quebec. She along her brother grew up in L'Acienne-Quebecker. Malika Auger-Aliassime started playing tennis when she was 6, and trained with her father Sam Aliassime for a long time; she later joined Académie de Tennis Hérisset-Bordeleau.
Malika  turned pro in 2015, made her debut in September that same year at the Coupe Banque Nationale.
I always wanted to play in the WTA and I hope to pursue this dream at college. Tennis's not only my passion, it!d my life and I'm ready to give everything to succeed. I like to work hard and I'm persevering, perfectionist I think that's what make me different from others.
I never give up and I know the meaning of the word sacrifice. I'm not gonna lie, I've been hurt a lot two years ago and I had to stop one year, but that only make me stronger. I appreciate now every single minute on coart and I know that everything is possible if you believe in yourself.
Felix Auger-Aliassime ATP Timeline
Felix Auger-Aliassime won his first ITF junior singles title at the G3 in Querétaro and later the the G4 in Zapopan  in February 2015.
Felix defeated Denis Shapovalov winning his first junior G1 title in College Park in August 2015.
Partnering with Shapovalop, Felix reached the second round and won the singles junior title at the US Open.
In 2017, Felix turned pro, reaching the final of the ITF Futures in Plantation.
Felix advanced to the semifinals of the ATP Challenger $75K in Drummondville.
At the age of 16, Felix won the 2017 Open de Lyon.
With Nicola Kuhn, Felix won his first  ATP Challenger doubles title, at 2018, Hungary Challenger Open.
In February 2019,  at the Rotterman Open, he made his debut in an ATP main draw.
Won the Rio Open after defeating Pablo Cuevas in straight sets on February 23, 2019.
Got a wild card to enter the Madrid Open.
He reached the finals at the Lyon Open but sadly lost to Benoit Paire in straight sets.
Became the 19th seed to enter Wimbledon in 2019, reached the third round after he was defeated by Ugo Humbert.
He lost to Denis Shapovalov at the 2019 US Open.
Reached the first round at the 2020 Australian Open after he was defeated by Ernest Gulbis.
Yoshihito Nishioka eliminated Felix in the first round of the 2020 French Open.
 Aslan Karatsev defeated him in the fourth round of the 2021 Australian Open.
Andreas Seppi defeating him in the first round of the French Open.
He lost the finals of the 2021 Mercedes Cup against Marin Cilic, 7-6, 6-3.
At Wimbledon, Felix Auger-Aliassime reached the quarterfinals after defeated Zverev, Denis Shapovalov, but eventually lost to Matteo Berrettini.
Felix Auger Aliassime Net Worth
Canadian tennis player Felix Auger Aliassime has a net worth estimated at $3.5 million. He has earned roughly 3,721,486 in prize money.
Felix Auger Aliassime Endorsements
Felix Auger Aliassime had an endorsements deal with Nike, but after he parted ways with Nike Felix joined Adidas, as well as Babolat and Tag Heuer.
Felix Auger Alissime Girlfriend
Big things are expected from this talented young athlete, but his girlfriend Nina Ghaibi is one talented gal herself.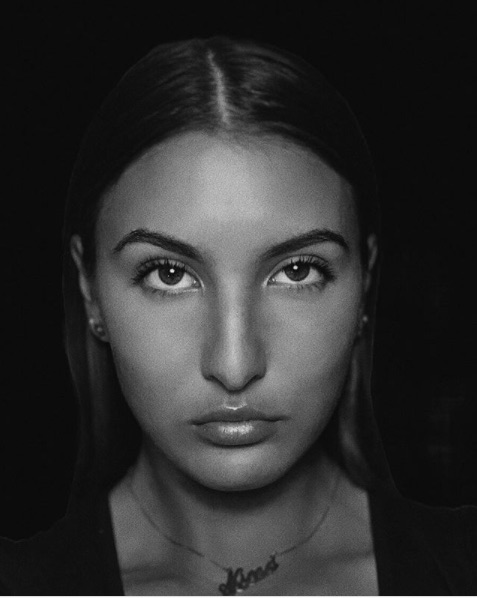 Nina Ghaibi
Croatian stunner Nina Ghaibi was born on June 19, 2000; she has an older sister Cilia born on September 9, 1994; both sisters are equestrians. She is close friends with Croatian tennis player, Ajla Tomljanovic.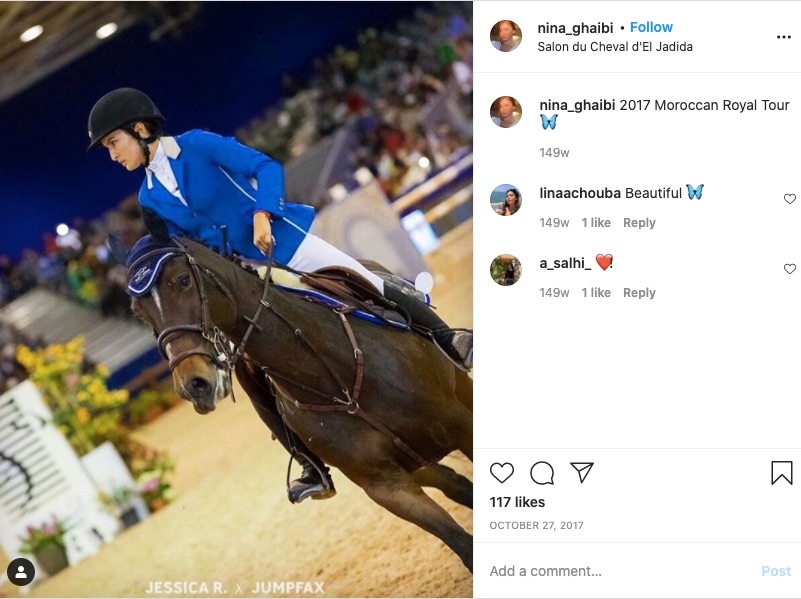 Certainly, Nina and her sister followed their dad's steps, Karim Ghaibi, 53, is an equestrian as well. Her beautiful mother Jasmina, 51, graduated from Barton College.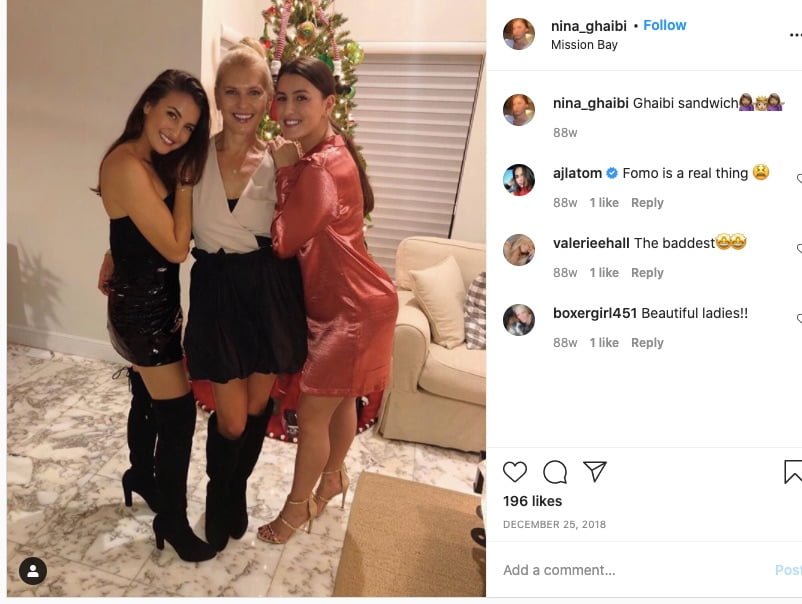 Nina and her family, reside in Huntersville, North Carolina.
You can find Nina Ghaibi on Instagram here.