Camryn
Meet Camryn ; this young, beautiful and extremely talented young lady is the girlfriend of college football player Dylan McCaffrey; the 6'5″ quarterback for the Michigan Wolverines at the University of Michigan.
Dylan is the brother of NFL players Max and Christian McCaffrey, an NFL wide receiver (free agent) and the running back for the Panthers respectively. Their younger brother Luke is too a football player, he committed to play at Nebraska.
All of the McCaffrey boys have followed their father's football steps, Ed McCaffrey, a retired wide receiver enjoyed over a decade playing in the NFL, first with the Giants, later with the 49ers, and lastly with the Broncos; prior to that, he played college football at Standford.
Back to Dylan and his pretty gal Camryn; she was born Camryn Reino in LittletonColorado; she is . the younger daughter of Annette and Peter , proud parents of Camryn big sis Coriana.
Camryn met and started dating Dylan while they both attended Valor Christian High School where our girl played amazing soccer. Ms. was the 2016 Valor Christian History Student of the Year, top Female Academic Athlete at the 2016 Valor VESPY Sports Awards, the January 2016 Valor Christian Student of the Month and earned the 2016-17 Valor Christian Bible Department C.S. Lewis Award for Writing, not bad indeed!!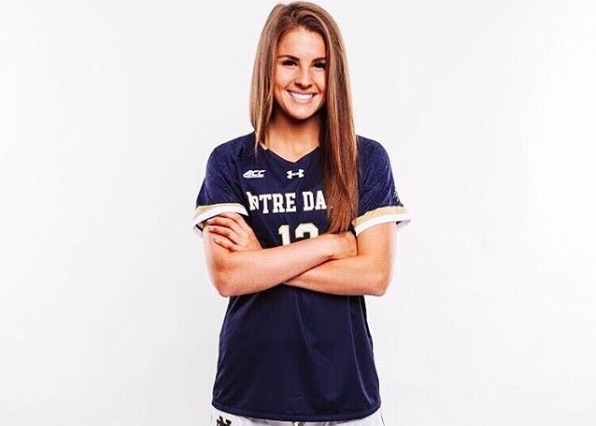 Furthermore, 5'7″ Camryn is currently a sophomore student at Notre Dame, she didn't play her freshman year with the Fighting Irish due to an injury. In addition to playing soccer in college, Camryn plays for the Colorado Rush ECNL.