Faryal Makhdoom
Faryal Makhdoom is the stunning model wife of Olympic Medalist and 2x World Boxing Champion Amir Khan. Though her husband is one of British sports most recognizable figures, the lovely Faryal is right there with him as public figure. Let's find out more about her.
Faryal's husband was born Amir Iqbal Khan on December 8, 1986. The Bolton, Great Manchester native was born into a family with Pakistani roots.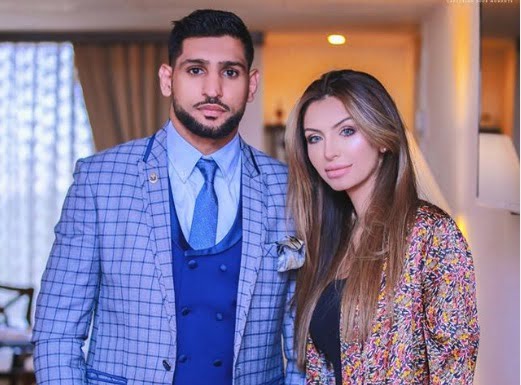 Khan who was educated as a Muslim has two sisters and one brother, Harry Khan –also a professional boxer.
Amir who began boxing at age 11 has an impressive professional fight record; having become the World Light Welterweight Champion in July 2009 after his life changing fight against Andreas Kotelnik.
Amir's awards and achievements include Olympic Silver Medalist (2004), he is also a former IBF Inter-Continental Light-Welterweight Champion, former WBA, WBO and Commonwealth Lightweight Champion. He is the current SUPER WBA World Light-Welterweight Champion and current WBA World Light-Welterweight Champion.
Amir has been married to the beautiful Faryal Makhdoom for the past three years.
The wife and mother spends most of her time building her brand through social media. She works with a plethora of brands and aims to become a beauty, fashion, and lifestyle icon.
Faryal grew up in New York and is now a UK resident. Faryal who is of Pakistani heritage often reflects her roots in her aesthetic.
Faryal Makhdoom holds a double major in political science and journalism from Rutgers University School of Arts & Science.
Following graduation she took some time off to settle in her new role as a wife and mother. Faryal met Amir Khan after being introduced by a mutual friend, they became engaged in 2012.
She wedded Amir on May 31, 2013. She gained major spotlight following her highly publicized 1000-guest wedding ceremony at New York's Waldorf Astoria Hotel
Since then, the couple have welcome one daughter. Faryal Makhdoom gave birth to Lamaisah on May 23, 2014.
Faryal was born in Brooklyn. She is the daughter of Shaukat and Zia. Her parents own a luxury home in the swanky New York borough of  Staten Island.
A makeup enthusiast and model, she has her own cosmetics range, Faryal Makhdoom cosmetics, predominantly selling lipstick.
On her website Faryal, who divides her time between Amir's native Lancashire and the city of her birth, describes herself as a "down to earth gal" who is "sweet-natured, endearing and a breath of fresh air".
Faryal has a huge presence in social media. Her YouTube channel –which she uses to post videos of makeup tips –often garner hundreds of thousands of views.
However, not everything has been a paradise for the couple. 25-year-old Faryal made headlines last December when she accused her husband's family of bullying, calling his sister evil on her Snapchat.
Faryal's hubby is in the middle of a scandal after a video of him performing a act was recently leaked! He's rumored to have cheated on his gorgeous wife. Will Faryal Makhdoom stick around?
Check the gorgeous Faryal Makhdoom on Instagram here.