Geraldine Le Clos
Geraldine Le Clos is the proud mother of Olympic South African swimmer, Chad Le Clos. Her 24-year-old son is sure making a splash at the Rio Olympics.
Chad Le Clos is the guy to beat for U.S Michael Phelps. Le Clos clocked a 1min 45.89sec personal best in the afternoon heats on Sunday, but then slowed slightly to 1:45.94 in the evening, although he still qualified for tonight's final.
Le Clos is the reigning 200m world short-course champion.
Geraldine Le Clos is married to Chad's father, Bert Le Clos. She and her husband have been married for 26-years. Together they have four children, including Chad. Geraldine Le Close gave birth to her Olympian child in Durban, South Africa, in 1992.
According to his website, Chad's first love was football but it was swimming where he really dominated.
Chad started swimming competitively aged 10 and by the age of 14 he had already made the senior Olympic squad. At the age of 18 he held two senior South African records, Commonwealth Junior and Senior records. He also competed at the inaugural Youth Olympic Games in Singapore, where he won five medals. In 2010 he won gold in every major event he competed in, including the 200m 'fly at the Commonwealth Games in Delhi and the FINA Short Course World Championships in Dubai.
Then came London 2012 where he truly announced himself to the world. His gold medal in the men's 200m butterfly where he beat his hero Michael Phelps by 0.05 secs was one of the standout moments of the Games. He also went on to win silver in the 100m butterfly to complete a hugely successful debut Olympics.
At the 2013 World Championships in Barcelona Chad, won gold in the 100m and 200m butterfly. At the 2014 Commonwealth Games Chad medalled in each of the seven events he entered, including gold in the 100m and 200m butterfly. He then made history at the FINA World Cup Series, becoming the first swimmer ever to be crowned overall winner three times.
We can tell you all about Chad Le Clos, but for him, the only champion is without a doubt his lovely mother. Geraldine Le Clos has been battling breast cancer. The wife and mother of two was first diagnosed in 2010 and earlier this year, she was told it had returned.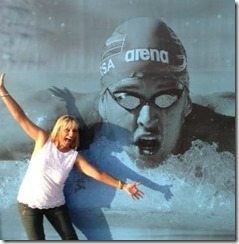 Gerladine Le Clos underwent surgery last May. At the time, Chad said, despite his mother's condition he was determined to make it to the Rio Olympics.
According to social media info, Geraldine Le Clos studied at Queensburgh Girls' High School. The Durban, South Africa resident is described as self-employed.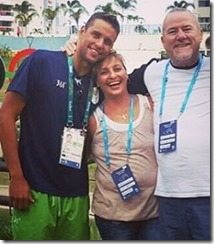 Geraldine Le Clos –who also goes as Gerry –underwent a double mastectomy and is currently receiving chemo. According to the Daily Mail, her husband Bert –who became a media sensation following an emotional interview for the BBC –is also suffering from cancer.
The champ said about his parents on an interview
"'Having my Mum and Dad healthy would mean so much more than winning a gold medal but at the same time I know I have never trained as hard for anything as I am doing now.
Despite their health status the couple is currently in Rio as support system rooting for their son. Along with them, is the rest of their children, daughter Bianca and sons, Jordan and Justin Le Clos.
Check out the proud mama on Twitter here.