Latin Golfer Angel Cabrera has some interesting love life that we would like to share with you, he has two sons from his marriage or union with Sylvia Cabrera who actually is Silvia Rivadero, a decade younger that him and his partner for 20 years, but then there is his newest girlfriend that was revealed in 2013 singer Coki Ramirez, but  who the heck is Noelia Aguado? ex-girlfriend? mistress?? (Photos in the gallery below)
El Pato which means the Duck in Spanish is the nickname of the 43-year-old Argentinean golfer Angel Cabrera, he grew up with his grandmother after his parents split up when he was just a little boy. His father Miguel was a handyman and his mother Luisa was a maid. In case you are wondering El Pato was a nickname he got when he was a child for the way he walks, others also call him El Pelado, which is a name given to bald men.
But Cabrera wasn't staying at grandma's for long, as soon as he turned 11, he was on his way to his wife, well actually girlfriend's house just a few feet away
55-year-old Sylvia Rivadero aka Silvia Cabrera or Sylvia Cabrera was 29 by the time Cabrera moved in with her and her four sons from a previous  relationship, they are Marcelo, Lucas, Miguel and  Víctor who became his caddie.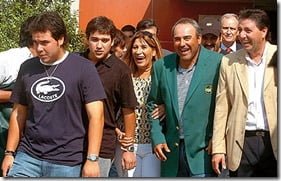 Just months after they were living together Sylvia gave birth to the couple's first son Federico and two years after that she gave birth to their second son Angel Jr. both their sons are golfers.
Some media said Angel and Sylvia Cabrera got married eventually, others claimed they never did and after 20 years together they broke up and are no longer together, in 2009 police arrived at Angel and Sylvia's home after they received a call about a domestic dispute, however, no arrests were made.  But two of his stepsons  were allegedly arrested for robbery
If Cabrera and Sylvia are indeed separated, then he is dating someone? he has bee romantically liked to two ladies, Noelia Aguado and singer Coki Ramirez, both have been described as Angel Cabrera's rumored new girlfriends.
Noelia Aguado was allegedly some blond girl El Pato dated years ago but I'm not even sure that is correct, he has been dating singer Coki Ramirez for a few months.
33-year-old Coki Ramirez was born Patricia Silvana Ramirez Ter on February 6th, 1980 in Cordoba, Argentina to Ana Ter Har and Juan Ramírez, she has twin sisters Maria Fernanda and Gabriela.
Angel's GF Coki graduate from dental prosthetist and became a model, a singer and an actress afterwards.
Coki released her first album Presente (Present) in 2007, her second album Se Puede (It Can) was released last year. Coki has collaborated with famous Latin singers like Ricardo Montaner, Fito Paez, Alex Syntek and Julio Iglesias.
She joined the of Bailando Por Un Sueno (Spanish version of Dancing With the Stars) in 2010 and again in 2011, last years she starred in the Argentinean soap opera Dulce Amor (Sweet Love) and starred at the theatrical play Los Grimaldi.
Coki Ramirez confirmed she and golfer Angel Cabrera were indeed dating. Coki and Angel met at an event in Cordoba in 2012, they began to date after he called her and invited her to dinner after one of her performances at Los Grimaldi that Summer.
Coki known as La Chica del Verano (the girl of the summer), commented about her relationship with the golfer.
"Los dos estamos solos, no tenemos nada que ocultar. Nos estamos conociendo. Yo me siento muy feliz y me da miedo que esto afecte nuestra relación, porque él no es una persona mediática y no está acostumbrado a esto",

"We both are single and had nothing to hide, We are getting to know each other.  I feel very happy but I'm afraid our relationship is going  to be affected because he is not a media person, and is not used to this"
And don't miss Coki Ramirez' hit photos  in the gallery below and the video where she confirmed her relationship with Cabrera