Jennifer Bolt
Jennifer Bolt is a proud Olympic mom, her son is regarded and widely known as 'the world's fastest man.' By now, her last name –made famous by her son –probably gave her away, she is the mother of Jamaican sprint runner, Usain Botl.
The 29-year-old has done it again, he became the first athlete to win three Olympic 100m titles by beating American Justin Gatlin to gold at Rio 2016. Bolt, ran 9.81 seconds in his final Olympics to replicate his success at Beijing 2008 and London 2012.
Jennifer Bolt and her husband Wellesley, became the parents of Usain St. Leo Bolt on August 21, 1986. He was born in Trelawny Parish, on the north coast of Jamaica. Jennifer Bolt is also the mother of Usain's two siblings: his brother, Sadiki and sister, Sherine.
Their son not only became an overnight sensation, according to his website, as early as age 14, young Usain was opening eyes with his lightning speed from regional championships in western Jamaica to national meets set in Kingston to meets in the wider Caribbean.
Usain's ascent to the pinnacle of world sprinting started with the most unlikely of events as his first medal at any meet came in the 80 hurdles in Class Three at Western Champs held on the campus of his Alma Mater William Knibb Memorial High in Martha Brae, Trelawny when he 'jumped' his way to a bronze medal.
By 2001 Bolt became a known commodity and he sent signals that he would be a world beater in early 2002 when he cruised to a hand timed 20.3 seconds to win the 200m at Western Champs finals at Catherine Hall.
Jennifer's son has also gone through the difficulties that many athletes often face, injuries. In 2004, Bolt was slowed by a troublesome hamstring injury and then again in 2006. Nevertheless, he recovered with the help of those around him including his mom.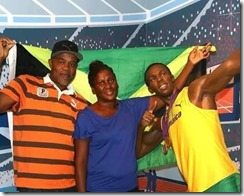 As any other mother, Jennifer Bolt couldn't be more proud of her son, however while his focus is on winning meets, hers? Is finding a good woman for him. Jennifer Bolt was honest when saying she hopes he'll settle down, get married and start his family, once he is done competing.
She also revealed being the mom of the world's fastest man is "It's really, you know, a pleasure knowing that we have the fastest man as our son because we get to go out, we do lots of interviews, get to go places," "It's really a pleasure. It's happy and feeling good."
The 54-year-old has cried many tears of joy whenever her son won a race, but over the formative years of his career she would notice his nervousness before big races. Jennifer Bolt would talk to him and say "the Lord is with you and I'm gonna pray for you."
The support from his mother worked, as Bolt went on to win gold in the 200m, becoming the youngest-ever Junior World Champion. Ever since, he has been a superstar.
Jennifer Bolt and her husband are humble people. While their son is worth millions and movies are made about him; they have lived in the same house and the same village for over five decades. Her husband, Usain's father, worked in the coffee industry and now owns his own shop in town. Jennifer Bolt wouldn't want it any other way.