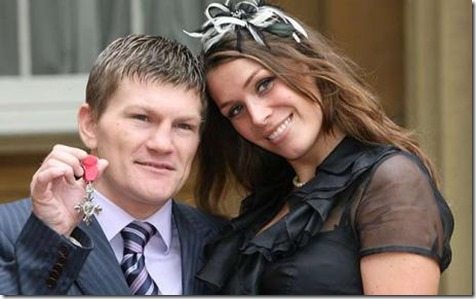 Meet 35-year-old Jennifer Dooley the girlfriend of boxing legend Ricky Hatton.
The couple has been together for years and are parents of two small children, two daughters. Dooley first gave birth to Millie now a two-year-old daughter and ten-month-old Fearne.
The couple has had their ups-and-downs and recent reports they are finally calling it quits, so for those who had hopes we are sorry to break-it-down for you. The Daily Mail reports her man moved out of his £3million family home for a second time. He
had only just moved back in with his fiancée in a bid to rekindle their relationship but the former two-weight world champion allegedly had a bust-up with Dooley during a holiday in Tenerife with their children.
Jennifer lives in Hyde, Greater Manchester in the family mansion -the "Heartbreak Hotel" named after his favorite artist, Elvis –she shared with the boxer and her children. The 35-year-old was missing for two days and apparently Dooley had enough humiliation. The couple briefly separated in December after another falling out by the boxer.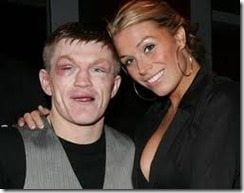 In January, he spoke about his desire to save his engagement, telling the Manchester Evening News: 'Me and Jennifer are working through our difficulties.
'We are no different to anybody else except my life is under the spotlight because of who I am.'
We all remember her from when she couldnt hold her tears after watching Hatton taking a beating from Manny Pacquiao in 2009. She watched helpless as he lied unconscious in the ring.
She then endured an agonising three minutes as the star nicknamed the Hitman lay out cold on the canvas before eventually being revived.
The couple met at the age of five when they were primary school classmates. They were reintroduced in 2004 through Miss Coyne.
Miss Dooley, who has a marketing degree from Manchester Metropolitan Business School, has spoken in the past of the couple's close friendship with Manchester United striker Wayne Rooney and wife Coleen.
Think the couple is done for good or could they patch things up?