Jewel Harris
Jewel Harris is the lovely wife of NBA shooting guard, JR Smith who currently plays for the Cleveland Cavaliers. Jewel's man is described as one of the NBA's better shooting guards, he has been on the playoffs in eight of his 12 seasons and participated in two Slam Dunk Contests.
Her hubby was born Earl Joseph Smith III on September 9, 1985 in Freehold Borough, NJ; and is commonly known as J.R. Smith. He is the son of Ida Smith and Earl Smith. J.R. Smith is one ofe six children, his five siblings include three brothers and two sisters.
He played in the McDonald's All-American Game in 2004 after a solid career at Saint Benedict's Preparatory School in Newark, New Jersey. He was selected 18th overall by the New Orleans Hornets in the 2004 NBA Draft.
After two years with the Hornets, Smith was traded to the Denver Nuggets in 2006. Smith spent five years in Denver with head coach George Karl.
During the 2011-12 NBA lockout, he played for the Zhejiang Golden Bulls in the Chinese Basketball Association. He helped the Golden Bulls make the playoffs. After the team was eliminated, he eventually signed with the Knicks in February 2012.
On January 5th, 2015, Smith and Shumpert were traded to the Cleveland Cavaliers in a three-team trade that also involved the Oklahoma City Thunder.
While playing for the Nicks he was named a two time NBA's Sixth Man of the Year in 2012 and in 2015, he helped lead the Cleveland Cavaliers to the NBA Finals.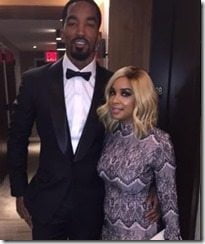 Despite being a solid player, Jewel's hubby hasn't escaped without some drama on and off the court. Back in 2006 he was suspended to play 10 games because of his involvement in Knicks-Nuggets Brawl.
Smith was suspended seven games in the 2009-10 NBA season due to a guilty plea from a 2007 reckless driving incident. He has amassed several speeding tickets and driving violations over the years.
He was also suspended for Game 4 vs. the Boston Celtics in the 2013 NBA playoffs and two games in this year's playoffs for throwing a punch at Boston Celtics' Jae Crowder.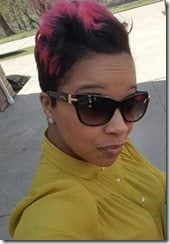 Now, not much is known about the player's wife. The  6 ft 6 in tattooed Smith has been previously linked to dating Rihanna and Solange Knowles in the past, but the rumors were never confirmed. Right before proposing to Jewel he was said to have been in a two year relationship with Ashley Weatherspoon.
It is not known since when Jewel and Smith have actually been together but we assumed it's been several on and off years since the couple share a 7-year-old daughter together.
Jewel Harris and Smith eloped in August last year after getting engaged in one of the most adorable ways ever! Smith is assisted by the couple's daughter, Demi Smith, in requesting her mother's hand in marriage by whipping out the ring box.
"Mommy, will you marry us?" she asks.
The couple surprised many to say the least, however they are now Mr. and Mrs. Smith and Jewel Harris became a stepmom to her hubby's other daughter, Payton Smith.
Weather a blonde or a short haired look, this mother of two looks like is all about the attitude. According to her Instagram, she describes herself as a wife, mother, educator and student.
You can find Jewel Harris on Instagram here.