Meet Jillian Rose
Jillian Rose is the girlfriend of 29-year-old MLB player Josh Donaldson. The pair are in for an exciting night, as the third baseman for the Toronto Blue Jays is by far of the Blue Jays star athletes. Josh who also played with the Oakland Athletics played college baseball at Auburn University prior to his MLB Draft selection in 2010.
Although, Josh's story is quite interesting, I bet you all know it by know, besides you are here in FabWags, so here is what we can tell you about Donaldson's better half his longtime girlfriend and partner in crime, Ms.  Jillian Rose.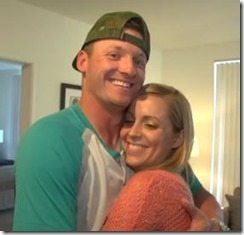 Pin
Jillian Rose and Donaldson have been together for some time now. The blonde seems to be a little shy when it comes to public displays. She's also not a big fan of social media but still, she keeps her beau happy.
When Josh played for the Oakland Athletics, Jillian Rose and her man shared an apartment in in San Francisco. This type of commitment indicates Rose is in her way to become a future MLB wife.
Her guy is also known for his Mohawk, to which Jillian Rose said:
"He looked like he always did," she said. "Then I was sitting in the stands with the girls. When he first got it done, his hair was so short and one of the girls said, 'I think his head is shiny.' I was like, 'What happened? I just dropped him off!' Then he takes off his helmet and we saw it.

"After the game, I'm like, 'Babe, what happened?' I said, 'Who did this?' He said, 'Well, I was doing it myself, and then I started having trouble so [Grant] Balfour helped me out.' So then I saw Balfour's wife, Angie, and I said, 'Hey, we need to talk about doing this before.' It was funny."
Jillian Rose who is originally from Cincinnati, is still a devout Reds fan. To complete happy family, the couple owns a nine-pound, tri-color Cavalier King Charles Spaniel toy named Lucy.