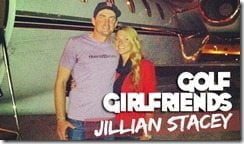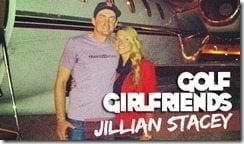 Boys are not only supporting PGA Golfer Keegan Bradley for his sports skills but because they can't help to to take a a peek at Bradley girlfriend .
The chick has a goddess body which she flares in a bikini. She is also an easygoing girl, kind of the girl next door, who has some drinks near the pool with her boyfriend and his friends. They also live together and is Keegan who can afford a good lifestyle thanks to golf earnings.
Jillian is a Bruins, Sox  and Packers fan. So it is easy to understand why her man is so happy to have found her. She is originally from New England and loves golden retrievers. The classical American girl.
We will delight ourselves and see her closer now that her boyfriend is in tour. From October 1-6 they will be seen at The Presidents CupMuirfield Village Golf ClubDublin, OH. Then on October 24-27, at
CIMB ClassicThe Kuala Lumpur Golf & Country ClubKuala Lumpur, Malaysia and finally on october 28-November 3 at WGC-HSBC ChampionsSheshan International Golf ClubShanghai, China.
So this pair will have a heavy trip ahead but we don't doubt Jillian will be supporting her man with all her love and attention :)
And just for the record: I think these two already said the definite "yes" cuz I saw a pic of them, she wearing a white gown and he wearing a suit, but maybe is just a cocktail party they are attending…;)
We can check Jillian's at @JillianStacey1