Julie Rhule
Julie Rhule is the loving and supportive wife of  NFL football coach, Matt Rhule –who recently became the new head coach for the Carolina Panthers; prior to that, he was the head coach at Baylor University.
Julie and her husband have been married for several years, her man recently served as Temple's coach and will move on to Baylor. Keep reading o know more about Julie Rhule.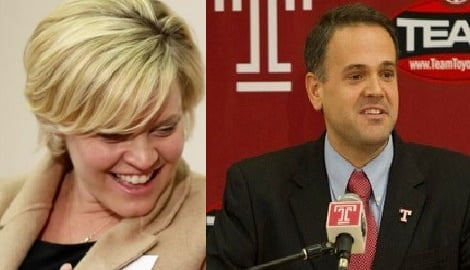 Julie Rhule's husband was born Matthew Kenneth Rhule on January 31, 1975. The native of State College, Pennsylvania, has a 28-23 record in four seasons at Temple. He led the team to back-to-back 10-win seasons for the first time in school history.
Prior to being named the University's coach Matt, spent six seasons on North Broad Street as an assistant.
In Rhule's first season at Temple in 2013, after inheriting one of the worst programs in the FBS, the Owls went 2-10. Temple went 6-6 in his second season before breaking through with a 10-4 campaign last season.
This season, Temple finished 10-3 and defeated No. 19 Navy 34-10 in Saturday's AAC championship game.
Rhule played four seasons at linebacker with the Nittany Lions under Joe Paterno. A three-time Penn State Scholar-Athlete, he earned Academic All-Big Ten honors in 1997. He received his undergraduate degree in political science before earning his master's degree in educational psychology from Buffalo in 2003.
He began his coaching career as a volunteer assistant at Penn State in the spring of 1998 before working at Albright College in Reading, Pa., for the 1998 season. At Albright, he coached the linebackers in a 4-3 scheme and recruited western and central Pennsylvania.
On January 7, 2010, The Carolina Panthers announced they hired Coach Rhule as the new head coach, following Ron Rivera's firing.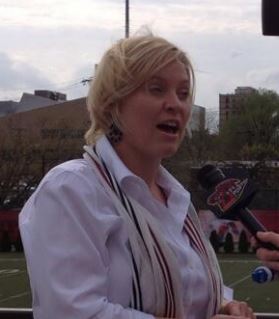 Julie Rhule was born Julie Nibert. Julie Rhule is far more than just the coach's wife. She is a registered dietitian with Sodexo and works at Temple with its students.
In fact, she continued to work at the university while her husband spent the 2012 season as an assistant coach with the New York Giants.
The couple went on to become proud parents of three children: son, Bryant; and daughters, Vivienne and Leona. Daughter, Vivienne Rhule was born prematurely.
It was reported that Julie Rhule, lost her mother after long and courageous battle with breast cancer in 2013.
Julie was on the beach in Cape May nine years ago when she found out about her mother's diagnosis. She wrote in a piece she put together for OwlSports.com, Temple's athletics website
"I felt like my world was coming to an end,"
Julie, a wife, busy mom of three and dietitian can also add another title, personal chef for the Rhule family.