Lauren Holiday is the beautiful and amazing wife of NBA player Jrue Holiday, the superb shooting guard currently playing for the Milwaukee Bucks, who previously played for the New Orleans Pelicans and the Philadelphia 76ers. Before getting drafted, Jrue played college basketball with the Bruins at UCLA.
Jrue Holiday Parents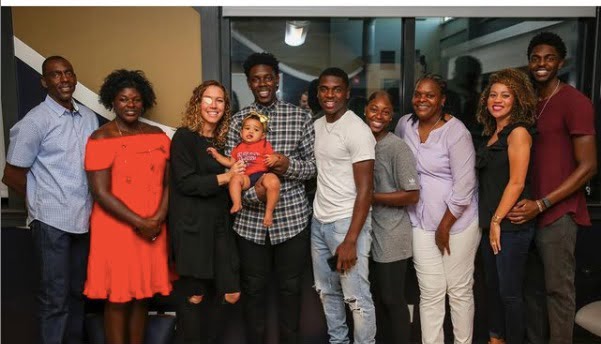 Jrue Randall Holiday was born on June 12, 1990, in Los Angeles, California. He is the son of Toya and Shawn Holiday. He has three siblings; older brother Justin and younger siblings Aaron and Lauren.
Toya Holiday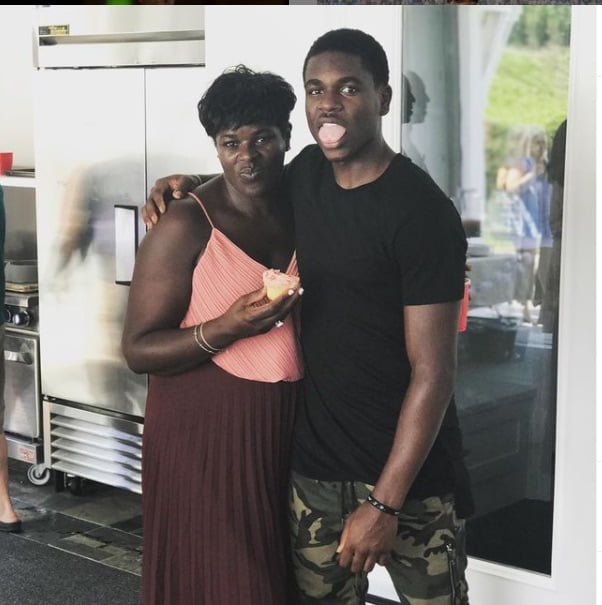 Both of Jrue's parents were college athletes, mom Toya born Toya DeCree, on February 2, 1964, played basketball at John F. Kennedy before going to Arizona State. Her parents were William and Ruth DeCree, also parents of her younger sisters Diane and Fonda.
Toya, a four-year varsity basketball letter winner at John F. Kennedy High School, averaged 12.9 points and 8.6 rebounds per game, was named Pac-12 Player of the Year. She later transferred to the U.S. International University, where she averaged 22.8 points and 8.3 rebounds, was named West Coast Athletic Conference's Most Valuable Player.
Toya and Shawn met at Arizona State, married, and had four children, all of her children's names start with J; she and one of her sisters decided to do the same.
My sister and I were on a kick with J names … her kids names are Jessica, Jenna, Jade, Jaelyn and James. My oldest son is Justin and  liked the name Dru, but wanted to figure out how to keep with the J theme so I named my middle son Jrue. After him though, I wanted to end it, because my daughter is Lauren and youngest son is Aaron.—Holiday, on naming her kids
Shawn Holiday
Jrue's dad, 6'4 Shawn Holiday, was born on April 20, 1963, in L.A. The former basketball guard played for the Blair Vikings at Blair High School, leading his team to the CIF – Championship 2A Final; unfortunately, they lost 60-59 to Glendale. He left Blair averaging 23 points per game, was named Co-Player of the Year Title, and received All-CIF Honors.
He attended Arizona State, averaging 5.4 points and 4.5 assists his first 16 games his sophomore year; he subsequently transferred to UCLA  after the 1982-83 season, he averaged averaging 10.4 points a game. He and his college sweetheart Toya tied the knot on April 18, 1987.
Jrue Holiday Siblings
As previously noted, Jrue Holiday has two brothers, Justin and Aaron, and Lauren. They naturally played basketball; Justin is currently a shooting guard, and Aaron is a point guard for the Indiana Pacers and Lo UCLA.
Justin Holiday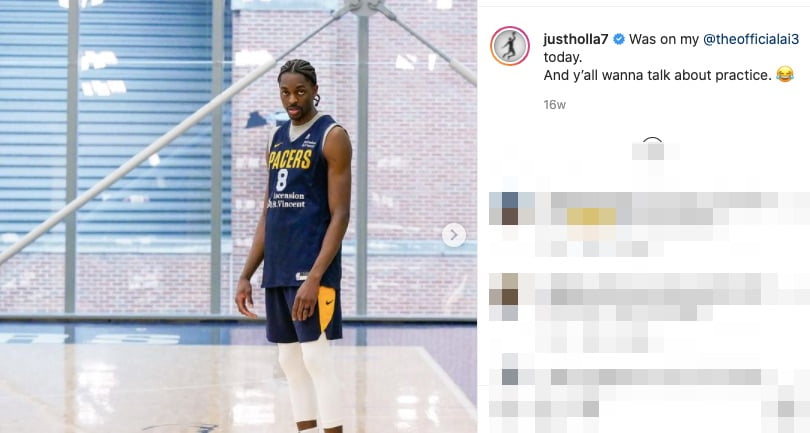 6'6 Juston Alarc Holiday, born on April 5, 1989, played high school basketball at Campbell Hall before playing for the Washington Huskies from 2007 to 2011.  He started his career in 2011 with the Belgium team, the Okapi Aalstar, after going undrafted during the 2011 NBA draft.
The Following season joined the NBA G-League team, the Idaho Stampede, and signed with the Philadelphia 76ers in 2013. After that season, he played for the Szolnoki Olaj in Hungary and returned to the U.S. to play for the Golden State Warriors and their affiliate team, the Santa Cruz Warriors, between 2014 and 2015.
Justin played for the Atlanta Hawks in 2015, Chicago Bulls in 2016, New York Knicks in 2017, Memphis Grizzlies in 2019 before agreeing to a four-year,  $4.767 million deal with the Indiana Pacers on July 31, 2019. As you probably know, Justin Holiday is married to his wife, Shekinah Holiday. They have a beautiful three-year-old daughter Selah.
Aaron Holiday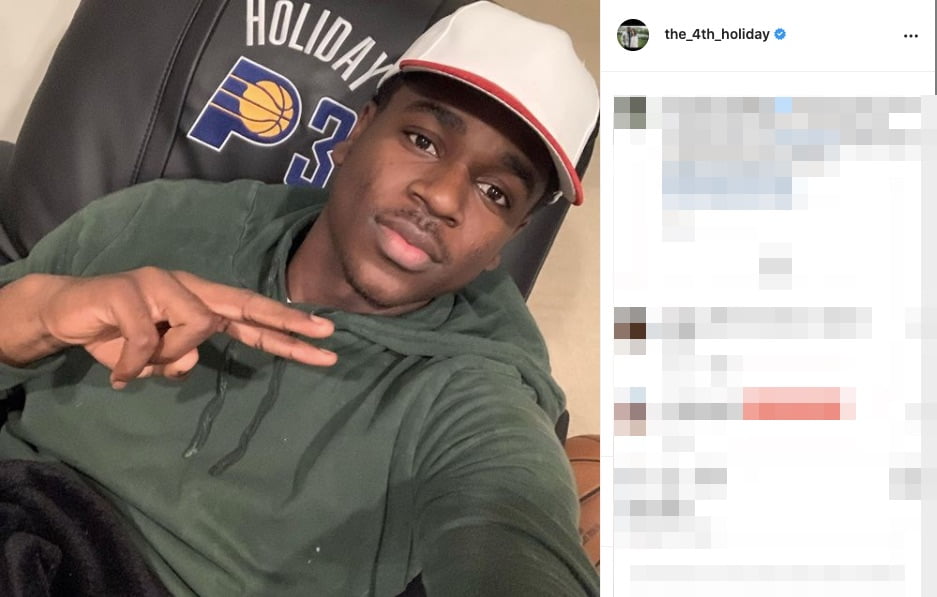 6'0 Aaron Shawn Holiday was born on September 30, 1996, in Ruston, Louisiana; Aaron played at Campbell Hall High School in L. A before committing to the Bruins, where he averaged  10.3 points, 3.0 rebounds, 4.0 assists, and a team-leading 1.4 steals per game his freshman year; 12.3 points, 2.9 rebounds, and 4.4 assists per game his sophomore year; 20.3 points, 5.8 assists per game and 3.7 rebounds per game his junior year.
Aaron announced he was declaring to the draft, forgoing his final year of college; the Indiana Pacers selected him in the first round (23rd overall) in the 2018 NBA draft. He averaged 5.9 points, 1.7 assists, and 1.3 rebounds per game his rookie season with the Pacers.
He started in 33 games during the 2019-2020 season; he averaged 9.5 games, 3.4 assists, and 2.4 rebounds. Aaron Holiday averaged 7.2 points, 1.9 assists, and 1.4 assists per game during the 2020-2021 season.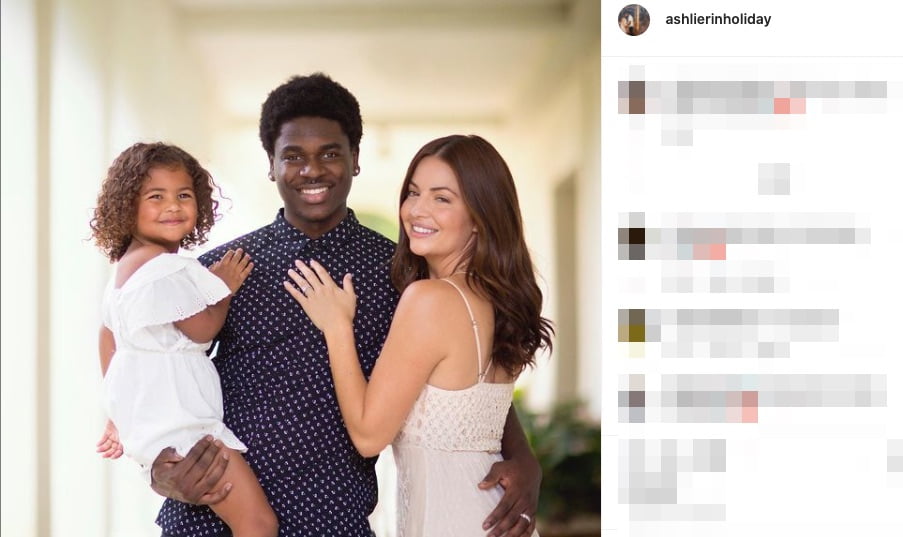 Aaron Holiday is nowadays a married man; his wife is Ashli, momma to their beautiful daughter Summer Harper Hill born on December 30, 2016.
Lauren Lo Holiday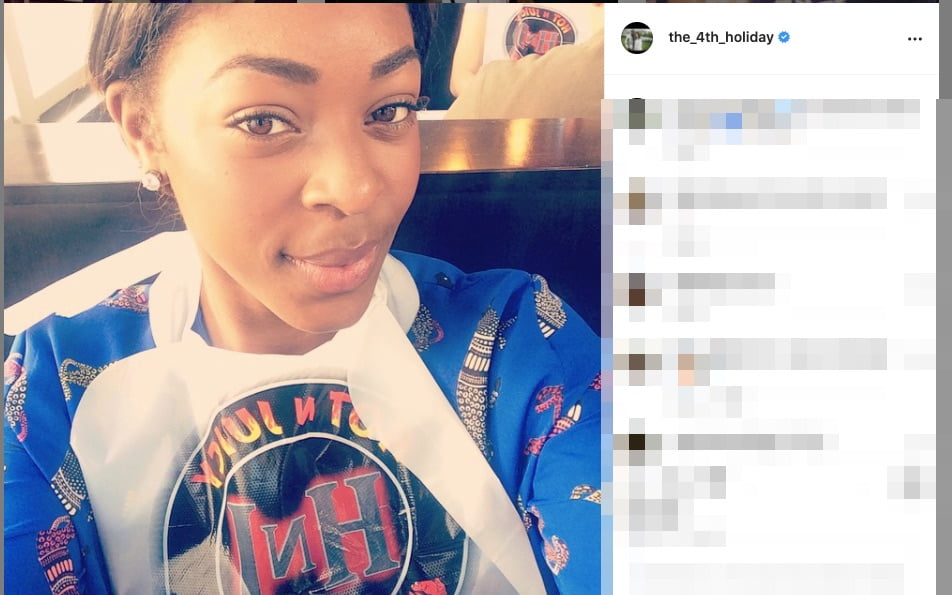 A bit confusing that Jrue's sisters also named Lauren, Jrue's 5'8 sister Lauren Ruth Holiday, born on September 27, 1993, in Mission Hills, Cali. Like her brothers, Lauren Holiday also played at Campbell Hall High School. She later attended UCLA, where she joined the Bruins Women's Basketball team, playing in the guard position.
Lauren Holiday averaged 1.3 points, 0.7 assists, and 2.0 rebounds per game her freshman year; she averaged 3.9 points, 1.4 assists, and 4.4 rebounds her sophomore year. Sadly an array of injuries forced her to sit the next season and eventually quit playing. Lauren went thru a hard time after that, luckily she pulled it thru, thanks to her family, but mostly thanks to her brother Aaron.
"Every time I was sad, I would just call Aaron," Lauren says. "And I'd be like, 'Where are you?' And most of the time he'd be in his room chilling. So I'd be like, 'Can you just come up to my room?' And I would cry and give him a hug. And then we'd hang out or we'd walk to class together.
We would go to the gym late at night after tutoring and stuff — we would go home together, go to church.When he got there, it was like home came to me."
Lauren graduated in 2016 with a bachelor's degree in history; she is a first-grade teacher in Los Angeles.
Jrue Holiday Career Timeline
Played with the UCLA Bruins during the 2008-2009 season
Drafted in the 1st round (17th overall) during the 2009 NBA draft by the Philadelphia 76ers.
The Sixers traded him to the New Orleans Pelicans on July 12, 2013, in exchange for a 4th-round NBA draft pick and Nerleans Noel.
Suffered a stress fracture on his right tibia that require surgery in February 2014.
Re-signed with the Pelicans on July 6, 2017.
Jrue reached 5,000 career points on January 5, 2016, against the Wizards.
Played against his brothers and the Indiana Pacers on December 28, 2019.
Recorded a career-high of 37 points, 8 assists, and 9 rebounds in a win against the Minnesota Timberwolves 120-107 on March 8, 2020.
Was traded to the Milwaukee Bucks on November 24, 2020.
Jrue Holiday NBA Stats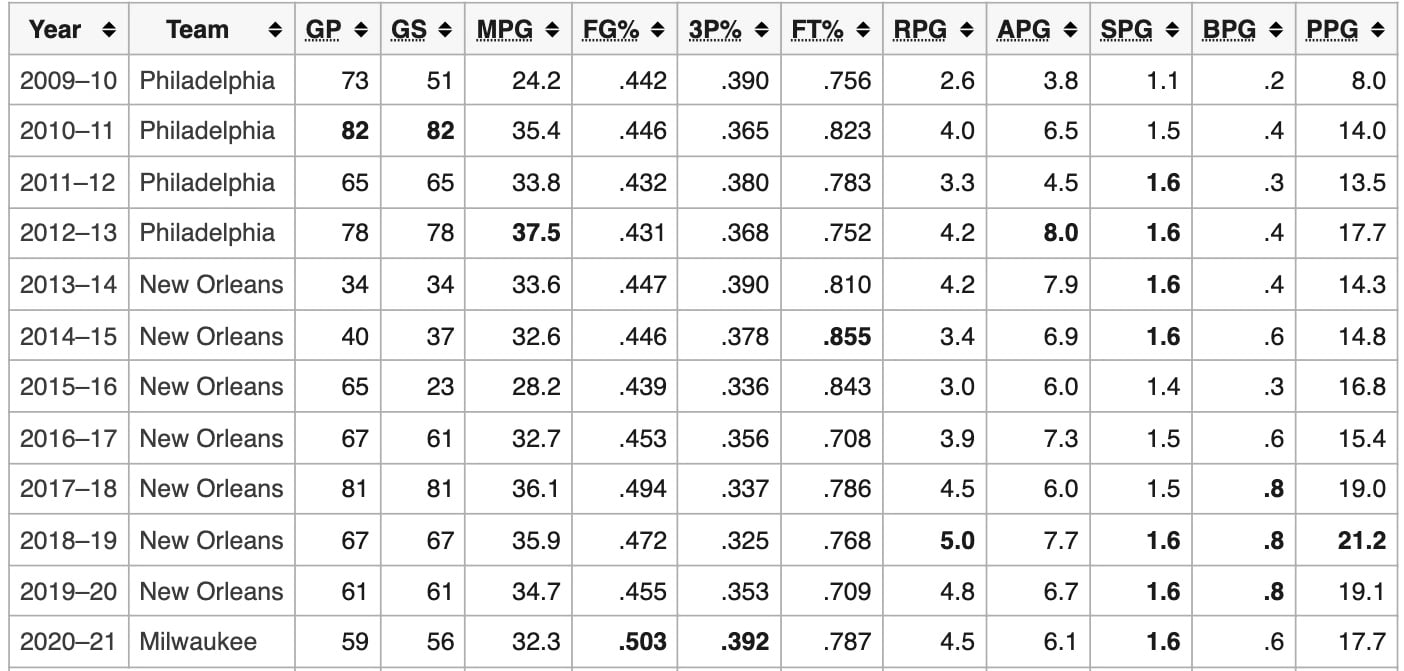 Jrue Holiday Bucks
Jrue Holiday's story with the Milwaukee Bucks started on November 24, 2020, when the New Orleans Pelicans traded him during a four-team trade between the Oklahoma City Thunder and the Denver Nuggets. Jrue's stats with the Bucks are 17.7 points, 6.4 assists, and 4.0 rebounds in 59 games during the 2020-2021 season.
He recorded 27 points, 4 rebounds, and 13 assists during Game 5 of the NBA finals against the Phoenix Suns.
Jrue Holiday Net Worth
According to Celebrity Net Worth, Jrue Holiday's net worth has been estimated at $30 million. In addition to his NBA earnings from his contract with the Bucks. Jrue Holiday earns around  $500,000 from his endorsement deals with Nike, Smoothie King, Panini, Carnival Corp, and SeatGeek. Jrue re-signed a multi-year apparel and footwear endorsement deal with Nike in October 2019.
Jrue Holiday Contract & Salary
Jrue Holiday's annual salary is $26 million, plus $765,000 as an incentive bonus. Let's look into Jrue's contract deals over the years.
In 2009, he signed his four-year rookie contract with the Philadelphia 76ers, worth $7,557,861 and a salary cap of $1,889,465.
In 2013, he agreed to a four-year, $41 million contract extension with the Sixers, earning a salary of $10,250,001.
Jrue signed a five-year, $126,000,000 contract with the New Orleans Pelicans, including $126,000,000 guaranteed and an annual average salary of $25,200,000 in 2017.
On April 4, 2020, Jrue signed a four-year, $160 million contract extension with the Milwaukee Bucks.
Jrue Holiday Awards & Highlights
2007 Third-team Parade All-American
2008 California Mr. Basketball
2008 McDonald's All-American
2008 First-team Parade All-American
2008 Gatorade Player of the Year
2009 Pac-10 All-Freshman Team
2013 NBA All-Star
2018 NBA All-Defensive First Team
2019 NBA All-Defensive Second Team
2020 NBA Teammate Of the Year
2021 NBA All-Defensive Team
NBA Sportsmanship Award
Jrue Holiday Wife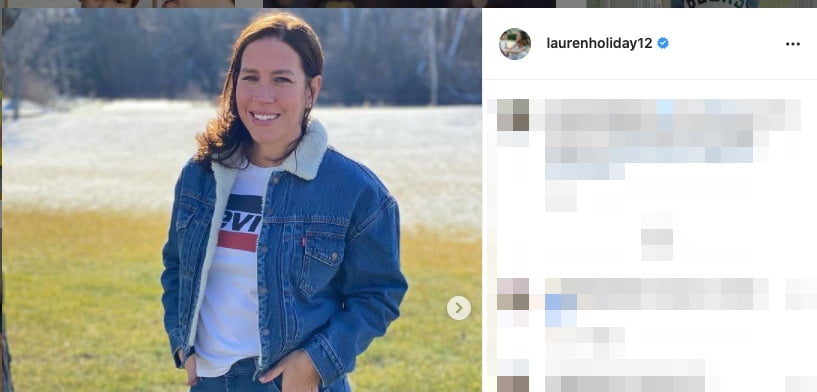 Mrs. Holida, Jrue Holiday's pretty wife, is Lauren Holiday, mother of his two beautiful children. Jrue and Lauren Holiday created the JLH Fund; its mission the focus of the grants will be in the Greater Milwaukee, New Orleans, Indianapolis, and Los Angeles areas, with priority given to organizations focused on social impact and creating a more equitable future for underserved communities; according to their website.
Lauren Holiday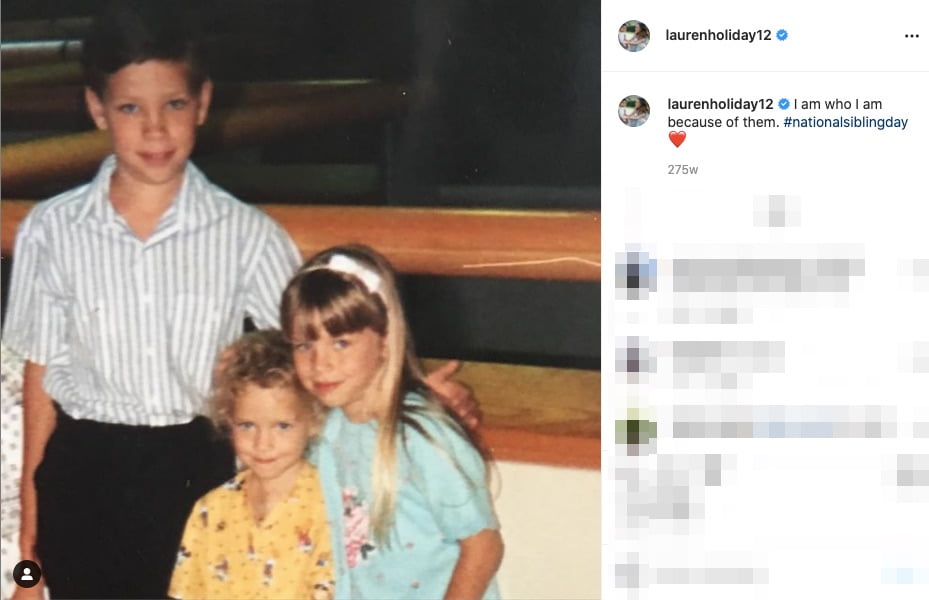 5'8 Lauren Holiday was born Lauren Nicole Cheney on September 30, 1987, in Indianapolis, Indiana; she is one of the children born to Rita and George Cheney, also proud parents to her siblings, Aaron and Caitlin.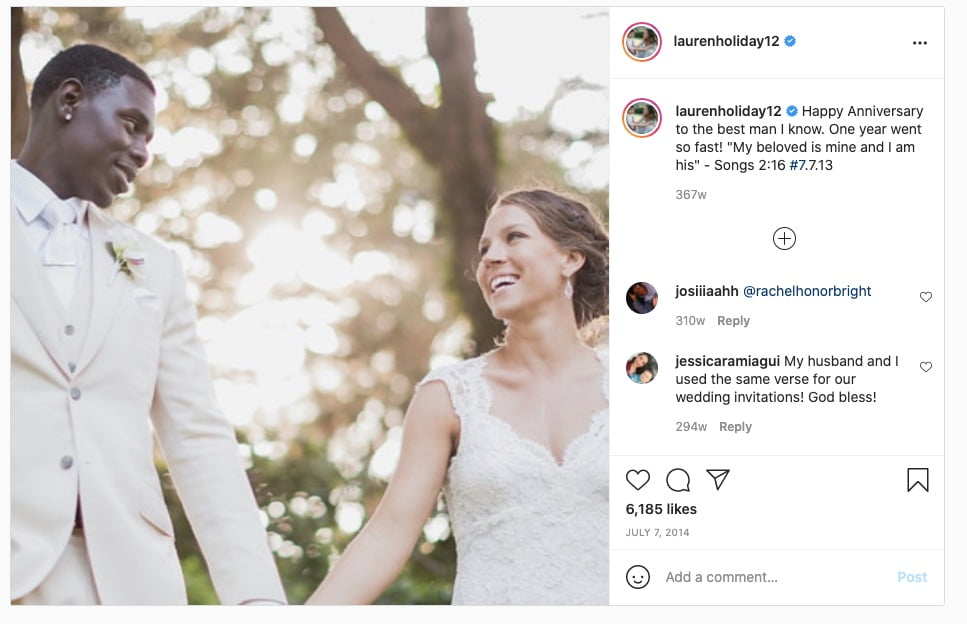 Lauren attended Ben Davis High School before committing to play soccer with the Bruins at UCLA, where as you can assume, they met Jrue, started dating him, and eventually got married on  July 7, 2013.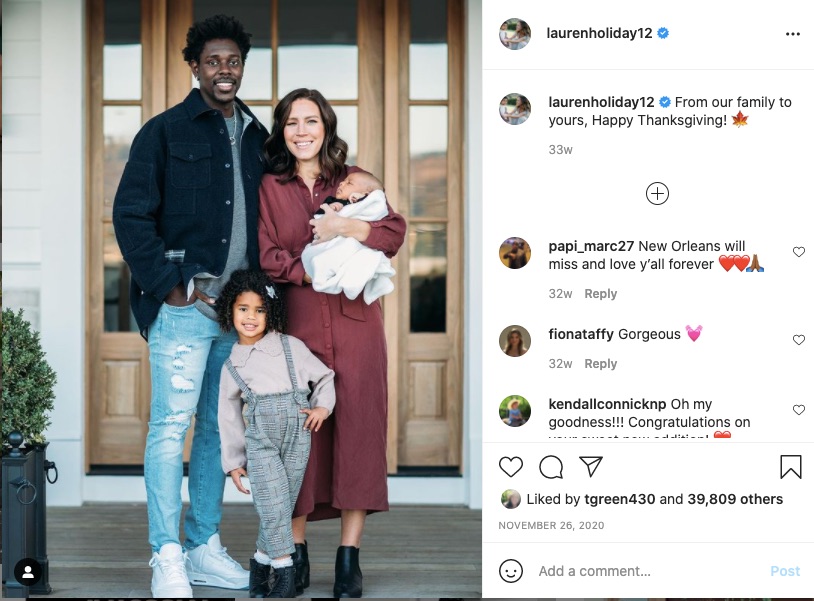 They have since welcomed two adorable children together, daughter Jrue Tyler born in September 2016, and son Hendricks born in December 2020.
 Lauren Holiday Career Timeline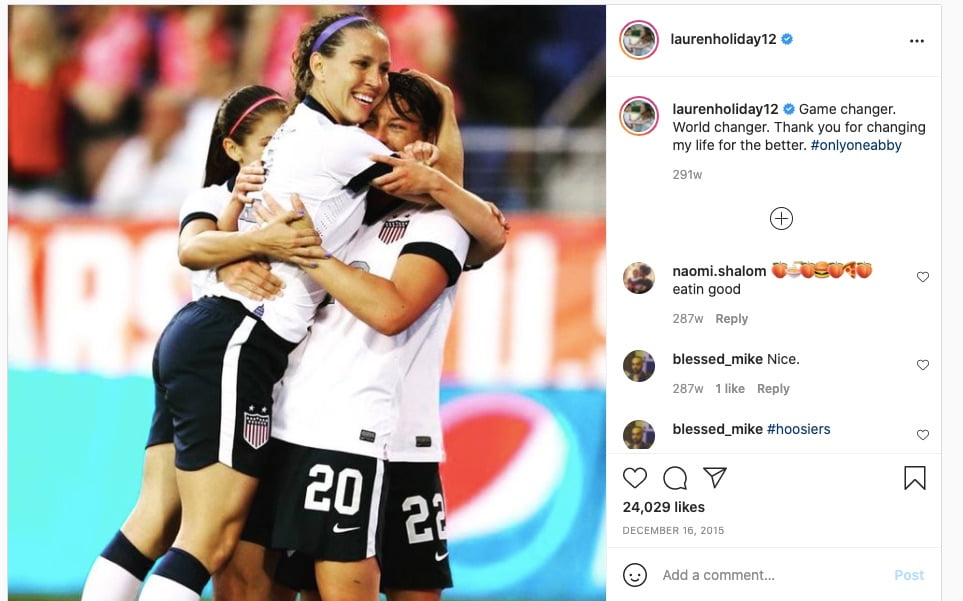 In 1990, at the age of three, she underwent open-heart surgery for an atrial septal defect.
While she was in high school, she was named the school's most valuable offensive player in 2004–05.
The Indianapolis Star named her Metro Player of the Year in 2004.
In 2006, she was named Gatorade Player of the Year and Parade All-American.
She finished her career at Ben Davis, recording 118 goals and served 67 assists.
Invited to play in the United States U-20 women's national soccer team that competed at the 2006 FIFA U-20 Women's World Cup.
She was named a first-team All-American and NSCAA Freshman of the Year in the fall of 2006 while playing at UCLA.
On January 26, 2007, Lauren started for the United States Women's National Soccer Team against Germany.
Was the runner-up for the Women's Hermann Trophy in 2007.
Was  U.S. Soccer Young Female Athlete of the Year on April 14, 2007.
Four-time NSCAA/Adidas First-Team All-America honors recipient.
In 2009, Lauren joined the Pali Blues soccer club.
The Boston Breakers selected Lauren in the first round (2nd overall) during the 2010 WPS draft.
Was traded to the FC Kansas City in 2013, along with Nicole Barnhart and Becky Sauerbrunn.
Won the Golden Boot following the 2014 NWSL Season.
Won the 2015 Sagamore of the Wabash Award.
Lauren and the U.S National Team defeated Japan at the 2015 FIFA Women's World Cup in Canada.
She was diagnosed with a brain tumor in June 2016 while she was pregnant.
Successfully removed her brain tumor (benign) in October 2016.
Retired from the U.S.  international team on July 5, 2017.
Related Story: Who is Pat Connaughton's Girlfriend?