Juana Isabell Urias
Juana Isabell Urias is the proud mother of MLB Mexican player, Julio Urias. Her 20-year-old LA Dodgers pitcher son, is currently a sensation in MLB as he becomes the youngest MLB postseason starter ever!
For Juana Isabell Urias is not a surprise her son has come this far at a young age. Julio first signed with the Dodgers in 2012, shortly after he turned 16. The minor leagues top prospect was called to the big leagues last May.
The Dodgers called up the pitching phenom and the young pitcher immediately called his parents back home in Culiacan, Mexico, to tell them that he would be pitching against the Mets at Citi Field.
The whole family flew to NY to watch Urias's big moment.
Juana Isabell Urias and husband, Carlos Urias are also the parents of 13-year-old son, Carlitos and 5-year-old daughter, Alexia.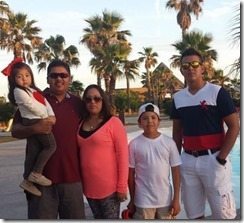 Juana Isabell Urias being the devoted catholic that she is, gave thanks to the Virgen de Guadalupe for her son's dream coming true.
The Mexican wife and mom spoke in her native Spanish to reporters, saying:
"He's always loved baseball and he concentrated so hard on it" "Of course, you want your child to go [to] school and concentrate on education, but this is his dream. He said, 'This is a career, too. Mom, I'm going to get you the degree you want. It's a baseball degree from Major League Baseball.' He would say that in preschool and here we are."
According to Juana Isabell Urias's husband, their son's success is his ability to make goals and meet them. Carlos Urias has been working with her son since he was a toddler and said Julio was always the most talented player on the field.
Julio is never overwhelmed, his father said. Adding: It's a trait that's helped him become the top left-handed pitching prospect in the game.
Her son underwent elective cosmetic surgery on his left eye to repair a defect last year.
Juana Isabell Urias who also goes by Juani Acosta, can be found on Facebook here.