Juli Fisher
Juli Fisher may or may not be the wife of NFL coach Jeff Fisher, but she still is a pretty interesting lady you probably would like to meet. Her ex-husband coach Fisher has been head coach for the Los Angeles Rams for over four years. Prior to joining the Rams in 2012, coach Fisher was head coach for the Houston Oilers/ Tennessee Titans.
Juli's hubby was born February 25, 1958 in Culver City, California where he was a star football player at Taft High School in Woodland Hills.
He spend his college years playing under coach John Robinson at the University of Southern California, where he played until he was drafted by the Chicago Bears in the 7th round of the 1981 NFL Draft. He was in the roster team that won the Super Bowl in 1985.
Coach Fisher's career as a football player ended following an injury on his ankle,however he stayed with the Bears, only this time with the coaching staff.
It was 1985 when Jeff Fisher was named defensive assistant for the Chicago Bears, a year later he was named defensive assistant for the Philadelphia Eagles, and their defensive coordinator two years after that.
Early in 1991, he joined the Los Angeles rams as their defensive coordinator; became the San Francisco 49ers' defensive backs coach in 1992.
In 1994, he was named defensive coordinator for the Houston Oilers. A year later was named head coach, by then the Houston Oilers became the Tennessee Titans.
Jeff Fisher left Tennessee in 2010, two years after he left, the Str. Louis Rams named him their head coach.
The Rams fired him on December 12, 2016.  John Fassel was named interim coach.
Coach Fisher and his ex or still wife Juli (born Julianne Lucille Fisher in April, 1959) got married in 1996. During their marriage they had three children together, Brandon, Trent and Tara Fisher.
Divorced or still together
Juli and Jeff Fisher separated in 2008. But we think they didn't finalized their divorce, after all wasn't Juli by his side at the 2014 ESPYS ceremony? They looked pretty much like husband and wife at their daughter's wedding reception.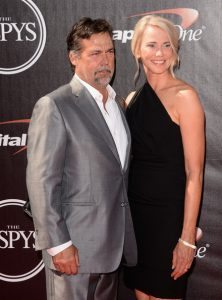 Their son Brandon Chase Fisher born June, 1987 played as a linebacker at the University of Montana and is today the Rams' defensive backs coach.
The youngest Fisher child, Trent was born June 19, 1992 is a defensive back player at Auburn University, he also played at Christ Presbyterian Academy.
Their only daughter Tara, got married to Justin Miller on February 7, 2015 in Nashville, Tennessee. Tara's hubby is a former MLB player. Justin Miller was drafted by the Washington Nationals in the 18th round of the 2010 First-Year Player Draft out of Middle Tenn. State University. He is now a real estate broker.