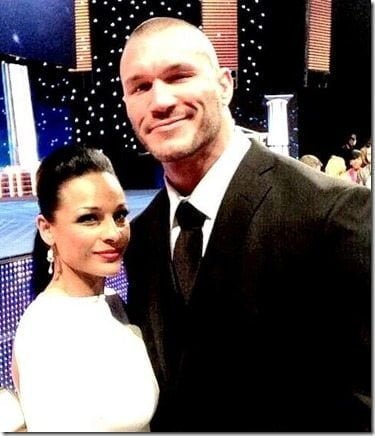 Meet Kim Marie Kessler, the girlfriend of WWE wrestler and stuntman/actor Randall Keith "Randy" Orton. Kim's man has been a key component at SummerSlam since first entering a steel structure at the event in 2003.The Viper has produced a number of classic matches at one of WWE's premier pay-per-views. On Aug. 17, he can add to his collection as he looks to elevate Roman Reigns in their clash.
In eight SummerSlams, Orton has been in the main event three times, almost always been in a battle for a world title and produced magic several times over.and his future keeps getting brighter as he seems happy in the romantic department.
After a doomed five year marriage Orton has now moved on. He first separated in 2012. His former wife filed for divorce in March, claiming the marriage was "irretrievably broken." She and Orton recently finalized their divorce.
Randy has found love again in the arms of Kim Marie. Her man was previously married to Samantha Speno, They tied the knot back on September 21, 2007. On July 12, 2008, Samantha gave birth to their first and only child, a daughter named Alanna Marie Orton.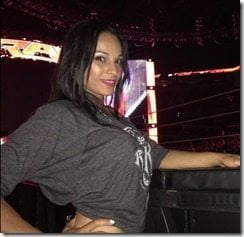 Kim and Randy have been spotted hanging out since March this year. The even attended the WWE Hall of Fame Ceremony as a couple. But he made it official while celebrating his 34th birthday. Orton took the opportunity to go public about his new girlfriend.
Kim Marie Kessler, a mother of three from New York. Her three young kids seem to get along with Randy pretty well.
There is not much information about Kim but the relationships did spark some drama. Apparently Kim and her man teamed up to call a woman –who has had problems with Kim in the past –a pig!
The fan in question, Kayla Gomez, snapped a picture with the WWE Superstar outside of a gym in Texas and posted it online. The Viper tweeted the same photo shortly afterward to his girlfriend, Kim Marie Kessler. (@kimkiro being Kim Marie)
"Look @kimkiro I met the Latino Ms. Piggy today at the gym. I wish you were there to have a good laugh with me! #MsPig."
Orton's girlfriend wrote in response to the post, "That's what @kgomez325 gets for always talking about me. Your (sic) not the only one who can play games."
Orton addressed his girl's hater again following SmackDown taping in Laredo, Texas:
"I blocked you because you've been stalking and harassing my girl for too long now. Then stalking me when I had no idea who you were for a pic, just so you could use it to again, to harass my girl. You waited outside the gym to get to me! That's called stalking! I dare you to get a freaking life or just go be a troll somewhere else."
Kim's guy, known for his bad boy conduct (on and off the screen) –the son of WWE Hall of Famer "Cowboy" Bob Orton, nephew of Barry "Barry O" Orton and grandson of, the late "The Big O," Bob Orton Sr., all among the most fierce and rugged grapplers of their generations –is certainly not afraid of anybody and we bet Kim felt pretty good to have been defended by her boyfriend.
You can find Kim Marie on Twitter here.