It's the weekend and we have a particularly exciting one ahead! As we get ready for fights, fights and more fights! 31-year-old WWE wrestler Brie Bella who is married to fellow WWE wrestler Daniel Bryan will face Stephanie MacMahon on SummerSlam but with her hubby as her trainer Bella is positive to secure a win!
The WWE SummerSlam 2014 throwdown has quickly become one of the hottest parts of the card. Do you have your favorite yet? It is unclear how the match will actually play out but we can tell you all about Brie's hubby below!
Born May 22, 1981 Bryan Lloyd Danielson is best known by his ring name Daniel Bryan. His beard is his trademark and his name is feared in the ring; a former United States Champion, had a 245-day reign as WWE Tag Team Champion as part of Team No. Originally from Aberdeen, Washington; he debuted in 2000 right out of high school and becoming in WWE a four-time world champion: a three-time WWE Champion/WWE World Heavyweight Champion and a one-time World Heavyweight Champion. He is also a Money in the Bank winner.
The "Founding Father" of the independent promotion, Ring of Honor, has fought extensively and successfully out of the U.S. and also wrestled on the independent circuit, gaining a number of titles.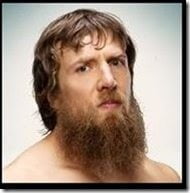 Trained by WWE Hall of Famer Shawn Michaels, Daniel Bryan competed on the indy wrestling circuit for more than 10 years. Honing his craft on multiple continents, he became well-known for his hybrid of Japanese and American offensive styles that made good use of vicious elbow strikes, precise kicks, spine-jarring suplexes and various torturous submission maneuvers like the "Yes!" Lock, formerly named after martial arts specialist Gene LeBell.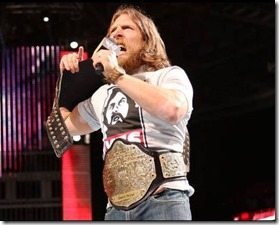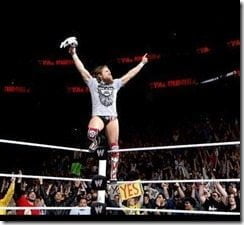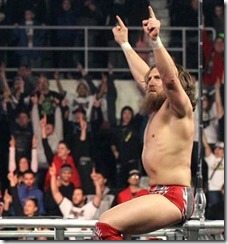 First coming to WWE as part of the inaugural season of WWE NXT, Bryan soon made it clear he was destined for great things. Eventually, the determined Superstar's efforts came full circle, when he enjoyed his first taste of title gold in WWE from then-United States Champion The Miz, his former NXT Pro. In summer 2011, Bryan won the Money in the Bank Ladder Match, which soon propelled the skilled grappler to the World Heavyweight Championship.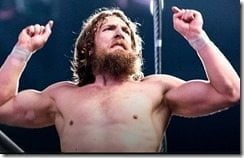 Upon losing the World Heavyweight Title at WrestleMania XXVIII in only 18 seconds, the former champion's increasingly erratic behavior forced him into an unlikely pairing with Kane. The odd couple, dubbed Team No by the WWE Universe, won the WWE Tag Team Championship, which they held onto for eight months.
While defeating Cena –his sister in law's boyfriend –at the event was the highpoint of Bryan's career up to that point, he also suffered his greatest defeat. Moments into the new champion's celebration, Randy Orton cashed in his Money in the Bank contract and — with a shocking assist from special guest referee Triple H — successfully claimed the WWE Title for himself. In December, Bryan cleaned up at the 2013 Slammy Awards, including winning Superstar of the Year. He rebelled against The Authority by leading a "Yes!" Movement through the WWE Universe that brought him to a triumphant victory in the main event of WrestleMania 30, becoming the second-ever WWE World Heavyweight Champion.
The celebration would prove to be short-lived. Returning from his honeymoon after marrying WWE Diva Brie Bella, Bryan would discover via Stephanie McMahon that Kane, his former tag partner would challenge him for his newly won title. The Demon was -bent on dethroning the new champion, but the fire that fueled Kane couldn't extinguish Bryan's never-say-die attitude. Bryan persevered over his hellish adversary in an Extreme Rules Match, but more bad news was around the corner.
Together they are known with the cute pet name "Braniel"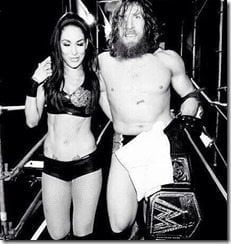 His lovely wife –one half of the Bella Twins –Brianna became officially Brianna Monique Danielson earlier this year after being in a relationship for nearly three years. The couple tied the knot on April 11, 2014 and their wedding was showed on Total Divas. They exchanged personal vows, so romantic!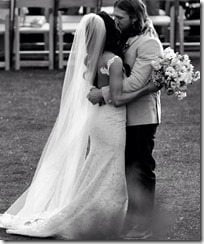 Bryan was forced to undergo neck surgery, and unable to compete, Stephanie McMahon insisted that he surrender the WWE World Heavyweight Championship.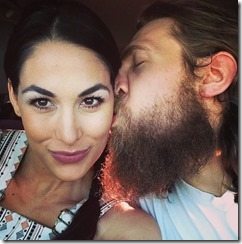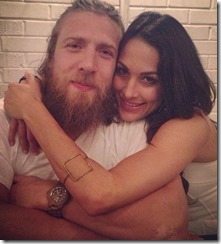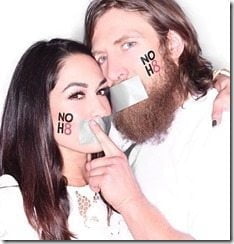 His WWE page says when Bryan refused, Stephanie allowed him to change his decision at Payback, and if he does not surrender the title, she will fire his wife, Brie. Before he could announce his decision, the "Total Divas" star quit WWE and sent a thunderous slap across Stephanie's face.
Unfortunately, as revealed by renowned surgeon Dr. Joseph Maroon, Bryan will be unable to compete and is currently inactive due to injury.
Though his wife Brie will not go down without giving a great show, you don't want to miss it!
Find Daniel on Twitter here.