Andrea
Andrea is the gorgeous singer girlfriend of Bulgarian professional boxer, Kubrat Pulev.
Andrea's longtime boyfriend is a Bulgarian heavyweight champion. Born Kubrat Venkov Pulev on May 4, 1981; he won an amateur European boxing championship in 2008, he turned professional the following year and is currently considered one of the world's best active heavyweight by BoxRec.
The 37-year-old recently knocked out Romania's Bogdan Dinu in California –after the fight he was so hyped he planted a kissed on reporter SuShe, who reports for Vegas Sports Daily. It seems the incident will cost him, not just because the reporter in question has hired a lawyer, but also because Pulev has been in a relationship with singer, Andrea for over a decade.
Andrea whose real name is Teodora Rumenova Andreeva is widely known in her country as a pop-folk singer.
Widely known by her stage name Andrea, she was born January 23, 1987 –and has been in the music industry for years. The 32-year-old achieved recognition as a member of the group Sahara.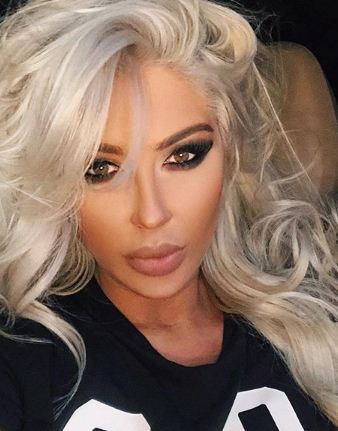 She comes from an artistic and rich family. According to her website, her grandmother Todorka Ahtarova is ex-ballerina and long-time assistant director in NT "Ivan Vazov". The great-grandmother is ex-violinist and great-grandfather- Mihail Ahtarov is conductor of the choir "Kaval"
Andrea began singing at an early age, she took piano lessons and learned to play the guitar from her grandfather. She signed a modeling contract in her teens and became the face of Xground. Her face has been on billboards across the country representing brands such as Vodka.
After high school she released her debut song "Kato nepoznat" In 2012 she left Sahara to join Roton's biggest music company in Romania. She presented her debut single in English "Only you" in duet with Gabriel Davi. Andrea has released four albums and is constantly putting out new music.
The singer has received a number of awards including last year's Best Outperform Award" and "Best European Performer" at the En Moda International Awards Night 2018. She also released 'Heart Beating Hard' to great popularity.
The stunner and talented artist has been in a relationship with the boxing star since 2007. Some reports say they actually began dating in 2006.
Find Andrea on Instagram here.