Missy Murray
This stunning lady is Mrs. Missy Murray, the beautiful and incredible momma of NFL football player Kyler Murray, the talented quarterback for the Arizona Cardinals and former quarterback for the Oklahoma Sooners at the University of Oklahoma.
Kyler Murray College, MLN & NFL
Before transferring to Oklahoma in 2017, Kyler played for the Texas A&M Aggies, where his dad Kevin Murray not only excelled in football but was also was inducted into the Texas A&M Athletic Hall of Fame in 1999 and subsequently into the 2012 Cotton Bowl Hall of Fame.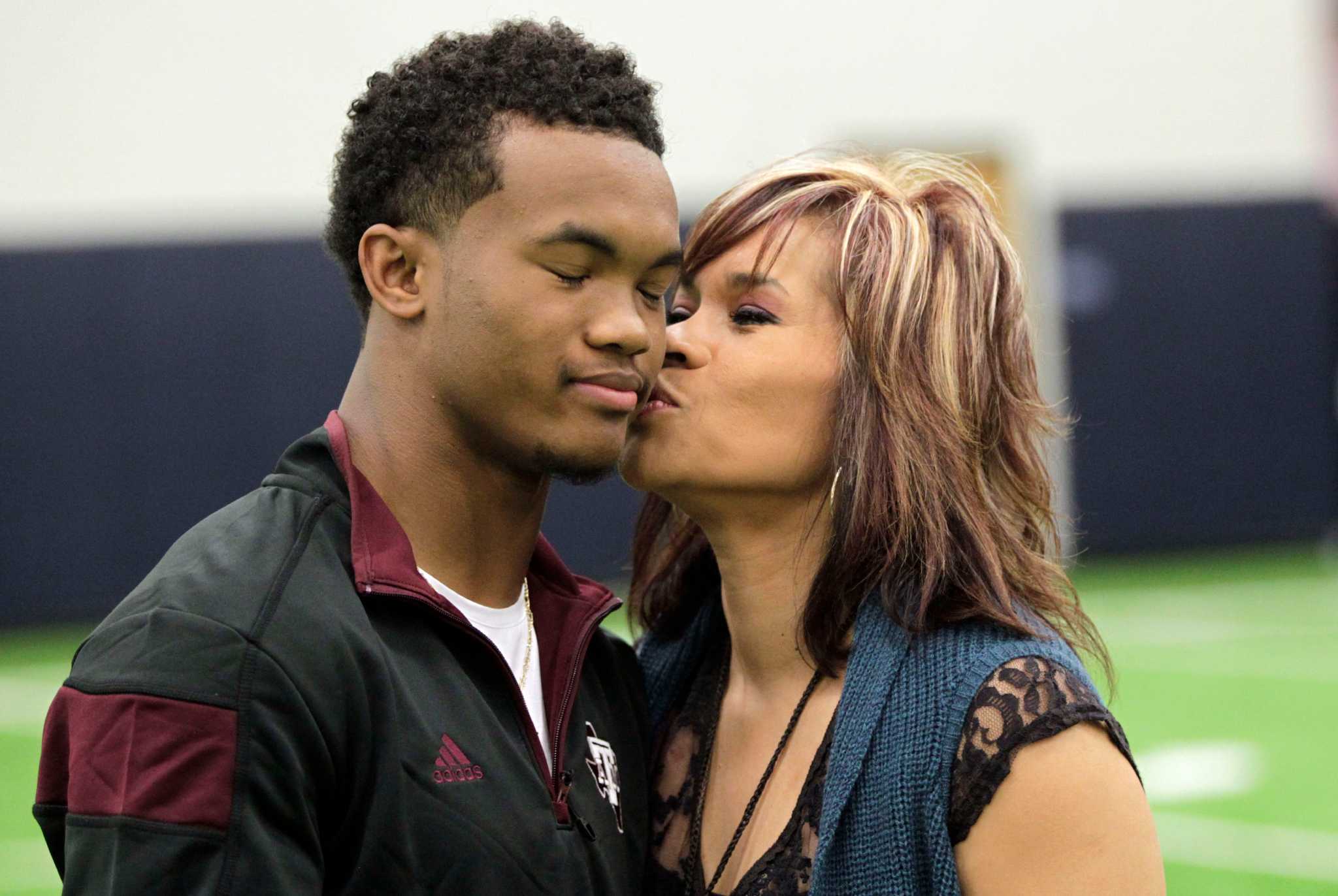 Dad Kevin Murray
Kevin signed with the San Francisco 49ers as an undrafted free agent; he subsequently joined the Calgary Stampeders but eventually retired due to a chronic ankle injury. He later worked as the quarterbacks' coach at Plano West High School in Plano.
Kyler Murray was born in Bedford, Texas, on August 7, 1997, comes from a long line of athletes; not only his father was an outstanding player, his uncle Calvin Murray (Kevin's younger bro), a former MLB outfielder, played college baseball at the University of Texas, major league baseball with the San Francisco Giants, Chicago Cubs, and the Texas Rangers.
Heisman Trophy and MLB Draft
Kyler won the Heisman Trophy in 2018; that same year, the Oakland Athletics selected him in the first round (9th overall) in the MLB draft. Murray signed a contract with Oakland that included a $4.66 million signing bonus; however, after winning the Heisman, he decided to skip his senior year and entered the NFL draft instead.
But what about baseball? If Kyler Murray ever considered going back to baseball, the Oakland Athletics still have his rights.
NFL Career
Moving on to the 2019 NFL draft, where he was drafted first overall by the Arizona Cardinals. His selection came against all odds due to his height and the fact that he didn't participate in the individual drill. But surprisingly, his height of 5'10" 1/8, 9 1/2 hands, and a weight of 207 pounds, which is close to Russel Wilson (5'10" 5/8, 210 pounds, 10 1.4  hands size).
I can't stress enough how massive of a win this was for Murray, as many expected him to measure in at — or even under — 5-9, and while there was buzz recently about him weighing over 200 pounds, to be seven pounds above that figure sends a message that he can sustain that weight at the NFL level
When he got to the opportunity for his NFL debut on September 8, 2019, against the Detroit Lions, Kyler finished with two touchdowns, 308 passing years, and an interception.
He finished his first season in the NFL with 20 passing touchdowns, 2,722 passing years, 544 passing years, and 12 interceptions.
Who is Kyler Murray's mother Missy Murray?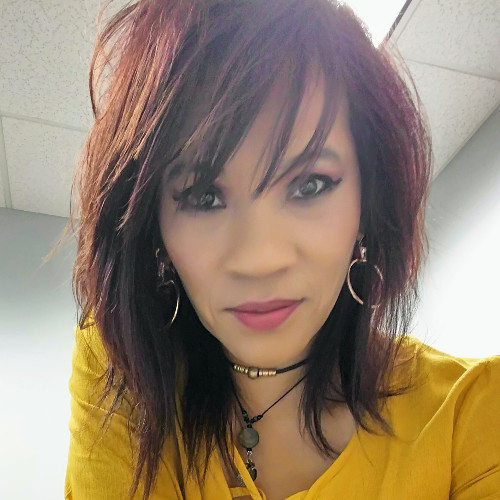 Missy was born Misun Henderson on September 25, 1964; her father, Msgt. Carl W. Henderson, Sr., served in the U.S.Navy. She has one brother named Carl.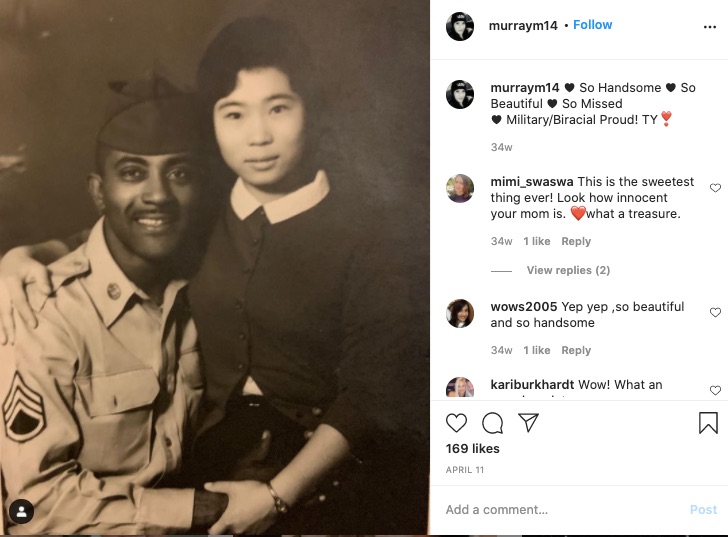 She graduated in 1982 from South Grand Prairie High School and later with a degree of associates in science business from Mountain View College.
Missy Murray worked with Skyway Freight Systems as an executive assistant in the '90s; she was the administrative manager from Burnham Logistics and executive assistant at Inmac Computer Supplies.
Later on, Missy Murray joined Key Transportations, Services before becoming the Direct Support to Vice President of Strategy at Verizon. Missy also worked as an executive assistant at DHL, ACS Logistics, Public Strategies, Capview Partners and was the office manager with TEOCO.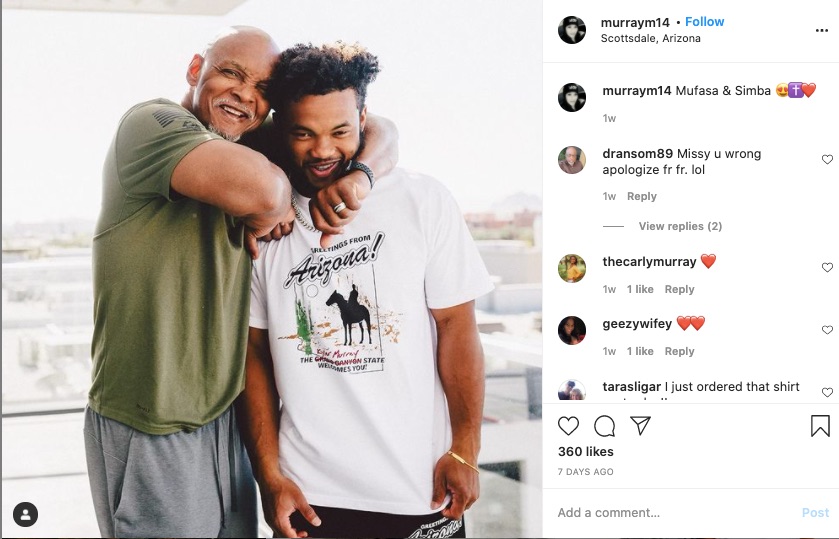 Missy Murray's resume is extensive; she is nowadays the general manager at K1 Promotions, but her number one job is and forever will be mom and wife. Kyler is proud of his Asian heritage, Missy who is half Korean, spoke when her son proudly wore a  black-dragon printed kimono jacket a couple of years ago.
"When we saw the jacket, it was like, 'Gotta have it,'" Missy said. "'Cause we're all about representing our Asian culture. That subtle statement … came across as kind of a strong statement, but it's awesome."
Missy and Kevin J. Murray got married on August 17, 1991, in Texas. Missy is stepmother to Kevin's son Kevin Murray Jr. and daughter Precious from a previous relationship.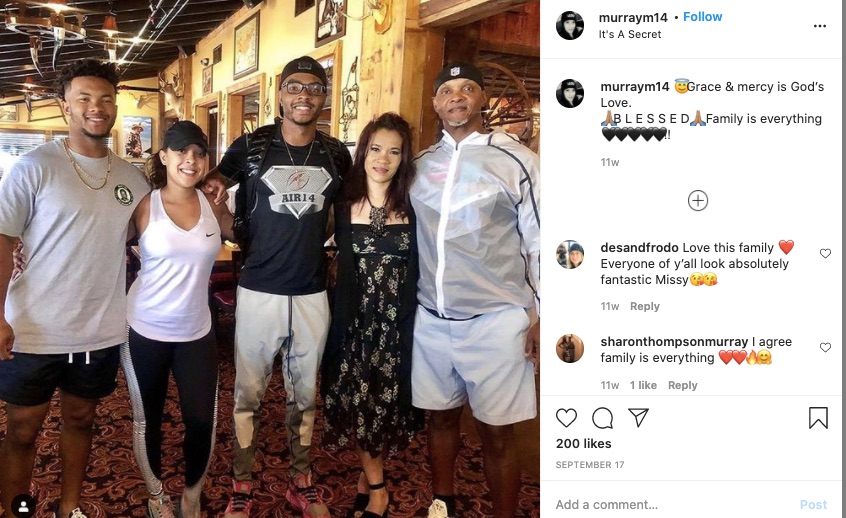 Missy was arrested in Denton county on December 12, 2000, for theft by check.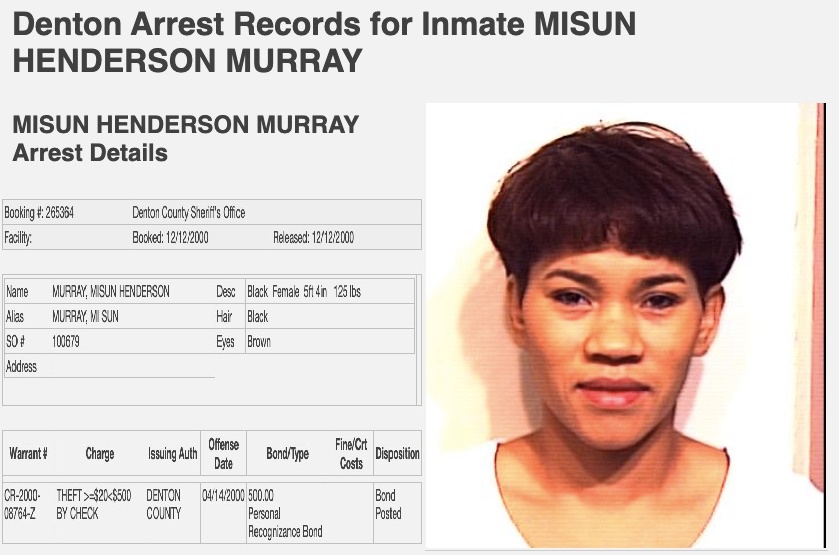 Both Kevin Jr. and Kevin Sr. are football coaches; Missy's husband was an All-State QB out of North Dallas High School, Dallas-Ft. Worth Metroplex Offensive Player of the Year, Heisman Trophy runner-up; among top 10 players with the Aggies during his junior and senior year.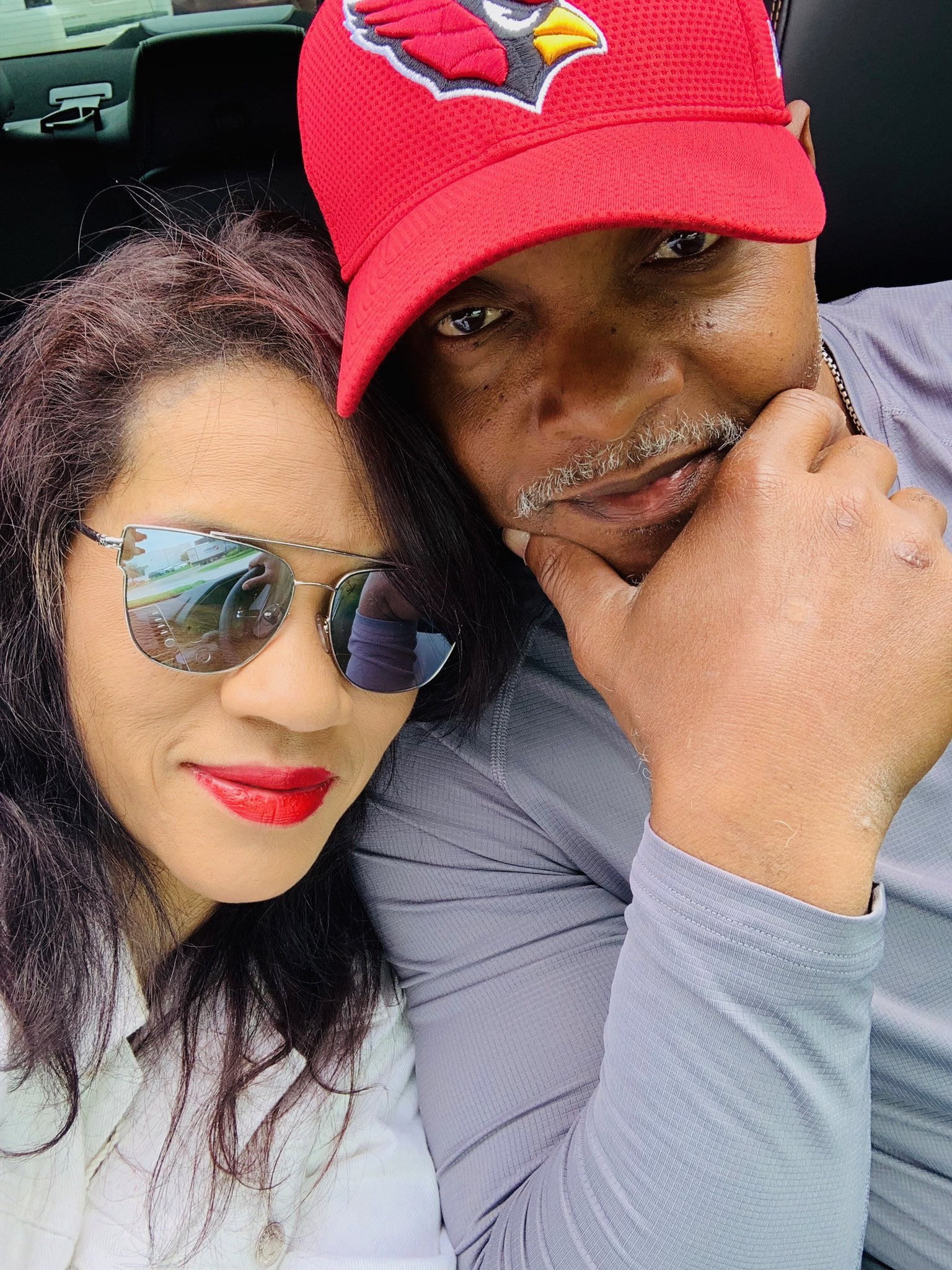 Ms. Murray served as  QB's Coach at Parish Episcopal High School in Dallas before founding his Air 14 Quarterback Academy and training facility in 2006.
You can find Missy Murray on Instagram here.
Kyler Murray Girlfriend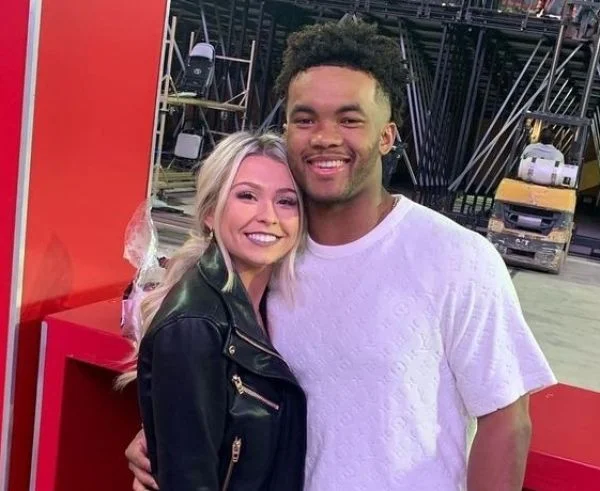 For many years, Kyler Murray was able to keep his girlfriend out of the spotlight. Everybody was pretty sure Murray was single, but the truth is that he isn't single, and he hasn't been single for several years; Kyler Murray's girlfriend is Morgan LeMasters.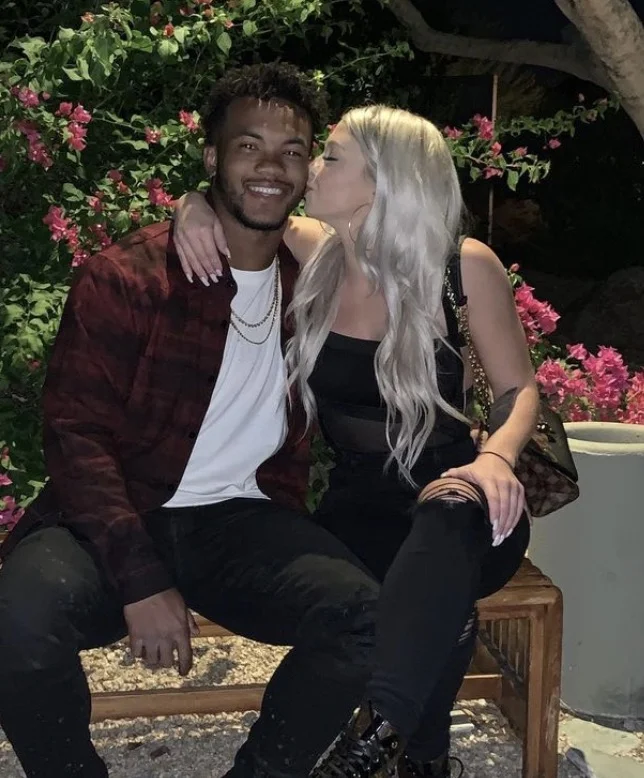 Morgan LeMasters
Kyler Murray's girlfriend, Morgan LeMasters is a former cheerleader and dancer from Texas and one of the daughters born to Theresa Theeren; the stunning Tulsa native is the district manager at Cheddars and Pratt College graduate.
Morgan LeMasters attended Allen High School and was a dancer with the Panthers at Cheers Athletics Plano; Morgan and the Panthers won the National Cheerleading Championship in 2017.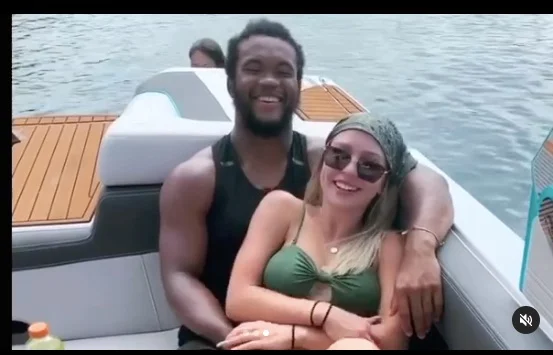 We don't know for sure how long Kyler Murray and Morgan Lemasters have been dating or how they met, but between 2014 and 2016, Morgan was dating fellow cheerleader DG.
Related Story: James Conner Mother Kelly Patterson