Lindsay Berra MLB Yogi Berra's Granddaughter
Meet Lindsay Berra. She is the granddaughter of MLB legend Yogi Berra who recently passed.
Lindsay Berra's Grandaddy spend 14 seasons in the MLB, first as a catcher, then as manager and coach. Yogi Berra who passed away at the age of 90 in September, 2015, 19 months after his wife of 65 years Carmen Berra passed. Lindsay Berra posted a touching tribute to her grandparents.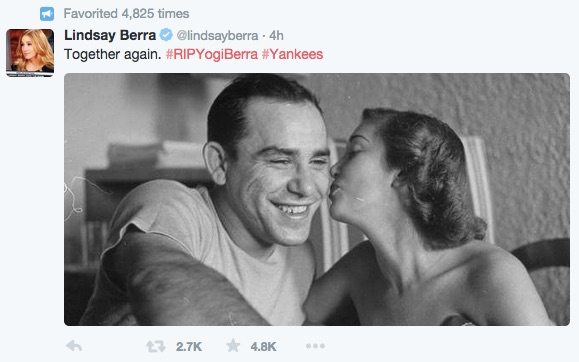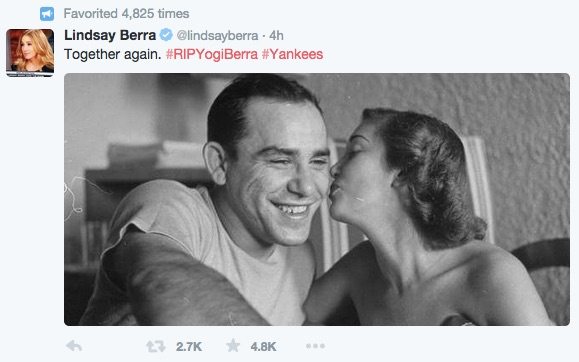 Yogi Berra was a 23-year-old catcher with the Yankees when he met Carmen Short. They got married on January 26, 1949. Carmen and Yogi Berra had three sons, Larry Jr., Tim and Dale.
Larry Jr., Tim and Dale became baseball players; Tim played with Baltimore in 1974, he was released a year later and now is the president at LTD Enterprises; Dale a former third baseman who played for the Astros, Yankees and thePittsburgh Pirates.
Larry Jr. father of Lindsay Berra also played briefly in the New York Mets. 37-year-old Lindsay D. Berra is the daughter of Larry and Francine Berra was born on October 14, 1977. She a graduate of Livingston High School in Livingston, N.J. where she was the captain of the boy's ice hockey team.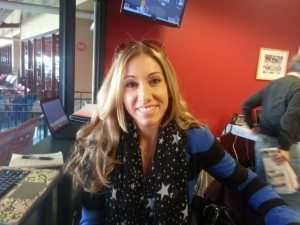 Lindsay Berra graduated in 1999 with a B.A in journalism from the University of North Carolina at Chapel Hill. Ms. Berra started working in 1999 at ESPN Magazine where she became a senior writer, in 2012 was appointed national correspondent at the MLB.com, in 2013 became a freelance writer at the Box Magazine.
Follow Lindsay Berra on Twitter  here