Meet gorgeous Lindsey Myers, the girlfriend of 29-year-old British boxer and current IBF welterweight world champion, Kell Brook. The couple have been together for a few years and have two children together.
Lindsey and Kell became first time parents in 2012. When lovely Lindsey gave birth in 2012 to baby girl Nevaeh, many wondered if Brook would go soft, but even-thoug he has become a family man and definitely has a soft spot for his gal and daughter, Kell sure knows it's a whole different story when facing his adversary.
Her man will go into his second title defense this weekend against boxer Frankie Gavin for the IBF welterweight world title clash this Saturday.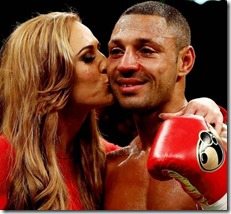 Her man has quite the impressive record, among his awards we can mention: 2009 British Boxing Writers Young Boxer of the Year, Lord Lonsdale British Welterweight Belt outright Winner, WBO Intercontinental Welterweight Champion, WBA Intercontinental Welterweight Champion, IBF International Welterweight Champion and BF Welterweight Champion.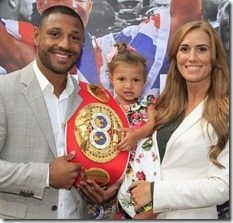 Earlier this year, Myers gave birth to a second daughter. Below we can see her showing her baby bump for her November 2014 baby-shower.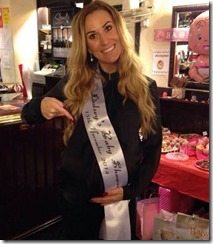 According to her Facebook page, Myers works at Chique Hair Salon and she attended Chaucer Comprehensive School in Sheffield.
The couple had a major scare; last August, her man claimed his place among the world's best. It was when celebrating that win, on holiday with his partner Lindsey Myers, that Brook was stabbed in the leg with a machete. Luckily for the birth of second baby this year, he had battled back to fitness.
You can find the blonde under Julie Myers, on Facebook here.