Now talking about the sweetest couples in Bayern Munich this two make top of the list easily. They were married only after two years of being engaged and don't be fooled for their ages because they seem to have a very good head on their shoulders. Lisa Trede Muller was born in Germany in 1989.
But getting back to the sweet part, did you know Lisa's lucky charm is a half heart pendant? And you guessed it! Thomas wears the other half. Aren't they the cutest!
Product of of Bayern"s youth system Thomas, who's been followed by success either as an attacking midfielder, second striker and on either wing also struck success in personal life when he married model and according to his own words "woman of his dreams" Lisa Trede now Muller .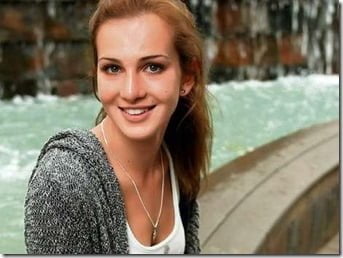 The footballer proposed girlfriend Lisa Trede on 24th December 2008 , just after Christmas in front of his parent"s home! And got married in December 2009. They both are 23 year old and have been together since their teens! They got hitched when they were only 20 years. Aside her being gorgeous she know how to treat her guy:
When he has a good game I reward him with truffle pasta and a glass of wine. After a bad day I leave him alone. He watches The Simpsons and Two and a Half Men. He improves his mood fast
Lisa who is a model is also a professional horse rider, beautiful and talented German.
What does this young couple do for fun? Thomas says:
In the Inn (pub) at the Wildpark, because it's good and we can eat in peace. In the shops we aren't very comfortable .
During an interview when Lisa was asked if she was jealous of her hubby's female fans, she gracefully said:
I trust him absolutely. Of course many girls adore him, because he is famous
Although Lisa is not a big fan of football she still is very supportive of her young husband and you can catch her at any of his games. Best of luck to hubby since he has started this with the right foot! get it!