Madeline Torres
Madeline Torres is the pretty girlfriend of UFC star, Rick Story. Is about to go down between her 31-year-old beau and Donald Cerrone! The fighters are up against each other on UFC 202 in Las Vegas, August 20th.
Rick "The Horror" Story was born August 28, 1984 in Tacoma, Washington. The Welterweight fighter currently signed to the UFC, became last June #9 in official UFC Welterweight rankings.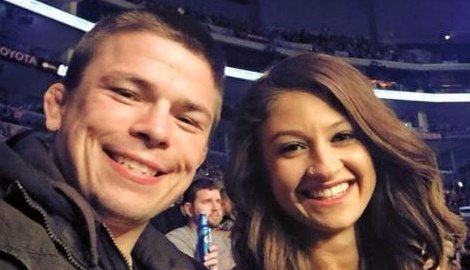 The 5′ 10″ and 170 lb Story, fights out of Vancouver, Washington. He has a degree in Health Education from Southern Oregon University.
According to his profile, Story got involved with MMA in the offseason of his sophomore year 2004 in collegiate wrestling just to keep himself busy.
He later had the chance to do an amateur fight; won it; and subsequently "loved performing in front of crowds."
Following his graduation from Southern Oregon University in June of 2007 he began training at Braveheart Fight Club out of Vancouver. He started training professionally in September 2007 with only wrestling skills.
He is in the National Guard and has been since graduating college.
Story has won 12 of his last 17 bouts and three in a row. 2008 was a good year for Rick who beat UFC vet Brandon Melendez, Jake Ellenberger, and WEC vet Ryan Healy.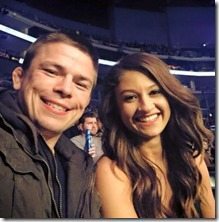 It is not clear how Story met the pretty Madeline Torres. According to their social media, they like to keep things under warps. Though Rick has shared a few snaps of her, along with the couple's pet (a pit-bull) he does not reveal her name, making our job even more difficult. However, the professionals that we are here at Fabwags, we were able to identify her for all you crazy kids.
Madeline Torres also goes by her nickname Maddie. She seems like a fun gal. The smiley Latina is into animals and sports.
She has a number of photos hanging out with friends as well as having fun on a paddle board –which goes to show her sick figure. She also likes horses, specially because it seems she used to ride them.
She and Rick have been dating at least since 2014. Make sure not to miss any of her photos below!
You can find the Madeline Torres on Facebook here.