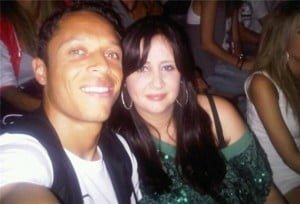 Have you met Adriano Correia's wife? The businesswoman, Manuelli Correia is making her own name in the fashion industry already!
Adriano, the soccer player from Barcelona, native from Curitiba, Brazil, the famous left back defense, really knew how to choose a wife. The couple has lived in Spain for 2 years already and they seem to stay there, since they call this place their second home now.
Maybe Manuelli Correia is average looking, but that makes her more interesting, and Adriano, one of a kind. Instead of messing around with singers, models, or socialites. Classic blondes…she married someone normal.
Manuelli has her own kids clothes shop in Condal city and her associate is another Barcelona's fabwag, Giulia Andrade. Her store is Dolce City; this was opened to the public on Decembe 1, 2011. This is Monnalissa fashion; you can find it in the high end avenue, Pau Casals. A girly space for dreamy clothing.
Monnalisa is an Italian fashion brand from the 60's that use quality materials. So kids can look chic at any moment!
Manuelli decorated the store with a feminine style, pink is everywhere! The furniture came from France and there is a chess board floor….very hip and trendy!
Adriano Correia and Manuelli were VIP guests in a big party that was celebrated once in Barcelona for the opening of Dirk Bikkembergs store in Paseo de Gracia. Manuelli is a fan of big designer names such as Rosa Clará, Nuria Sardá and Custo Dalmau. This store is a paradise for Manuelli, accesories, clothes are seen everywhere, from the living room up to a fancy sauna!
There is not much info about Manuelli since she likes to keep a low profile. It's better to keep it that way, less paparazzi around…
Check Manuelli's store site here.