Barcelona midfielder Xavi Hernandez is happily married to the lovely Nuria Cunillera. Would you like to know more about her? Well, they both try to keep their lives private and she is not fan of the media. Nuria is very discrete and reserved, and is not very much like a typical football girlfriend.
The couple were seen vacationing together with some friends in Ibiza in 2012. Nuria also went with Xavi to Poland and Ukraine.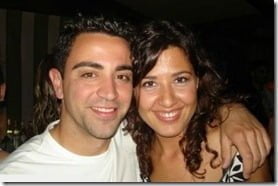 Nuria Cunillera was born in Sabadell in 1981. She graduated in journalism and later specialized in fashion journalism. She works in the Public Relations sector. As a journalist, she worked for the Pinkermoda website, as she has tweeted some links to articles on this page.
It seems that Xavi likes journalists, since his ex-girlfriend Elsa was a journalist as well!
As we first told you, she is a very reserved girl and prefers a low key profile, so we don't know too much about her. But her famous boyfriend has appeared in three world cups and three European Championships, also named fifth best player in the world by FIFA, so we know that Nuria is definitely of great support for him.
Xavi and Nuria got married July 14, 2013, in Catalonia in a 15th Century monastery. They announced they were expecting their first child together on March 26, 2015.