Anna Kane is until this day the wife of Canadian NHL player Evander Kane, the left-wing currently playing for the Edmonton Oilers, who previously played for the San Jose Sharks, Buffalo Sabres, Winnipeg Jets, and the Belorusian team, the Dinamo Minsk. Anna suggested Evander Kane is currently dating model Mara Teigen.
Evander Kane Career Timeline
Born Evander Frank Kane in 1991, in Vancouver, BC the son of Perry and Sheri Kane.
Named by his parents after boxer Evander Holyfield.
Attended John Oliver Secondary School in East Vancouver.
Started skating at the age of three, but also enjoyed playing soccer, basketball, and baseball growing up.
Started playing hockey in 2003 with North Shore Winter Club a team in North Vancouver.
Later on, played with the Vancouver Thunderbirds.
The Vancouver Giants of the WHL drafted Kane 19th overall during the 2006 WHL Batam Draft.
In July 2009, Kane was selected fourth overall in the 2009 NHL draft, by the Atlanta thrashers later renamed Winnipeg Jets.
During his rookie season in the WHL, he scored one goal in eight games with the Vancouver Giants. In the 2007-08 season, things clicked between Vancouver and Kane as the center racked up 41 points in 65 games.
The 2008-09 season proved to be his most productive one yet. In 51 games the center netted 48 goals and 96 points.
On March 6, 2010, suffered a bone fracture, against the Tampa Bay Lighting.
On November 3, 2010, suffered a left knee injury.
In December 2010, missed one game due to an arm injury.
In January 2011, missed six games due to a lower-body injury.
On January 21, 2011, was sidelined and placed on concussion protocol.
Was accused of assault, after an incident in Vancouver and sued for financial damages in April 2014.
The Jets traded him to the Buffalo Sabres on February 11, 2015.
He cracked three ribs in the season-opening game against the Montreal Canadiens on October 14, 2016.
The Buffalo Sabres traded him to the San Jose Sharks on February 26, 2018.
Evander was suspended for the first three games of the regular season due to abuse of officials during the 2018-2019 pre-season
Evander Kane Net Worth.
According to EcactWorth, Evander Kane has a net worth of $500,000 as of July 2021. He filed for chapter 7 bankruptcy in Cali on January 11, 2021. According to the Washington Post, Kane earned around $53 million from his NHL contracts but is $26.8 million in debt.
He owns $256,000 in taxes.
Lost 1.5 million gambling.
Owns $80,000 in credit card charges.
Owns $16. million in unpaid loans
Owns $1.3 million to Leon McKenzie and Sure Sports, the film that arranged an $8.3 million loan for him with Centennial Bank.
He owns $8000 worth of handguns, shotguns, and rifles.
Owns two houses in Vancouver valued at $5.26 million.
Owns a $3 million house in San Jose.
Evander Kane Contract & Salary
Evander Kane signed his three-year entry-level, $9,300,000 contract on July 20, 2009, with the Jets, earning an annual salary of $3,100,000.
September 15, 2012, agreed to a six-year, $31.5 million contract extension with the Jets, and an annual salary of $5,250,000.
On May 24, 2018, Kane signed a seven-year, $49-million contract with the San Jose Sharks and a salary of $7 million annually.
Evander Kane Wife
As noted Anna Kane is still married to Evander Kane, but not only they are no longer together but they are in the center of what looks like an ugly mess. It all started when Anna Kane claimed Evander met on his own games and played poorly to benefit from gambling. Kane denies Anna's allegations.
"I have NEVER gambled/bet on Hockey, NEVER gambled/bet on a Sharks game, NEVER gambled/bet on any of my games and NEVER thrown a hockey game," Kane wrote on Twitter. "The facts are I personally had my best season of the my career last year and was the most consistent I've been throughout any season, I'm proud of that. I love the game of Hockey and would never do any of what was alleged. I look forward to cooperating fully with the league's investigation, having my name cleared and looking forward to this upcoming season."
Anna also claimed Evander spent money partying and all while he asked her to sell her wedding ring, so she could survive and buy formula for their daughter.
So you leave July 8th, you do not call or text at all for 7 days. Then you inform me you are going to Europe for a vacation, must be nice."
"But at the same time, you tell me our house is being taken by the bank. But you do not come home to help your pregnant wife pack or help with anything at all, you have enough money to party and stay in hotels in Europe and go to dinners every night. But I can't buy my daughter formula and you force me to sell my wedding ring to survive as you party every day every night, never calling your daughter and never asking not even one time how I'm doing myself."
Evander who said Anna is mentally unwell also denied that.
"I love my daughter," he wrote. "I will and always have taken care of my daughter in every way possible. I have always made sure her mother has had everything she's needed and more. I have tried to de-escalate our divorce issues and be as civil and calm as anyone in this position could. I have tried to set up FaceTime calls but not every day as I would like to because of being restricted by her mom. She has refused me to see her and had unfortunately tried to use my daughter as leverage. I will continue to always take care of my family, that goes without question."
Anna Kane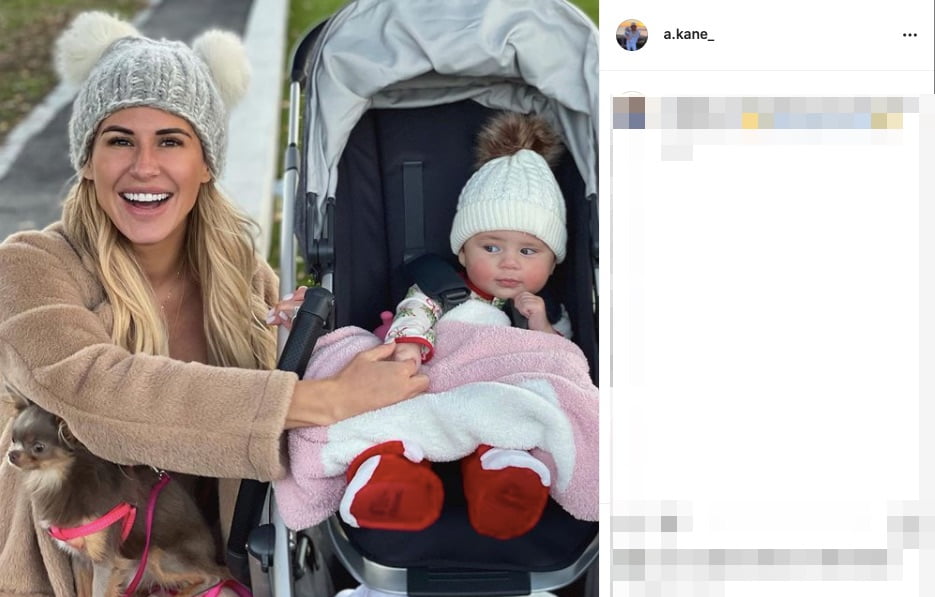 Anna Kane and Evander Kane are heading to a divorce and you can be pretty sure it's not going to be an amicable one; Anna gave birth to their daughter Kensington on July 3, 2020. She suffered a miscarriage at 26 weeks on March 14, 2019, they named her baby daughter Eva.
"My family and I are heartbroken," Kane said. "Words cannot express how excited we were to welcome our baby girl into the world and watch her grow. Eva, you have been the absolute biggest blessing of our lives and we are so grateful for all the joy you brought us in such a short amount of time."
News about Evander being engaged was first reported in September 2018; It was clear Evander and Anna were married a month later when he was seen wearing a wedding band. Anna recently said that Evander was back together with his ex-girlfriend Mara Teigen.
Evander Kane Girlfriend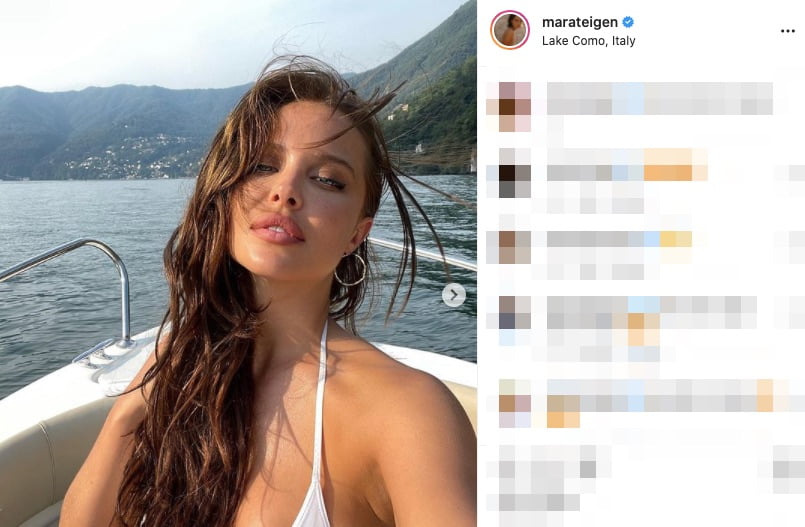 Mara and Evander first dated back in 2015. If Anna Kane's allegations are true then this stunning brunette is back in Evander Kane's life. This is what we can tell you about Anna Teigen.
Mara Teigen
Gorgeous Mara Teigen is the model girlfriend of 24-year-old NHL player Evander Kane. The couple is making headlines after it has been reported they could be back together!
In true romantic fashion, Evander allegedly rented the billboard above 1 OAK in West Hollywood over the weekend and dedicated some words for the Wilhelmina model. Kane made sure the message was delivered to her …and to anyone else driving the Sunset Strip! The Buffalo Sabres forward, told his girl he had a surprise for her, and boy, the 20-year-old model was surprised!
Mara told TMZ, after the giant billboard stunt –which read "Mara Teigen from Wilhelmina Models Love Evander" –she was flattered. She also said Kane is a good guy and they are "working things out." Is good to be Evander Kane!
Born in 1994 and standing at 5'7″ with big blue eyes and a perma-pout, the sassy gal came to the radar in 2014. Since then she has gained quite the audience on Instagram. In January she was named "Instagram Girl of the Week: Mara Teigen" by Maxim.com
She is managed by Wilhelmina models in Los Angeles. The blonde is also a curator for Shop Catalog, where she describes herself as "Girly girl who wears all black."
Besides gracing magazine covers and glamming up for the camera lens, Teigen also makes a small appearance in a music video titled "Let's get Ratchet."
Related Story: Jay Woodcroft wife Jackie Woodcroft