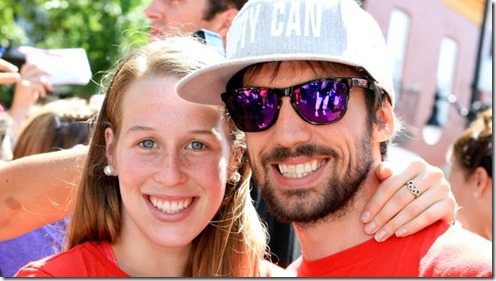 Major love story building at the Sochi 2014 Winter Olympics! Canadian couple, Marianne St. Gelais and Charles Hamelin are just too cute together.
You might remembered them from the romantic kiss they shared at the 2010 Olympics but they have done it again. The 23-year-old blonde athlete admits she is better recognized for her epic kiss from four years ago than for her two silver medals, she says
"Sometimes people just recognize me because of the kiss and not because I'm a silver medalist in the Vancouver Games, so people remember that moment,"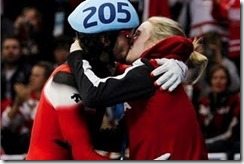 But the fact is that, due to her Olympic triumph she is a vital member of the 3000m relay team.
Her boyfriend, the star Canadian short-track speedskater won the men's 1,500 metres at the Sochi Olympics today. It could be the first of four medals for the Ste-Julie, Que., native, who is a heavy favorite in his three other events. Hamelin, who at 29 was the oldest skater in the final, maintained a top-three position throughout most of the 14-lap race, leaving enough at the end to defeat a loaded field.
But let's get to know better his better half.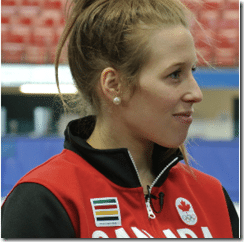 Hamelin, 29, and St-Gelais, 23, have been together for more than six years, first meeting at the rink. St-Gelais said she can't imagine life without him. The Canadian short track skaters started dating back in March 23, 2007 according to her Facebook.
St-Gelais who was born February 17, 1990 in Roberval, Quebec is the daughter of Francine Prive and Gaetan St-Gelais. She has two sisters, Marjorie and Catherine St-Gelais and one brother, Bastien St-Gelais.
She began skating at the age of 10. Being named team Canada's "rising star" of 2009; the most successful season of her young career with 2 Olympic silvers, 2 world championship silvers, and a world's bronze was at the 2010 Winter Olympics. In 2010 and 2011 she was named Speed Skating Canada's Female Short Track Skater of the Year.
Marianne has not won any medals in Sochi but maybe her boyfriends luck will rub up on her. She revealed during a recent interview she is not afraid to admit she needs her boyfriend everywhere, and when they are not training the couple love to watch movies at their home in Montreal.
She advanced in the women's 3,000-metre relay. Her boyfriend, who has been virtually unbeatable on the World Cup circuit this season, still has the 1,000, 500 and relay to go in Sochi.
Follow Marianne on twitter here.