Mark Chadwick
Mark Chadwick is the husband of Track Cyclist star, Anna Meares. His Aussie wife can add to her two Olympic gold medals in Rio as she contests the sprint, the team sprint and keirin. Mark's wife is Australia's most successful track cyclist.
In what shapes to be her final Games, expect Meares to be desperate to sign off with gold after a memorable sprint victory in London. Mark's wife is the flag-bearer and team captain for the Australian team at the Rio Olympics in 2016.
Anna Meares is a 3-time Olympian, 2-time Olympic champion with 5 Olympic medals (Gold and Silver – London 2012, Silver – Beijing 2008, and Gold and Bronze – Athens 2004), a ten time world champion across four different disciplines and a five time Commonwealth Games champion.
Meares a coalminer's daughter from Blackwater, Queensland, she was born September 21, 1983.
She claimed her first of 11 World Championship titles in the 500m time trial in the months leading into her Olympic debut. She backed up her flying form at the Athens 2004 Games winning gold in the 500m time trial before going on to win bronze in the sprint.
Making history is not something new for Mark's wife. In 2004 she became the first Australian female gold medallist in track cycling, winning the 500 metres time trial while also claiming bronze in the women's sprint in Athens. In 2008 at the Beijing Olympic Games, she made one of the great comebacks in Australian Olympic history when she won a silver medal in the women's sprint cycling. What made Meares' silver medal in Beijing truly memorable was that it came only seven months after she broke her neck in a race crash in Los Angeles.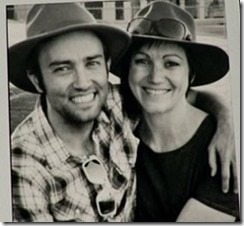 At the time, her hubby, former cyclist Mark Chadwick, became her full-time carer. Mark Chadwick cooked her meals, brushed her hair and even helped her to brush her teeth. He never had any doubts about his wife returning.
Mark Chadwick and Meares became husband and wife in 2006 after the Melbourne Commonwealth Games. Mark's life has always evolved around bikes. He rode them growing up and now sells them for a living. He sells equipment and warranties for German bike manufacturer Focus. He was once an aspiring professional cyclist and spent two years in Europe trying to make the big time on the road. Though his career never picked up, his relationship with Meanes did evolved from training together at the Rockhampton Cycling Club to marriage.
Part of his supporting job includes attending some major track meets and overseas adventures. When he isn't a supportive husband, Mark Chadwick also has his own sporting pursuits. He trains for cyclocross events.
Fast forward to 2016, it was reported the couple had split after 15-years. The childhood sweethearts decided to separate in 2014.
Meares will become just the fourth Australian track cyclist to line up at four Olympics and will be aiming to become Australia's first three-time Olympic champion across any cycling discipline.