Violet Raseboya
Violet Raseboya is the long time partner of controversial runner, Caster Semenya. Violet's better half is South Africa's greatest hope of gold going into Rio.
Caste Semenya has been dominant in the 800m since taking silver in London. Questions over her gender have plagued her career since 2009 and will do through the Games, where she starts as the white-hot favorite in her pet event.
Caster Semenya caught headline seven-years-ago, with the -verification controversy of Berlin, and then it progressed over six years during which she was subject to a new rule that governed intersex athletes by limiting their testosterone levels.
The South African Olympic silver medallist Semenya's case, that a woman has an intersex condition, which provides an alleged unfair advantage.
For now, Semenya and other intersex athletes are allow to compete without needing to take hormones to lower their testosterone levels, thanks to Indian sprinter Dutee Chand.
On April 16, Caster became the first person to win all three of the 400m, 800m, and 1500m titles at the South African National Championships, setting world leading marks of 50.74 and 1:58.45 in the first two events, and a 4:10.93 in the 1500m, all within a nearly 4 hours span of each other.[50] [51] On July 16, she set a new national record for 800 meters of 1:55:33.Violet Raseboya must be one proud wife. The couple has been allegedly married since December 2015.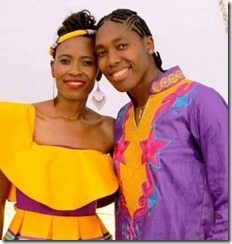 Violet Raseboya born, Violet Ledile Raseboya is also an athlete. The couple tied the knot in a traditional ceremony after years of being together. Caster and her long time girlfriend were married in Ga-Dikgale in the Capricorn District of Limpopo.
In 2014 it was reported that the pair had become engaged after dating for a long time, and their union got the approval of their families. The two have had a relationship for a while now and even drive similar BMWs with personalized number plates made up of the abbreviation of their names, (Casivo) . They each wear bands on their ring fingers,however Caster denied their relationship.
Finally South Africa's Olympic silver medallist Caster Semenya allegedly, paid up for Violet in order to get married.
Their families both agreed on the nuptials and Semenya and according to reports, Semeya's family paid R25000 which is approximately Ksh250,000 for Violet Raseboya's hand in marriage –as is custom in South Africa.