Sophie Piteo
This drop-dead gorgeous lady is Sophie Piteo; a little birdie told us she is the girlfriend of Washington's defensive end Chase Young. Young as you all know was one of the 2019 Heisman Trophy finalists while he played with the Ohio State Buckeyes.
Chase Young Bio
6'5 Chase as we previously told you is the talented son of the lovely Mrs. Carla Young. Click on her name to find out about Chase's #1 lady!
He was born in Upper Marlboro, Maryland on April 14, 1999, to Carla and Greg Young, also proud parents of their other child Weslie.
Young's momma Carla seems to be close to Chase Young's girlfriend Sophie Piteo, who is regularly appearing in Mrs. Young's photos on Instagram.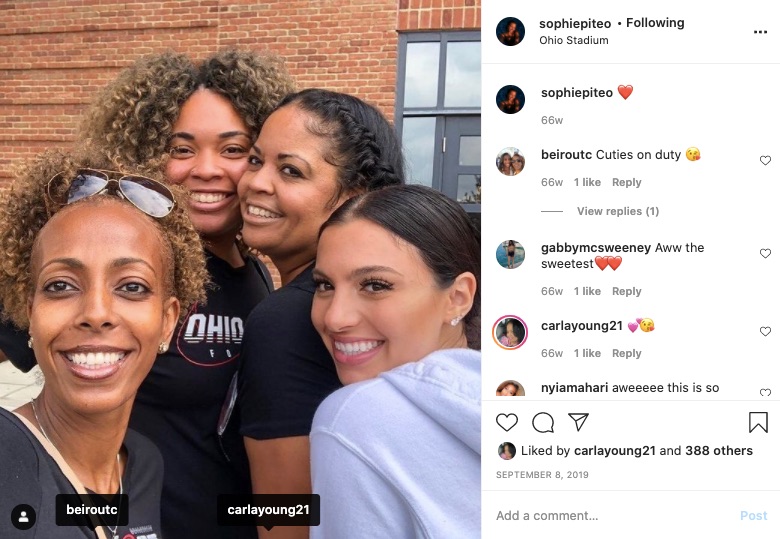 Chase Young High School Stats
Young started leaving his mark ever since he attended St. Vincent Pallotti High School in Laurel, Maryland; he later attended DeMatha Catholic High School in Hyattsville, Maryland.
While at St Vincent, Chase a member of the school's choir played the violin, piano, and saxophone.
In his senior year at DeMatha, Chase recorded 19 sacks, 118 tackles, five forced fumbles, and two defensive touchdowns helping his team win the 2016 state championship.
College Stats.
He committed to play with the Buckeyes at Ohio State under defensive line coach Larry Johnson over the 4o scholarship offers he received
In his first year with the Buckeyes, Young recorded 3.5 sacks, 18 tackles, and a forced fumble as a reserve player, earning the starting position the following season, and team captain his junior year.
Chase was a finalist for the Heisman Trophy, Maxwell Award, and Walter Camp Award.

Chase Young Draft
Chase Young decided to declare the draft in 2019, forgoing his final year of college; he was considered a top prospect at the 2020 NFL draft, invited to the attended the NFL Combine and invited to the virtual draft, where the Washington Football Team selected him in the second round, 2nd overall selection during the 2020 NFL draft.
His beloved family was by his side during that very emotional night.
Chase Young Draft video below.
Chase Young Contract
Young signed his rookie contract with Washington on July 23, 2020; his four-year contract is worth $34.56 million!!
NFL Stats
Chase made his NFL debut on September 13, 2020, when Washington defeated the Philadephia Eagles  27-17; he had four tackles, 1.5 sacks, and one fumble.
Stayed off the field during Week 4, after suffering a mild groin strain against the Cleveland Brown a week prior.
Young's stats so far are  5.5 sacks, 35 tackles,  3 forced fumbles.
Who is Chase Young's Girlfriend?
If  Sophie is indeed dating Chase, then she could be the same gal he in college, when he was suspended for borrowing money from a friend to fly his girlfriend to the RoseBowl in Pasadena, when the Buckeyes faced the Washington Huskies.
Sophie Piteo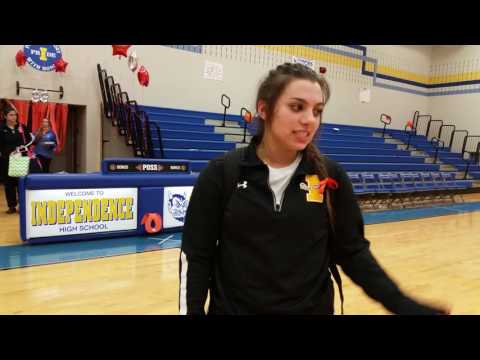 Ohio native Ms. Piteo who will graduate from Ohio State in 2021, played softball and basketball at Independence High School prior to college.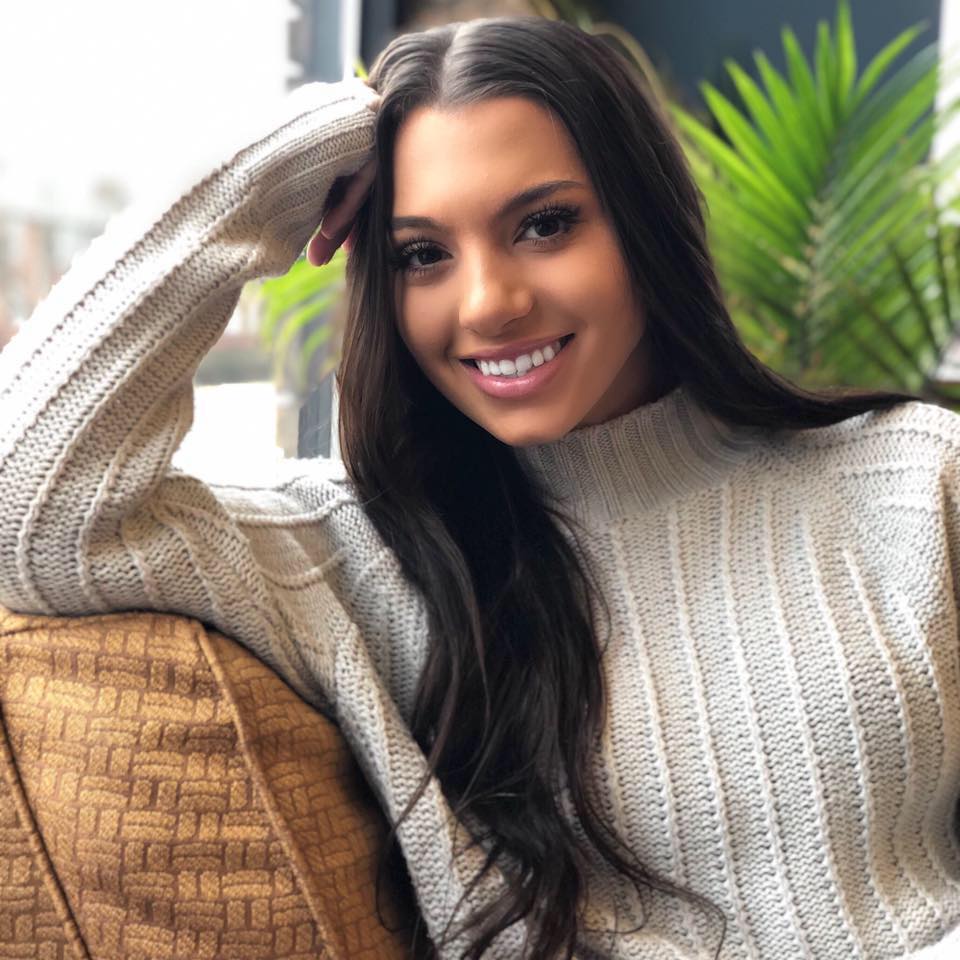 Sophie M. Piteo (b. 1999) is one of the children born to Jim and Jaylene Piteo (nee. Kalail), also proud parents of their youngest daughter Sarah.
Her mother graduated from the University of Akron and is an IT technical specialist for Parker Hannifin; her father Jim, also a University of Akron graduate works at Belden Brick & Supply.
You can see Sophie with Chase and his beautiful family, when they posed for a photo after the Buckeyes defeated Cincinnati 42-2 in September 2019.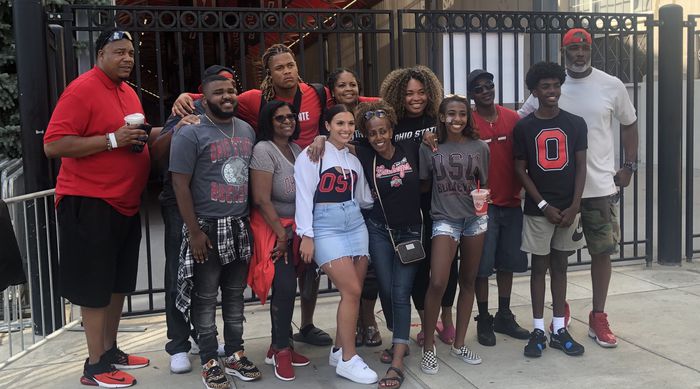 She sort of looks like Kim Kardashian, right? I guess she thinks so too; since her Twitter feed shows she surely is a fan.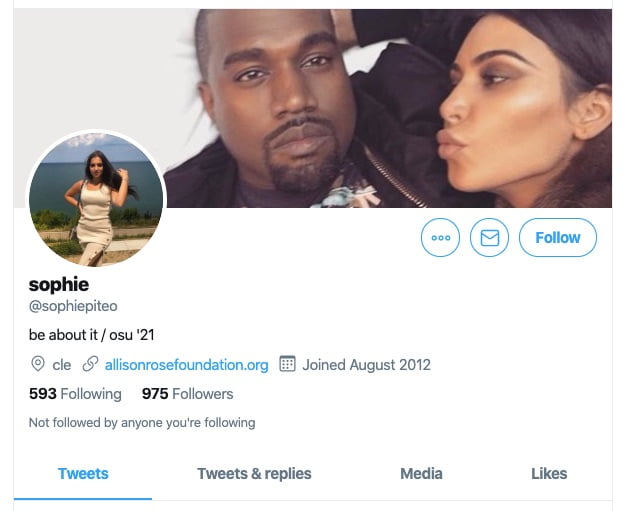 Certainly, you can also see she is her man's fan as well!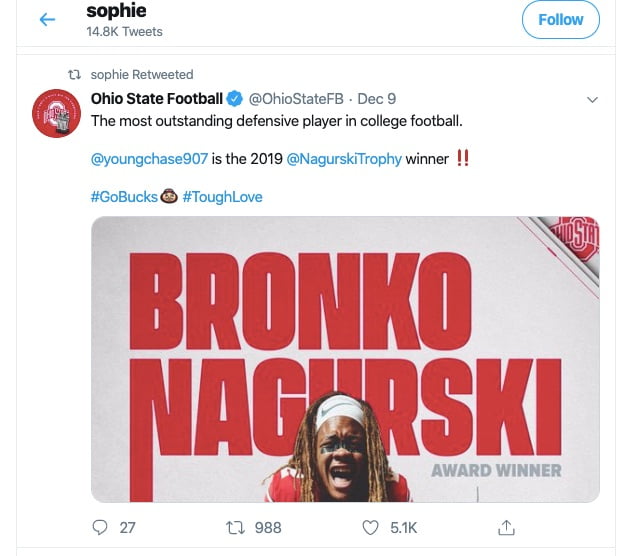 She made it pretty clear she is indeed Chase Young's girlfriend here.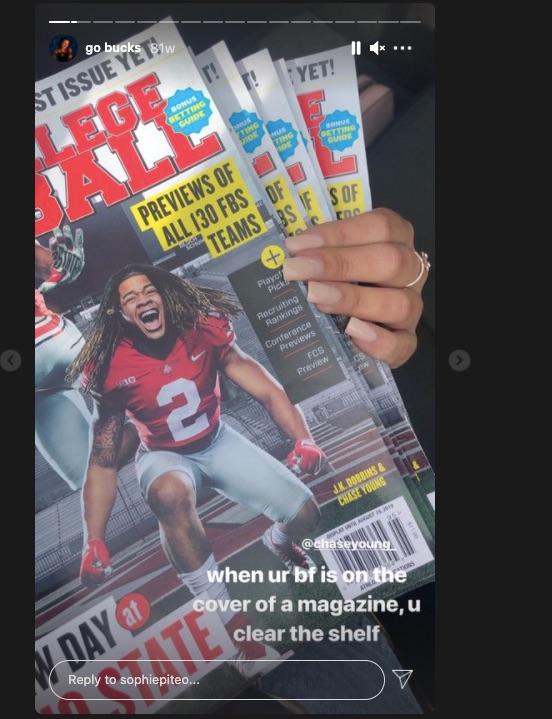 Sophie graduated in 2020, from Ohio State with a Bachelor of Science in Psychology. She currently works part-time as a technician for Giant Eagle, Inc in Columbus, Ohio.
When Sophie posted a photo with her graduation cap on Instagram, Mama Young was one of the first to congratulate her.