Kaycee Marchetti
Have you met the lovely Kaycee Marchetti? She is the new girlfriend of NFL player Fletcher Cox, the spectacular defensive tackle currently playing for the Philadelphia Eagles.
Prior to going pro in the National Football League, Fletcher played college football at Mississippi State.
We are going to tell everything we found about Fletcher Cox's GF, but before we get to that, let us tell you some interesting things about him, starting from his early years back in high school to his glorious days win the NFL with the Philadelphia Eagles.
Fletcher Cox High School and College career
6'4 Fletcher Cox was born in Yazoo City, Mississippi on December 13, 1990, to Melissa Cox Bright.
Cox attended Yazoo City High School where not only he played football but also excelled in track and field.
Cox recorded 103 total tackles,  11 QB' sacks, 2 pass interceptions, 1 returned for a TD, his junior year and 104 total tackles during his senior season,10 quarterback sacks,  one pass interception, and a fumble recovery his senior year.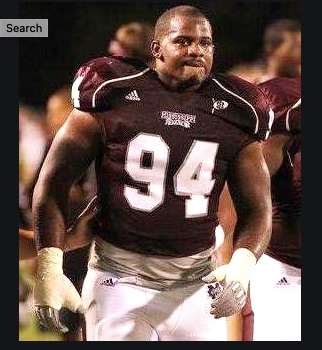 He committed to play with the Bulldogs at Mississippi State University in April 2008; in addition to MSU Cox received scholarship offers from Ole Miss, Louisiana State University, Auburn, and the University of Alabama.
Fletcher played in 12 games, recorded 29 total tackles his first year at Mississippi State; the following year he started in 11 games, recorded 29 tackles on the season, with 6.5 coming behind the line of scrimmage, 2.5 sacks, two blocked kicks, and four QB's hurries.
NFL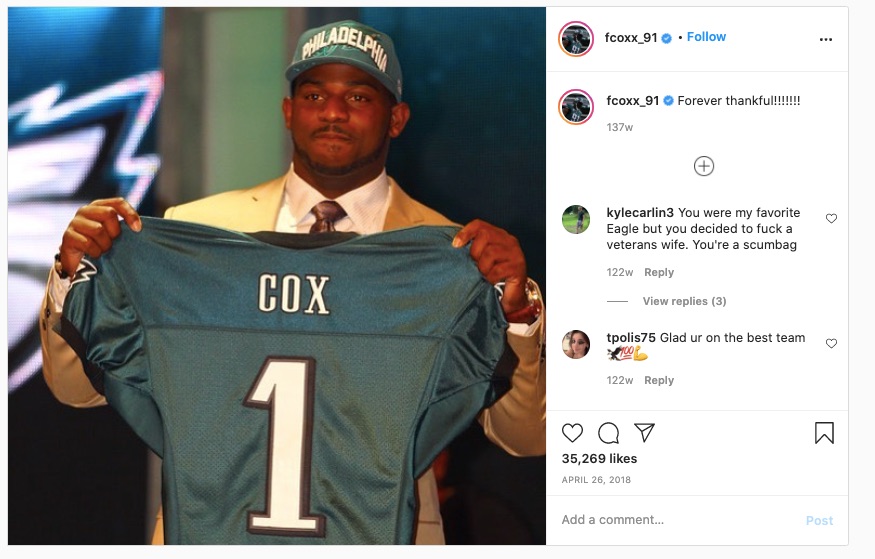 The Philadelphia Eagles had to move some chips (traded the 15th selection) in order to pick Fletcher Cox with the 12th overall selection in the first round of the 2012 NFL draft; the same former Eagles teammates Mychal Kendricks, Brandon Boykin, Dennis Kelly, and Nick Foles were drafted by the Eagles.
He played in 15 games,  finished 39 tackles, 5.5 sacks, 4 passes defended, and 1 forced fumble during his rookie season with the Eagles.
Finished with 44 tackles, three sacks, three passes defended, and one fumble recovery, in 16 games during the 2013 season.
He played in 16 games during the 2014 season, finished with 61 tackles, 4.0 sacks, one forced fumble, and three fumble recoveries.
During the 2015 season, he finished with 71 tackles, 9.5 sacks, two passes defended, and three forced fumbles.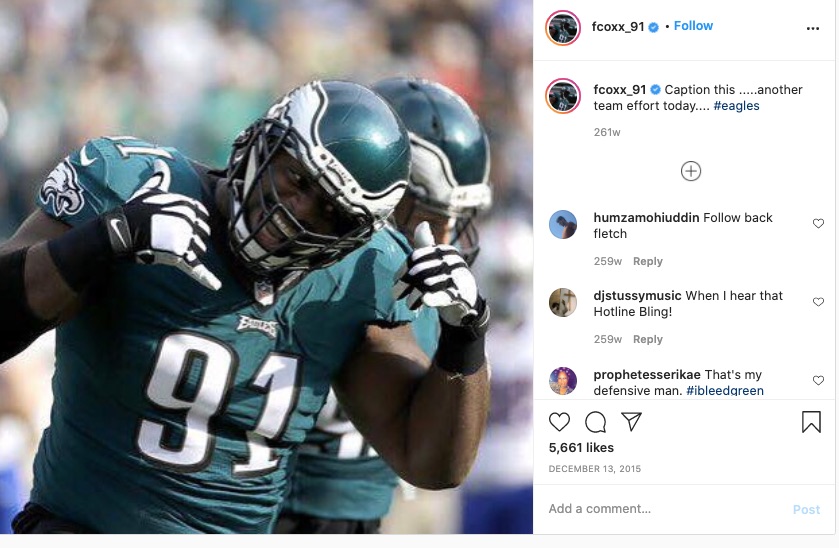 In 2016, during 16 games he started, finished with 43 tackles, 6.5 sacks, 2 passes defended, 3 forced fumbles.
In 2017, finished 26 tackles, 5.5 sacks, 1  pass, 1 forced fumble in  14 games. The following season started in 16 games, finished with 46 tackles, 10.5  sacks, 1 defending pass, 1 forced fumble.
In 2019, Fletcher played in 16 games, finished with 40 tackles, 3.5 sacks, 2 defending passes, 4 forced fumbles.
Fletcher Cox Contract
Cox signed his first NFL contract with the Philadelphia Eagles on June 18, 2012, the contract was for four years.
He agreed to a six-year contract extension on June 13, 2016, the $103 million deal came with $63 million guaranteed.
Fletcher Cox Jersey
Flye Eagles Fly! for all of you Philadelphia Eagles fans, and especially Fletcher's. fans who are interested in purchasing hos jersey, you can buy it at the Eagles fan Shop here, NFL store here, and other Fletcher Cox's merch on Amazon here.
Who is Fletcher Cox's Wife or Girlfriend?
No wife for Fletcher, he is not married, at least not yet, but he surely looks madly in love with his current girlfriend  Kaycee
Kaycee Marchetti
27-year-old Kaycee Lee Marchetti from Sickerfville, New Jersey was born on June 14, 1993; she is one of the children born to Harold and Coleen Marchetti (nee. Summerville). It seems Kaycee has one younger sister, Erin, 26; who is married to Ed Roberts, father of their adorable daughter Leighvana Frankie Roberts.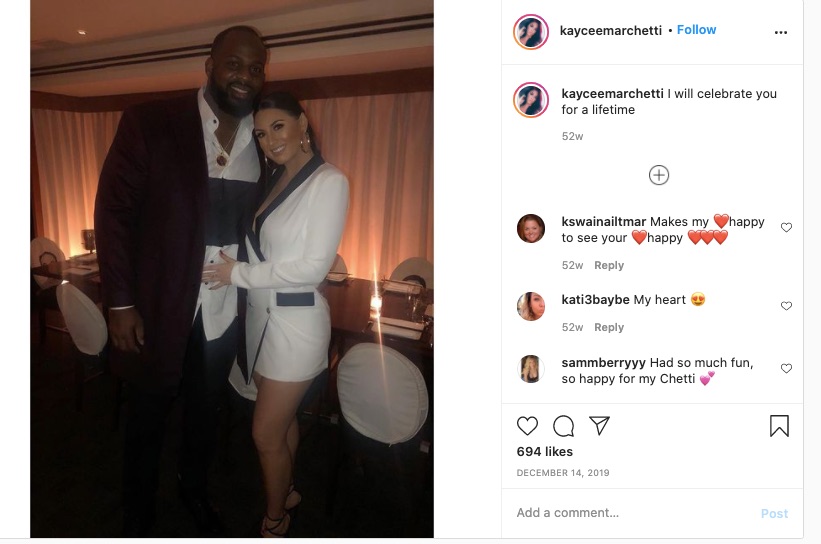 Kaycee Marchetti graduated in 2010, from Timber Creek High School where she was a member of the field hockey team.
It is unknown how Kaycee and Fletcher met or how long they have been dating; but they sure look to have become a bit inseparable.
Fletcher Cox Vs. Corbyn Nyemah
Back on October 23, 2019, Fletcher had to grab his shotgun to forced an intruder out of his Mullica Hill home in New Jersey.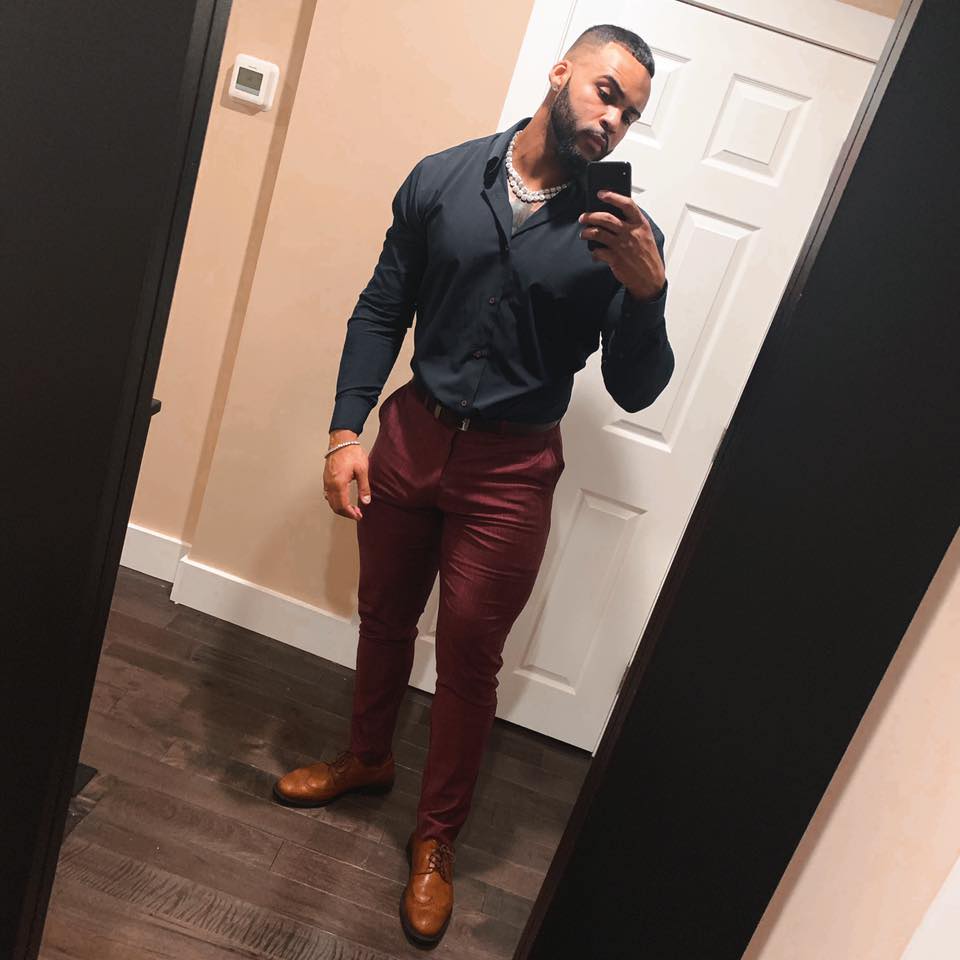 This intruder later identified as Corbyn Nyemah, was walking around the exterior of Cox's home with a bat was Kaycee's ex-boyfriend and a former football player at East Stroudsburg University, who said he wanted to talk to his ex-girlfriend with whom he believed were working on rekindling their relationship.
Kaycee got a temporary restraining order against Nyemah.
Fletcher Cox's Alleged Affair with Catherine Cuesta Jeffords
Back in 2018, Joshua Jefford a former marine sued his wife Catherine Cuesta Jeffords and accused her of having an extra-marital relationship with Fletcher Cox; after she met allegedly met him during a business trip to Philadelphia in April 2017.
"He basically ruined my life, because I thought I was gonna be with this woman foreve;" Jeffords told ABC News back in November.
Jeffords said he and Catherine, his wife of three and a half years at that time had a true marriage of love and affection until Cox came into the picture.
We covered that story in 2018, you can read more about Catherine Cuesta Jefford here.